4 No Fail Tips to Get a Spot in the ICU as a New Grad RN | NURSING.com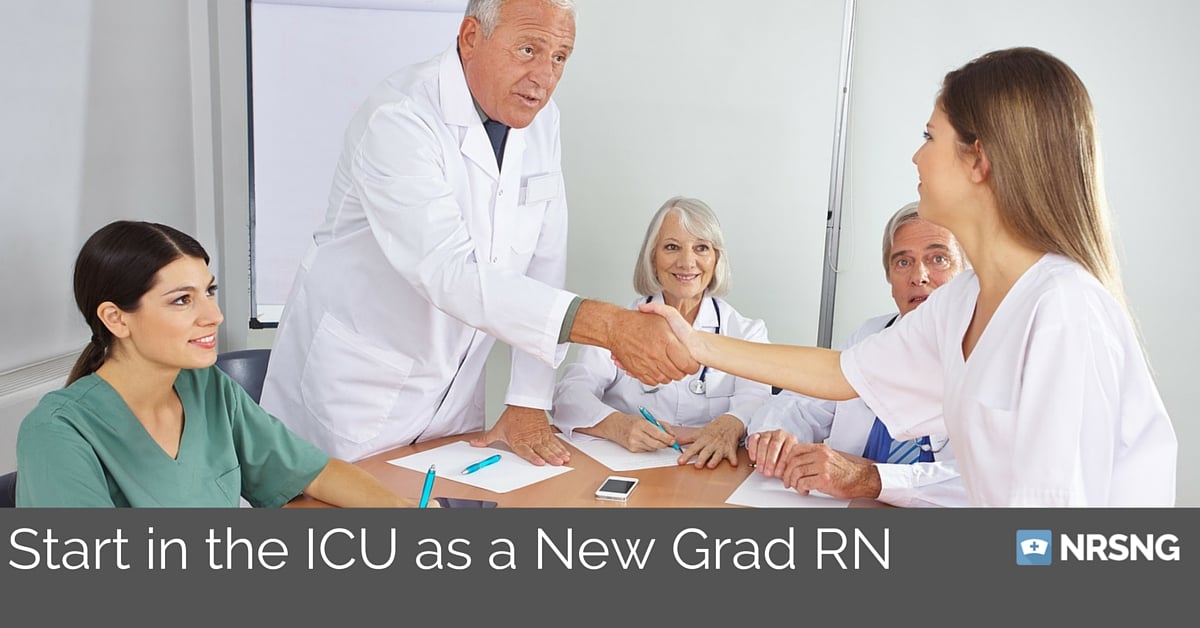 What are you struggling with in nursing school?
NURSING.com is the BEST place to learn nursing. With over 2,000+ clear, concise, and visual lessons, there is something for you!
Finding that first new graduate nursing job right out of school is a huge source of stress and anxiety to many nursing students. For those students that want to work in the ICU ( critical care) right out of school the options might seem even more terrifying.
Luke, a nursing student, recently wrote me and asked:
Do you have any recommendations for trying to get a spot in ICU as a new grad? I'm currently level 3 Nursing Student and I will graduate in may 2016. Any info is appreciated, thanks!
Here is a Facebook Live Chat we did covering the topic:
You know what? I do have some tips. First, why am I a good resource for this question?
As a new grad RN with NO experience, I was offered interviews in the following ICUs:
and many smaller hospital ICUs, ORs, and EDs
I don't say this to brag. In fact, I spent HOURS, and HOURS, and HOURS looking for and researching new grad ICU jobs and now I am going to share some of those tips with you.
Starting in the ICU can be tough but within the structure of a well designed internship or residency I think it is the BEST place for a new grad nurse to start (of course, I might be a bit biased) and it all depends on your goals.
The problem is . . . many ICUs want 2-3 years experience . . . here are some tricks to land those coveted positions.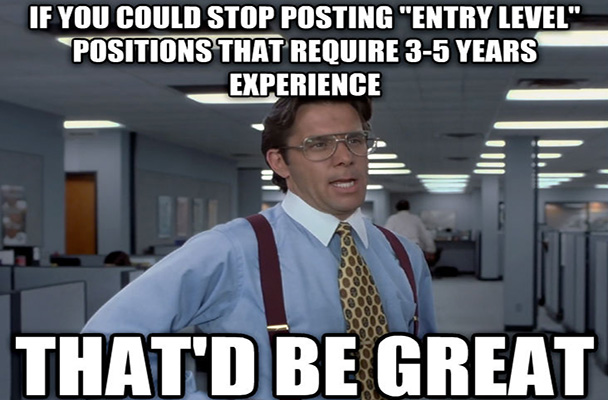 Why Passing the NCLEX® in 75 Questions Doesn't Matter 
( YOU are NOT your NCLEX® score)
4 No Fail Tips to Get a Spot in the ICU as a New Grad RN
1. Say "Hello" to my Little Friends . . . Google, Indeed, AllNurses
I want to introduce you to my three best friends when it comes finding your first job as a new nurse especially if you are trying to land a spot in a speciality location.
All three of these websites are search engines . . . meaning they are designed to find your answers. Once you know how to use them, they can work wonders and find you the exact information you need.
First, you need to know what hospitals call new nurses and the positions they create for them.
New nurse positions are called:
New Grad RN
New Nurse Residency
Nurse Internship
Nurse Residency Program
Nurse Graduate Program
and other variations of new nurse, resident, internship, graduate, etc
Now, head over to Google and type in "new grad rn ICU residency" (or any variation of the above terms). You will get a screen that looks like this: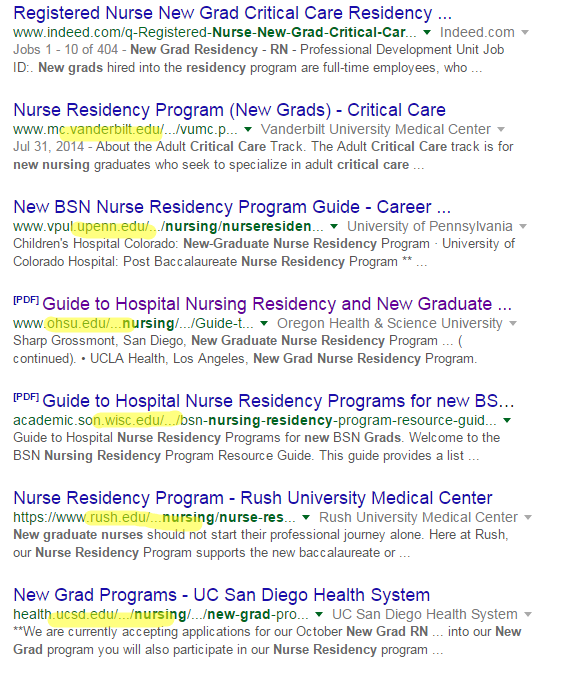 The results include some of the top hospitals in the country including Vanderbilt, U Penn, Oregon Health Sciences University, Rush, and USCD to name just a few. And look at the result from OHSU. They have broken down some of the residency programs for new grad nurses in each of the 50 states.
BOOM! In a matter of 30 seconds, we have a HUGE list of new grad residencies that we can begin to work with.
Next, use the above search terms on Indeed as well to narrow down your search geographically.
Once you have a nice list of residency programs and know which ones offer ICU options you can head over to AllNurses.com and start to learn a bit from those who have previously applied and been accepted into the specific program you are looking into.
These positions are usually VERY competitive. In fact, my hospital recently received about 800 applications for 22 spots in out Critical Care Internship. Yes, you read that right.
So these next steps are going to help you secure the spot!
2. References and Connections Don't Lie
Okay, now that you know exactly how to find the available positions you need to start thinking about HOW to land the interview.
One of my favorite quotes is:
You are the average of the five people you spend the most time with.
I love this quote because one of the fastest ways to learn about someone is by knowing their closest associations and friends. This carries over into job applications.
If you are applying to a residency program at one of the countries top hospitals . . . don't offer a reference from your mom and your childhood babysitter . . . sorry, but that says something about you.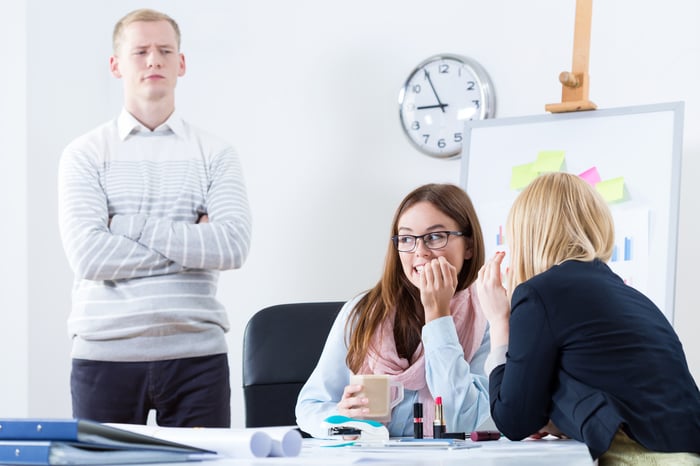 Here is a list of the people you should ask for a reference:
The Dean of your program
The president of your college or the highest ranking individual you know
The most difficult professor in your program (even if you didn't get an A but worked your butt off in their class)
A clinical instructor that has seen you work
A physician that has seen you work or with whom you have developed a relationship
The highest up manager at your job (not your buddy)
A friend (if they are a good worker) on the floor you are applying to
Do you see a pattern in this list? Basically, you want individuals that have proven themselves as hard and dedicated workers. Ideally, you will already have a relationship with these people . . . and this relationship says something about YOU.
When I was applying for jobs as a new grad my references where:
Two Deans of my College of Nursing
The Director of my program
A physician friend
Now that I have experience my references are:
My Manager
The Medical Director of my ICU
Co-worker that is also a preceptor, charge nurse, and CRNA student
I really can't stress this enough . . . work your BUTT off, try your hardest, develop relationships with the right people and doors will open.
3. Your Resume is a Picture of You
Your resume and job application are often the ONLY picture a hiring manager will get of you. Within a matter of seconds they must make a decision on whether or not you should be one of the 800 they should invite to interview.
How can you stand out?
I am not a resume writing expert by any means. For assistance with this most colleges and universities have resume counseling. You should take full advantage of these services while they are free to you as a nursing student.
Here are a few things that nursing managers are looking for:
History of hard work
History of dedication
Unique skills
Demonstration of general interest in nursing (clubs, work history, certifications – BLS, ACLS, published work)
Locations and hours for clinicals
It doesn't all come down to experience in health care . . . this is invaluable in applications . . . but it's not the only thing. When I landed my new grad ICU job I had only 6 months of paid hospital experience and that was many years ago.
Are you a member of the Student Nurses Association?
Have you gone above and beyond and obtained ACLS?
Did you create a club, group, or research group?
Did you do a research paper?
Maybe you rotated through an interesting unit?
How many "hands on" hours did you get in the ICU?
If you haven't done any of these things . . . start! It can be as simple as forming some sort of club on the campus . . . or enrolling in an ACLS course, ICU managers want leaders and self-motivated nurses. One self-motivated nurse can carry a floor.
One last thing I will say about resumes is to keep it clean, to the point, and only put the most important information.
When it comes to filling out the only application . . . be sure to fill it out completely. This is really not a place you want to skip things that you do not feel are important.
Let me tell you honestly what happens with these online applications . . . they are prescreened to see if applicants meet the minimum requirements. This is often done by a Human Resources employee. To get past this round you need to fill everything out, make sure you meet the minimum standards, and when given a chance to input free text . . . talk about yourself . . . how are you different from all the other nursing students applying for the same job?
If you aren't sure how to answer that just ask yourself how are you different from your classmates? Are you a better hire than everyone in your cohort? If you really believe so, think of how to quantify that. How can you put that into words? Is it your collaboration, your dedication, your ingenuity, or hard work?
Once you know what it is . . . think of some examples in your life, school, or work that SHOW that quality that makes you better than anyone else. These will be the stories you will share when interviewed as well.
Examples of New Grad RN Resume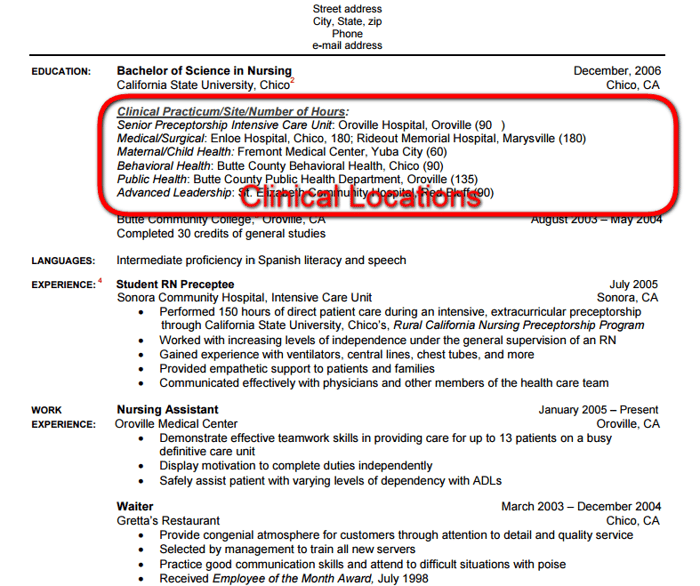 Source: CSU Chico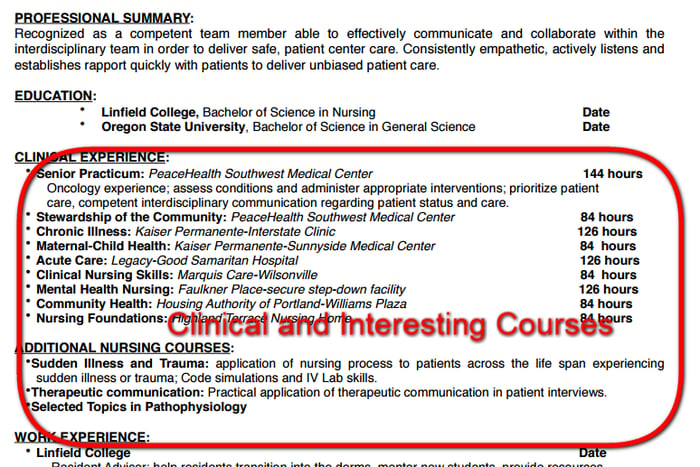 Source: Linfield College
 How I Made Over $70,000 My First Year as a Nurse ( how I learned to game the system)
4. If You Are Just Thinking About it . . . It's Too Late!
I'm sure you can tell . . . if you have your diploma in hand and you are just thinking about how to land an ICU job as a new grad RN . . . it's too late.
The journey to becoming a stand out nurse begins before you even step foot into your first class as a freshman.
To be honest with you, I never wanted to work MedSurg . . . I just knew it wasn't for me. My goal before nursing school was to become a CRNA so I had my sites set on getting that 1-2 years of ICU experience as quickly as possible.
During school my entire focus was on learning the material as deeply as possible so that I could start to make connections quickly. I met my professors, I built connections with my preceptors, I went to the Dean during her office hours and discussed things that I felt should change. I had my sites set and I had no intention of settling for anything less.
This relentless focus began to show in my grades and performance on the clinical floor. Before too long I had the GPA, the references, and the skills needed as a new grad to apply to the top residency programs.
You can too . . . If you are already farther along in your program and now feel that ICU is calling your name and that maybe you need to begin working a bit harder for that goal, no big deal. Just push the reset button and start doing those things you need to do.
Basically what I am saying is . . . . start today!
5. [BONUS TIP] Be Sociable
If you get an interview . . . the hardest part of landing the job is over.
The manager has brought you in to try to convince themselves that they don't want to hire you . . . at this point, the job is yours to lose.
The manager and nurses on the unit want to see if you are someone they would like to work with:
Take a deep breath
Don't try too hard
Crack a joke or two
Ask a lot of questions (do some research before you arrive)
Smile
You might not believe this, but I am not a terribly sociable person. It usually takes me time to open up with people. When I interview for jobs I arrive early and psych myself out . . . think Dwight (okay not that far).
Just try to be yourself and have fun. These people are people too. Just show them that you are fun to work with.
Tips from Nurse Nacole
If you have followed NRSNG for a while . . . you know that I love Nurse Nacole, she is an ICU nurse and one of the best examples of professional nursing I know . . . in fact, I've had her on the podcast in the past and even voted her to be on my nursing dream team.
Anyway, here are her thoughts on starting out in the ICU.
Conclusion
You are smart enough, you are skilled enough, and you are good enough to reach your goals!
Never sell yourself short because you think some other new nurse might be better suited than you. If you want it . . . it should be your job. And if you are a member of the NURSING.com community than I have no doubt you are the right choice for the new grad ICU job.
What are your thoughts? Do you have any other tips for landing a job in the ICU as a new nurse?
All this week I thought it would be fun to share one thing I am thankful for in my nursing career. Sometimes, I can struggle with getting tunnel vision and lose site of all the good in my life. When it comes to nursing, I have so much to be thankful for and I want to share some of those things with you.
How To Pass The CCRN Exam (What is the best CCRN review?)
I passed the CCRN exam way back in 2014. I used three tools. Today, I discuss those tools and how they can help. To learn more about them, go to: https://nursing.com/ccrn-review/