What are the Best Shoes for Nurses With Plantar Fasciitis? (our top 8 picks) | NURSING.com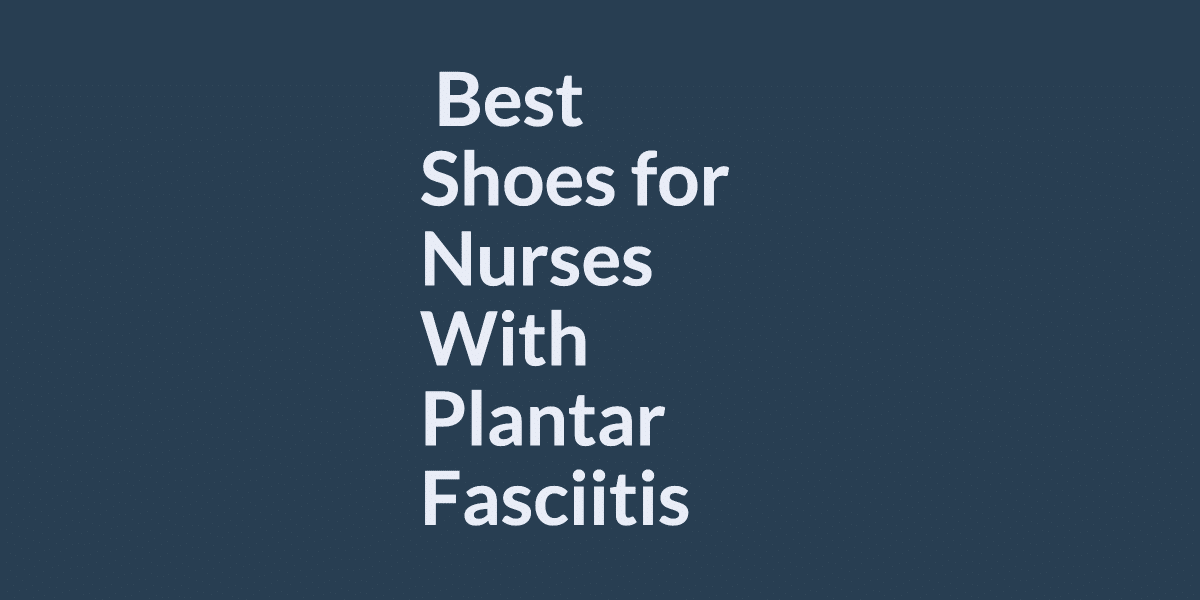 What are you struggling with in nursing school?
NURSING.com is the BEST place to learn nursing. With over 2,000+ clear, concise, and visual lessons, there is something for you!
Nurses spend most of their work time standing or walking on hard surfaces as they attend to patient needs. Over time, they start damaging their plantar fascia, the part of the foot that helps absorb shock.
The repeated tearing and stretching of the plantar fascia increases the risk of developing plantar fasciitis.
So what is this plantar fasciitis…
Plantar fasciitis is a condition that entails swelling of the tissues at the bottom of your foot and is a major cause of heel pain. If you're a nurse who wears shoes with inadequate support, you might have experienced this condition before.
What is the solution?
Nurses should wear shoes that have good support to minimize the risk of attracting plantar fasciitis. Here are some of our picks for shoes for nurses with plantar fasciitis.
Our Top 8 Picks for Nurses with Plantar Fasciitis
This orthotic sneaker is specially designed to maximize comfort on your feet, knees, and lower back while conducting your regular occupation routines. The two-way lacing system with adjustable straps in the side and heel of the shoe allows for a custom and adjustable fit.
With these shoes, you have support around your foot placement to help with poor positioning and eliminating heel pain. You can easily fasten the Orthofeet plantar fasciitis orthopedic shoe with shoelaces thanks to the two-way lacing system and closure.
Pros
Big toe box for hammertoes and bunion solutions
It comes with a lightweight ergonomic sole accompanied by air cushions
Comfortable foam padding for a better fit
The extended width provides more room for your feet
An excellent choice for nurses with arthritis, diabetes, and neuropathy
Premium orthotic insoles featuring anatomical arch support and various cushioning layers for a soft pillow-like support
It comes with a unique therapeutic design to enhance stability, alleviates stress on the joints, and improve ease of walking
Cons
Limited colors
The sole isn't much durable
General Customer Reviews
Different customers have had mixed opinions about this shoe. And as you'll know, one of the best places to acquire information about a product is through customer reviews.
Generally, the shoe is rated five stars by most customers on Amazon. However, we still have some that don't like the shoe and they gave their reasons as well. One customer on Amazon complained of the shoe wearing out in just three months after purchase.
Well, I guess the customer could have bought a low-quality product of the same type…
If you're considering buying this product, feel free to go through customer reviews before getting a pair.
Price
The cost of the Orthofeet plantar fasciitis orthopedic shoe is $129.95 at Amazon. However, you can still shop around from local shops for discounted prices…
Just be careful with the quality of the shoe.
Just from reading the name, I can easily tell that this show is meant for nurses. The Nurse Mates Bryar comes in a sleek design and super cute color to enhance your overall appearance.
The additional comfortable padding provides extra support and comfort. This is one of the best shoes for nurses with plantar fasciitis. The specifically designed arch helps alleviate plantar fasciitis in nurses.
If you're worried about maintaining a professional look, the Nurse Mates Bryar got you covered. The shoes are made with sturdy leather materials to enhance your professional appearance. This helps increase confidence. The shoes come with a 2.5-inch heel.
Pros
The shoe is stain-resistant and easy to clean
Regular and wide widths are available
Stylish design to increase your confidence and attract other people's attention
The pillow top footbed comes with moisture management to keep your shore comfortable
A budget-friendly shoe for nurses with plantar fasciitis
Elastic bands allow you to wear them and take them off easily
The super shock resistance feature allows for impact dissipation
Cons
Some people complain of limited durability
The shoe is difficult to find (some colors are already out of stock on Amazon)
General Customer Reviews
Most reviews revealed that customers are satisfied with the comfortability of this shoe. They also say that the show is well priced according to its function. You too can get it on Amazon.
Price
The Nurse Mates Bryar retails at a price between $67-$90 which, compared to the value you get, is the best price. However, the price can vary depending on where you buy them.
If you're a nurse working for lengthy hours, the Brooks Womens' Addiction Walker Shoes are worth a purchase. This shoe is made with state-of-the-art technology to provide a comfortable walking experience.
Also, these lace-up shoes deliver a clean, low profile design made of light brooks stitch detailing and a full-grain leather upper for a modern, casual appearance.
This shoe also comes with thick padding on the interior so that your feet fit snuggly. This allows for a comfortable walk. The extended progressive diagonal rollbar provides support to your arch keeping your body in its natural path of motion.
Available in black, white bone/off-white color options, the Brooks Women's Addiction Walker shoes will surely enhance your appearance as a nurse.
Pros
This show is designed to support nurses with overpronation and low arches
Rubber traction outsole provides adequate grip, stability and water dispersion
Excellent cushioning thanks to the thick and durable midsoles
The shoe provides for a slip-resistant and secure fit
The full-grain leather upper allows for extended durability for the shoe
The replaceable insole allows you to switch or change footbeds depending on your medical conditions like plantar fasciitis.
Cons
Sometimes it fits tightly around the top
Pricing and Reviews
Pricing for Brooks Women's Addiction walking shoes starts from $50.21 up to $229.89. This depends on the size of the shoe, the material, among other things.
Most Amazon customers have rated it 5 stars, which means it's an excellent choice for nurses with plantar fasciitis. According to them, it's a wonderful, life-changing shoe with good support. Others recommend buying a size larger for a perfect fit.
Here's another excellent shoe for nurses with plantar fasciitis. The Alegra's Women's Debra Slip-On takes the form of tennis footwear and many nurses are starting to like it.
Nurses who go for 12-hour shifts will find comfort in these shoes.
Pros
The shoes are made from leather which makes them durable
They come in large sizes to fit the needs of nurses with big feet
Provide excellent arch support minimizing the risk of plantar fasciitis
Synthetic soles
Hand-stitched leather upper, insole, and lining
The slip-resistant feature allows you to walk comfortably without slipping and tripping off the ground
Improved pressure distribution with a mild rocker outsole
Certified by the American Podiatric Medical Association (APMA)
Cons
Not all sizes are available
You need some time to loosen the leather material and to make it comfortable
Pricing and Reviews
For as low as $69.00, you can buy yourself this beautiful shoe from Amazon. The price varies depending on many factors, like size and it can go up to $149.95.
I went through some customer reviews on Amazon because I wanted to be sure that I'm recommending the right product to you. And as always, some customers gave positive opinions while others just didn't like the shoe.
If you're looking for perfect gifts for nurses, these shoes will surely put a smile on someone's face.
The Reebok ZigWild TR 2 running shoes are an excellent choice for restless routines and nurse schedules. These shoes are highly breathable and deliver a comfortable walking experience.
The built-in memory foam molds to your feet allowing you to keep your shoes on for extended periods. They have rubber soles that prevent slip and fall accidents even while walking on slippery surfaces. What's more, they are made from textile and synthetic materials and have a sleek design.
While wearing the Reebok ZigWild TR2 running shoes, you can confidently walk in front of people without the fear of falling or awkward appearance.
Pros
The zig-zag sole provides enough grip to walk on slippery floors while attending to emergency cases
The shoes are comfortable and flexible, especially for nurses with plantar fasciitis
Highly-responsive, shock-absorbing midsole minimizes the impact
The shoes come with breathable sections that help keep your feet dry and non-sweaty
Robust memory foam that adapts to your feet
Cons
Price and Customer Reviews
Interested in buying these shoes?
It will cost you around $79.99 – $159.99 to own a pair of these shoes. But considering the features and the health benefits you get, it's such a reasonable amount.
Many customers have applauded the comfort and functionality that comes with the Reebok ZigWild TR 2 shoes. You should check them out and give us your opinion.
The New Balance Women's Cushioning Running Shoes is another excellent option for nurses who spent most of their time on their feet.
These shoes are lightweight allowing you to walk for long hours without tiring your feet. They are also highly breathable, allowing you to wear them for long hours without sweating your feet.
The excellent quality makes them ideal for nurses who go for extended shifts. The advanced ACTEVA midsole technology and cushioning system are some of the best features that come with the New Balanced Women's Cushioning Trail Running Shoe.
The sturdy grip on the outsole allows nurses to walk on newly cleaned and slippery floors without much fear and struggle. They are also an excellent choice for nurses with wide feet and high arches.
Pros
Light and easy on the feet
Ideal for nurses with wider feet
Cushioning combinations allows your feet to stay in shoes for extended periods
Valuable arch support
The midsoles minimize impact and protect the heels
Affordable option
Cons
Since they are a bit too roomer, nurses with narrower feet are disadvantaged
Pricing and Reviews
This is one of the most affordable shoes I've seen for nurses with plantar fasciitis. A pair goes for around $45.49 to $145.60 depending on the size and the seller.
The shoes have received positive reviews from many customers online.
Vionic's Orthotic Walking Shoe is the perfect sneaker for individuals with feet ailments like plantar fasciitis. The shoe is podiatrist-designed for nurses who spend most of their time on their feet.
It also has a multi-sequins upper with mesh detailing for enhanced airflow. The Vionic Orthotic Walking Shoe is made from leather materials hence will stand the test of time.
The firm heel counter provides support to your foot's back while maintaining its position inside the sneaker.
A reliable and durable rubber outsole is built for control and slip resistance. The sneaker has been expertly designed to provide comfort and a high degree of stability while performing daily tasks.
Pros
Easy cleaning and maintenance requirements
Provides excellent long-term foot health
The replaceable insole is essential for those needing a specialized footbed
Comfortable, low-stress lift off your steps
The TPU shank protects your arch and supports the foot allowing the midfoot to maintain an adequate level of firmness
Cons
They wear out quickly, precisely on the toes
Pricing and Reviews
This comfortable sneaker retails at a price anywhere between $49.90 and $129.94. Of course, this will vary depending on factors like the size of your feet and the color of the shoes.
Many customers regard these shoes as an ultimate solution to their Plantar fasciitis condition.
All the shoes we've highlighted above are specifically for female nurses. However, I can't forget the male nurses with plantar fasciitis… this one's for you.
The Orthofeet Men's sneakers are designed to ease plantar fasciitis and other foot problems among male nurses. These sneakers are made with breathable materials to prevent your feet from sweating.
The non-tie lacing and unique colors are some of the features that make this product outstanding.
These sneakers come with an advanced cushioning system to prevent blisters and soreness on your feet. This is a major challenge for anyone who stays in their shoes for long periods…
Furthermore, the gel padding eliminates any discomforts on your feet. The anatomical arch support system wraps on your feet ensuring that weight is evenly distributed across the insole.
So, if you're a male nurse who wants to prevent plantar fasciitis, this is the right time to purchase these beautiful sneakers.
Pros
Comes with gel pads to eliminate muscle fatigue
Perfectly designed for flat-feet male nurses
Orthopedic insoles to provide ample arch support
Modernized air flow cushioning system for comfort and extra spring
Cons
Pricing and Reviews
The Orthofeet Men's Sneakers are valued at $129.95 at Amazon…
I've read many customer reviews about these sneakers and I can tell, many people love them.
About NURSING.com
Are you a nursing student struggling to achieve your dream? I understand how
challenging it can get and that's why I want to make things easier for you.
Allow me to introduce you to the nursing.com website…
This website provides a supplement to nursing students to help them through nursing school. Many students who've joined nursing.com have improved their lowest grade by 12 points and have a 99% pass rate.
Here's how it all goes down…
Watch lesson videos
Review study tools
Take practice question
Take NCLEX simulation
If you can successfully follow and complete these steps at the nursing.com website, you're a step away from passing your nursing exams.
The best part is that everything is under one location, the study tools, lectures, questions, and just anything you need to pass your nursing exams.
Nursing.com provides clear, concise, and visual lessons by outstanding practicing nurses.
In addition, the visual study tools are aimed at helping you master complex topics. The visual, kinesthetic, auditory, and reading/writing study tools enable you to master content the way you want. Some visual study tools you'll find at the nursing.com website include;
Mnemonics
Cheatsheets
3D anatomy models
Picmonics (this one requires Picmonic membership)
Flashcards (coming soon)
The visual practice question offered at this site helps you deal with test anxiety. The quiz builder will test you best on your learning style. The nursing practice questions (NPQ) include over 6000 practice questions to help you pass your nursing exams.
The test practice questions features…
Advanced customer quiz builder
Alternate format questions
Extremely in-depth instructive rationales
Up-to-date with current NCLEX test plan
Individual global rank
Challenging questions composed by NCSBN-trained NCLEX question writers
At nursing.com, we strive to save you at least 4 hours of study a week while helping you improve your grades.
The website is used by more than 360,000 top nursing students from various institutions including HCA Healthcare, and NYU. This is a good reason for you to trust us.
Nursing.com has a refund policy…
For instance, if you pass SIMCLEX and fail the NCLEX, you get your money back. You can start with the free trial, to get a feel of the website and all that's offered (but, of course, it has limited features).
If you're still not convinced about joining nursing.com, visit the site and go through some of the reviews from top nurses who benefited from the site.
If your grades are dropping and you feel like you're wasting time doing a nursing course, let nursing.com help you out.
A Guide to The Best Wedding Bands for Nurses
Shopping for an engagement ring as a nurse is no easy feat, given that wearing wedding rings while on the job can be tricky.
While your wedding band is supposed to be a show of commitment and sentimental milestones, it can become a hazard when you're using your hands every day to potentially save someone's life.
Besides, there is no count to the number of gloves you wear every day and times you have to wash your hands in the course of work.
It can be a complex task to find the best wedding band for nurses with all these factors in mind. Fortunately, this guide comes your way to make your search easier and help you make an informed choice.
A rubber silicone wedding ring is designed to suit your lifestyle as a nurse and is the safest alternative to a traditional wedding band.
The ring is made from the highest quality silicone, durable, lightweight, and comfortable so that you don't feel like you are wearing anything on your finger. It gives you room to work hard at your job without worrying that it will pose health safety concerns to you or your patients.
Pros
The rubber silicone ring is lightweight and won't feel heavy on your finger.
Flexible enough for the workplace and other activities outside the workplace
Made of 100% safe silicone that is also waterproof
It has a stylish look that is a combination of function and fashion
Cons
It may produce an allergic reaction in some people
The rubber is a little too thin and won't last long
Customer Reviews
68% of the customers that bought this ring reported it as an excellent quality ring compared to most other silicone rings on the market. A firefighter who previously wore a traditional wedding band found it to be of excellent quality compared to other ring types.
The tapper on the ring gives it a great look, finish, and feel.
Price
You can get the rubber silicone wedding ring from Amazon. It is available in various colors, including blue, gray, navy, green, lime, pink, and purple, at prices between $5.95 and $19.95.
The WOSTU 2MM Thin Band from Eternity Rings is ideal for an engagement ring or a wedding band. As its name suggests, it fits thinly and won't interfere as you wear gloves.
The ring features excellent craftsmanship and quality, and its design guarantees your comfort while you work. In addition, the solid 925 sterling silver ring is nickel-free and safe for you and your patients who suffer from allergies to metallic components.
The highly polished finish is tarnish-resistant and will not fade quickly.
Pros
The ring is made from high-quality silver and does not fade easily
It is nickel-free, hence safe for people with allergies to metal
Comfortable for you while you work
Low-profile gemstone setting that does not rip off gloves
Cons
It is hard to determine the correct size, as most sizes come smaller than what they should be
Some people may be allergic to the ring
Customer Reviews
While 73% of the customers who bought the ring were happy with it, approximately 12% were not satisfied with it because of its small size. Generally, it is a great ring that turned out to be an excellent choice for most buyers.
However, the manufacturer needs to work on making sure the size is correct.
Price
You can get the WOSTU ring from Amazon for $16.99.
This Surgical wedding band for nurses is 8 mm thick and features excellent artistry. It is made of 316L hypoallergenic, low nickel, surgical steel.
The wide stripe at the center goes around the band for a striking finish that does not interfere with your work or tear gloves apart. It is generally a stylish wedding band that comes in sizes 8-14.
Pros
Made of high-quality steel that does not react with chemicals
Excellent design and finish that does not interfere with your work
The interior is smooth for ease of cleaning
Available in a variety of sizes to fit different finger sizes
Cons
The deep-seated stones may be home to bacteria and germs if you don't carefully wash the ring.
The ring is not resizable
Customer Reviews
Many customers who bought this ring found it very attractive and made to the specifications they wanted. The quality is impressive yet comes at a highly affordable price.
Besides, the vendor's customer service is excellent.
Price
The surgical stainless steel CZ wedding band ring is available from Amazon for $15.95.
This 925 Sterling silver ring is one of the most recommendable wedding bands for nurses. The main stone is deeply set in the ring and remains inlaid not to rip off your gloves while still bringing out its beauty.
The ring also features 45 additional pieces of white AAAAA Cubic Zirconia down the sides. The top quality stones display an amazingly enriched finish just like a natural diamond.
Pros
The ring is made from 100% solid 925 sterling silver and hence durable
It is hypoallergic and safe for people with allergies to some metals
The material does not irritate your skin or cause itchiness
The stones are deeply set in the ring to prevent them from ripping gloves
Cons
It is too chunk to pair with an engagement ring, so you can only wear it without pairing it with another.
The ring may react with some people's skin and cause itchiness
Customer Reviews
While the ring is generally lovely and not expensive, the large middle stone popped out for one of the customers, and they could not find it. The other small stones also come off within a short time. This was the most frustrating thing for most customers. Otherwise, it makes for a classy ring that doesn't require a lot of maintenance.
Price
You will get the Newshe Eternity Ring from Amazon for $29.99.
This is a high-end "go anywhere" wedding band perfectly suited for various conditions and work environments. BONDWELL rings are made of medical-grade silicone and are responsive, lightweight, and an excellent alternative to metallic wedding bands.
The ring is made to last and engineered explicitly for tensile strength that flexes without putting pressure on your finger. As a result, it is safe for the active woman and remains comfortable under various conditions.
Pros
Made with doctors and nurses in mind because of the safety of the material that makes the rings
Protects your finger when it flexes or breaks under harsh conditions
Lightweight to keep your finger comfortable to prevent tampering with your work
The overall design is stylish and appealing
Cons
The rings run a little smaller than traditional metallic wedding rings, and you may therefore need to take a size bigger than what you are used to.
Although the rings are made for women, they look masculine
Customer Reviews
Many customers who bought the BONDWELL silicone wedding ring were happy with their choice, right from the color to the design and its flexibility in various situations. They didn't have worries that the ring would scratch against metallic equipment or get caught in fabric.
Price
The BONWELL Silicone wedding band for nurses is available on Amazon for between $3.21 and $11.95, depending on the vendor. In addition, you can get it in a variety of colors, including peach and ruby red.
ROQ Silicone wedding band is made from medical-grade hypoallergenic silicone, suitable for nurses and doctors. Exposure to harsh chemicals does not compromise the quality of the ring. Besides, the edges have a smooth finish to give you an easy time fitting gloves at work.
The stylish colors are a perfect combination that helps you make a subtle statement about your union. In addition, the 2mm thickness and 3.67mm width give the ideal size for comfort and flexibility.
Pros
The lifetime warranty and 100% money-back guarantee are good indicators that the rings are made to last.
The rings are lightweight and will not interfere with your work
Available in a variety of colors and sizes to match your personal preferences
The dimensions are well-optimized for comfort and flexibility
An excellent choice for both male and female nurses
Cons
You may not notice when the ring comes off as you take off your gloves, hence easy to lose.
The silicone will stretch with time, so you might need to order a size smaller.
Customer Reviews
For most customers, this silicone ring is precisely what they need for their work environment, especially in a hospital setting. Rubbing alcohol on the hands frequently during the day will not ruin the ring but may cause it to stretch a little if you are rough on your hands. The size fits perfectly and arrives as you order it.
Price
Grab this ROQ Silicone Ring from Amazon for an affordable price of $5.99-$26.66.
The Solid 14K Yellow Gold Solitaire ring is a Diamond Gypsy-Set wedding band ideal for nurses. The band style incorporates a half-round ring size of 5.5 with a comfort-fit thickness.
The shank base is 1.35 mm thick, and the shank base width is 2.5 mm. The polished primary stone is round and well set to avoid causing trouble as you wear gloves at work.
Pros
The ring is lightweight and ensures you remain comfortable while you work
The color will not fade fast despite exposure to harsh conditions
The styling is unisex hence ideal for male and female nurses
The band is scratch-resistant and offers strength and durability
Cons
The ring may not arrive as shiny as depicted in the online pictures
Customer Reviews
While most consumers like the ring because it provides a comfortable fit, a good portion of buyers felt that the color was not authentic and could be a fake shade of gold. All the same, the ring is built for durability.
One customer was impressed that the ring lasted for four years, despite being exposed to heavy construction and plumbing work.
Price
You can get the Solid 14K Gold ring from Amazon for approximately $346.
The Wellinsale Yellow or White Eternity ring is made from Rose Gold, a metal type that is ideal for people with allergies to metallic products. 14k indicates that the metal is durable and precious and will not cause harm to your skin or the environment.
It is also alloyed with other metals to boost its strength and durability.
While the white version is not as white as platinum, it still provides an attractive aesthetic appeal. The yellow version may look more yellow than gold with time, but this is because it contains some rhodium plating to increase its durability.
The Cubic Zirconia gem is well set into the ring to prevent it from causing any damages.
Pros
The ring is delicate, stunning, yet sturdy
Its compact size makes it easy to pair with another ring
The gemstone is firmly set in place to prevent you from losing it or tearing gloves as you put them on
The ring fits to its true size
Cons
The ring may be too thin for people who prefer wider rings
Only available in white and yellow
Customer Reviews
Customers looking for a wedding band to match or pair with their engagement ring found this ring to be the perfect one. The yellow and white colors are loud yet subtle to bring out a unique aesthetic appeal.
The vendor also provides quick and efficient shipping.
Price
The Wellingsale Wedding band is available on Amazon for $75.
Making Money With NURSING.com
Nursing school is hard! On your journey, you may run across (or have already run across) situations that intentionally or unintentionally make it even harder.
It breaks my heart to hear the stories students have shared with us over the years. All of these were just shared within the last month 🙁
I was accused of cheating multiple times by professors.
I had a few great teachers, but the students were not that great and some of the teachers were downright mean.
My program is going through a lot of changes, turn around on teachers, and honestly just a lot of politics and drama
All the students in my nursing class all feel lost and confused, and the teacher told us she was not a teacher
At NURSING.com we want to spread a community of support, the Nursing Family. If you have ever watched a NURSING.com video on YouTube, downloaded one of our cheatsheets, used our products, taken our practice questions, or had a chat with us, you'll notice that we instill messages of hope and encouragement.
We strongly believe that the saying "nurses eat their young" needs to become a way of the past.
However, unnecessary stress and pressure are still placed on students today.
But guess what, today we KNOW that is not the best way to learn.
According to Mihaly Csikszentmihalyi, we know that the BEST way to learn is in a state of flow where a student can approach a new challenge with the tools required to be successful, not a state of panic where you don't have the tools to meet a challenge.
We want to spread hope for Nursing students. Nursing school is hard, but we want to help take students from that scary place of feeling anxious and discouraged to a place of motivation and passion.
We want to spread this message far and wide! We are all part of the Nursing Family and can help lift each other up!
Over the years, the creativity that we have seen from our Nursing Family has just blown me away. The amazing talents that you bring to the table could help so many people. And many users have reached out wanting to share more! So, for those of you wanting to spread the message of the Nursing Family, here are just a few ways that you can do so.
Create Custom NURSING.com Study Plans
About 50% of students using NURSING.com have used it exclusively and abandoned their textbooks. However, although teachers often give assigned readings to help you zone in on what to study, you do have to find the right lessons yourself in NURSING.com.
Students often use their syllabus to create Study Plans in our system to keep track of what they will need to study for the different upcoming quizzes and tests. Creating study plans does take time, and students do commonly reach out asking for our help. Unfortunately, we aren't able to provide that one-on-one personal touch for every student out there.
But maybe you could help. If you have been using the system for a while, you may already be comfortable with creating study plans and could offer that expertise to others. You could create custom-built NURSING.com Study Plans based on a student's syllabus and charge for each Study Plan made.
Our study plans are easy to share and students can import them directly into their accounts.
Another way to approach the Study Plans would be to find groups of students that would pay for a Study Plan for their entire cohort for each of their different courses and sections of their syllabus. You could also create custom NURSING.com study tips that you could send along with each of the Study Plans that you create.
Tutor Using NURSING.com
We have built NURSING.com to be a platform that can be utilized in many different ways depending on specific needs. Students struggling with the NCLEX come to us time and time again on their 2nd, 4th, 5th or 10th attempt at the NCLEX, but finally passing using NURSING.com. Students that are barely passing or actually failing are able to significantly raise their grades and save time while doing it.
However, some students really need the guidance of an experienced nurse, the one-on-one touch, and the accountability that a tutor can provide.
If you struggled but overcame and are looking to give back to other students, NURSING.com is the perfect complement to a tutoring program.
You can guide students through a day-to-day study guide utilizing NURSING.com lessons, a question bank, SIMCLEX, and more. You can help them evaluate their progress in the system and guide them on how to improve areas they are struggling in.
Create a NURSING.com Swag Shop
Before you start I want to help address one thing that may seem daunting when you are first getting started. As you are looking through the setup processes for different shops like Amazon, Etsy, etc, you may wonder whether you should set up a business or just sell as an individual.
For all of the Swag shops mentioned below, it is not a requirement to create a business. What I would suggest is to set up your shop first. Take some time to test your products and marketing. If you start to make money, that is when you want to set up your business. Here is a great article that walks you through the decision and steps to set up a business: Do I need a Business License to Sell Online.
Another example of a problem to tackle later would be setting up a brand. Initially, you will probably want to test your business idea first and set up a brand later, once you have proved your concept.
Ok, now that we have that out of the way. . . let's walk through several different options for your NURSING.com Swag Shop.
Etsy NURSING.com Swag Shop
About a year ago, a student sent over a special thank you to the team here at NURSING.com. The gift absolutely blew me away. She had created hand-made keychains for us with the NURSING.com logo. Look at these!
We all just fell in love with the key chains she made – so creative and so sweet. If you have a skill that you want to share as well, you could create your own NURSING.com swag Etsy shop. You could make NURSING.com kleenex holders, face masks, custom embroidery, badge clips, anything.
I don't think I have a creative bone in my body, so I really can't help too much with the question "what should I sell" but let me go ahead and walk you through setting up your Etsy Shop!
***I will add one caveat here. Etsy is a unique marketplace that is specific to the following: "handmade items, vintage goods, and craft supplies" so if you are looking to sell something other than those listed above, you may want to consider either an Amazon listing or Shopify store (more info below).
If you decide that Etsy is right for you, here is a quick overview of the main steps as well as 4 Pro Tips to help you achieve Success.
Setting up an Etsy shop has five main steps. I have attached links for each step with detailed instructions from the Etsy Help Center to guide you through the process:
And, here are those 4 Tips mentioned above, to help you get the most out of your Etsy Shop:
Tip 1 – Don't spend too much time creating products
If you are attracted to Etsy you might be a natural-born creator. However, when you first get started don't spend too much time creating products. You want to make sure your ideas will sell before making too much product. So instead of taking a month to create 100 bags, come up with 3-5 different products and make a prototype of each one.
Tip 2 – Spend a lot of time on product listings
You may have the BEST product available, but if no one sees it, it will never sell. Take the time to really build a great product listing that will rank – rank is how well your listing compares to other similar products. Listings that rank higher will be shown to more customers and have more reach when selling your product.
Printful has a great post to help you optimize your Etsy Product Listings. It is called Etsy SEO: 5 Must-Do Steps to Help You Get Found on Etsy. I would recommend going through each step and focusing most of your time here.
Tip 3 – Focus on your best selling products
Once you have great products and great product listings, you'll want to really focus additional time and effort on the products that are doing the best.
If you have one particular product that is doing much better than the rest, figure out ways to improve on this product. Can you cut costs when making this product, increase the variation of the product, add more color options, etc?
Tip 4 – Create a marketing plan
There are two critical things to consider with your Marketing Plan
Marketing via the Etsy Platform

Owning your audience.
Etsy has an entire article on Marketing via Etsy. Utilize all their resources and implement their suggestions to improve your listings. Continue to work on these and improve them over time.
However, it is also very important to own your own audience when possible. Instead of just relying on Etsy to bring you traffic, consider what other places you might be able to reach your audience. For example, if you decide you want to sell NURSING.com badge clips you may decide to create content about nursing school supplies. Share that content in a format that feels natural to you, social media platforms, blog, YouTube, etc.
Focus on one main platform, know your audience, and provide value. The next step is to drive those people to a website and build out your email list. An email list is an "owned channel", which means you can reach out and contact your audience whenever you want.
If this is new for you, then I would highly recommend Pat Flynn as a great resource in this area. This video interview has so much great insight into how to do this: How to Build and Monetize Your Online Audience. However, don't stop at this one video. Pat Flynn provides so many great resources to help you build Smart Passive Income – which is the name of his blog.
Well . . . there you have it: 4 tips to be successful and links to all the tools you need to set up your shop. Now you just need to decide what you want to sell. That is the fun part! Best of luck on your Etsy shop journey.
And finally, please share your creations with us as well at contact@nursing.com!!
We would love to see what you come up with.
Amazon NURSING.com Swag Shop
NURSING.com members often reach out asking for Happy Nursing or NURSING.com shirts or other swag. We love that students want to share the Nursing Family with others! If you have great swag ideas that your fellow nurses would love, you can use our company logos/images to create your own NURSING.com Swag Shop. There are a number of companies out there that will create custom products that you can list and sell on Amazon.
There are truly unlimited options for creating NURSING.com swag. Here are just a couple of examples of things we have made for our office!
Setting up an Amazon account can seem a bit intimidating. I recommend just taking it one step at a time. Below I have summarized the 3 keys steps as well as provided links to amazing videos to guide you through the process.
Step One – Create an Amazon Seller account
To create an Amazon Seller account you will start by creating a regular Amazon account, however, if you already have one you can just use that. As soon as you click to "Sign Up" it will ask you to log in first.
You will have two options for your account type. You can select either an individual or a professional account. I would recommend starting with the individual account. It will save money unless/until you have more than 40 different products that you are selling. Here is a comparison chart for the individual vs professional account.
To get started you will start here. For step by step instructions for each step of the sign up process Jungle Scout has a great video here.
Once you have completed this first step, the next step is to create a product listing.
Step Two – Create a Product Listing
To do this second step well, this is where you will want to spend most of your time. I am going to break this second step up into a few key questions.
Should I build a brand or sell individual products? For the purposes of creating a NURSING.com Swag Shop, you will want to just sell individual products. For an in-depth explanation of each option watch here.
What is the product ID, and where can I get one? For the product ID you will want to use an actual UPC Barcode, specifically a GTIN Barcode. You can purchase these through GS1. This may seem a bit intimidating at first, but it is a necessary step, and once you get past here you can really focus where it matters.
What should I put as Manufacturer and Manufacturer part number? You can use anything you want here and can make up the part number.
There is a great video here by Jungle Scout here to walk you through step 2, including getting your Barcodes.
The last piece of Creating your Products is by far the most important. The most important thing you can do when setting up your product is to focus on the key areas that will impact your rank (where you show up when users search for different words). There are 6 different ways that you can impact your rank in Amazon.
Product title

Description

Images

Keywords

Reviews

Price
Check out this article for tips on getting the most out of the 6 areas of focus above. You may have the best product, but if your title doesn't match what users are searching for, or if you only have one poor quality image you are unlikely to sell a lot of your product. Spend the most of your time here and continuously work to improve.
Step 3 – Shipping your product
The first step here is to decide if you will use FBA (fulfilled by Amazon) or FBM (fulfilled by merchant). To have Amazon ship and store all of your inventory you will pay additional fees. However, it can be incredibly helpful if you don't have the space for storage, or if you don't have a schedule that allows for the demands of shipping every product to your customers.
Here is a video that walks you through the differences, so that you can decide what will be the best option for you.
If you decide that you want to have Amazon Fulfill your orders, this video walks you through the process of shipping your inventory to Amazon.
It is critical to spend time optimizing your listings to rank well on Amazon, but just as with Etsy, it is also important to build your audience through different channels as well. There is no exact answer as to which other channels might be great for you. However, you want to be authentic so find a place where you are comfortable that your audience frequents.
Join the NURSING.com Affiliate Program
At NURSING.com we have an affiliate program, and as an affiliate, if you recommend NURSING.com and a student creates an account you will get a % of that sale.
If you already have a following (Instagram, TikTok, blog, YouTube, etc) on nursing-related topics you can share NURSING.com which will give them a great resource to help them survive nursing school.
Students that use NURSING.com report saving 4.5 hours per week of study time and increasing their grade by an average of 12 points. Students can learn using a variety of different learning styles, and focus on the most important content so that they can study more efficiently.
The best part is that we will walk you through the process!
This year we will be paying out $200,000 to our affiliates and next year plan to 4x that. We are dedicated to helping our affiliates be successful as well as our nursing students.
Our average nurse affiliates make $150/month with NURSING.com.
So . . . if you don't already have a following, let me direct you to a couple of great resources.
However. . . if you already have a following you can apply to our affiliate program here. It is very easy to sign up, and we will provide you with all the resources and info that you need.
Here is a list of our top visited lesson pages. Many of our affiliates will drive traffic directly to these pages with their tracking link when they recommend NURSING.com
Most visited Lesson Pages
To keep up to date with our most popular Lessons over time you can see those here!
So, reach out if you are interested in trying out any of these paths. Just send us a chat or shoot us an email at contact@nursing.com. And we would love to hear your ideas.
. . . so now you can start your journey to making money on NURSING.com. We wish you the best of luck on your journey.
Happy Nursing!