3 Code Blue Tips for New Nurses (how to survive your first code) | NURSING.com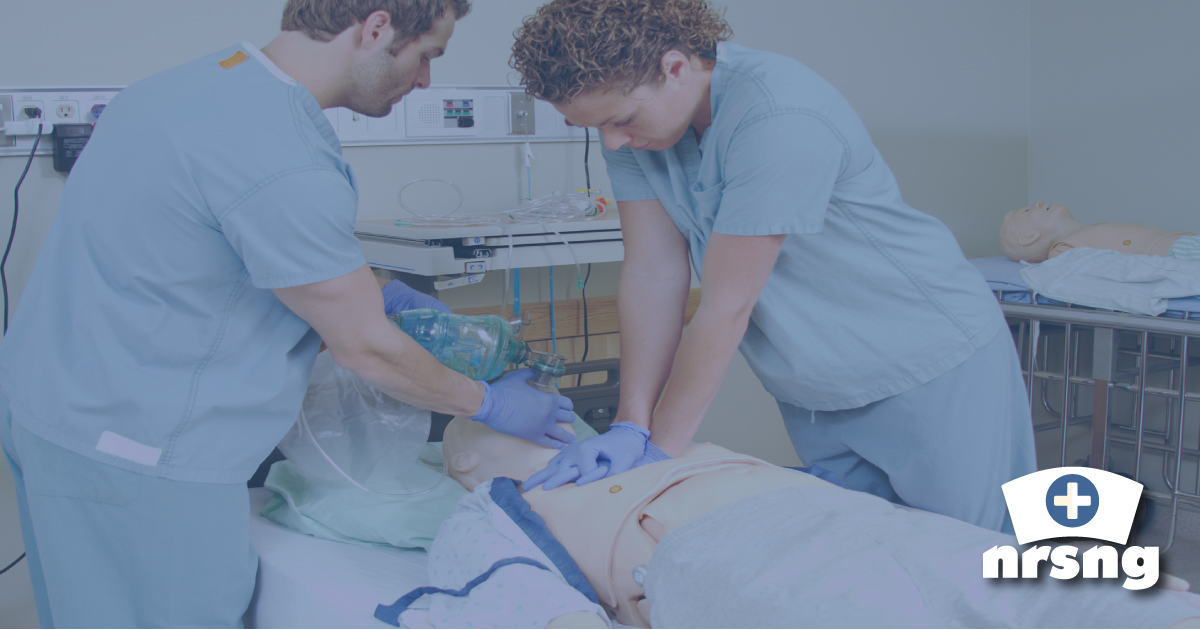 What are you struggling with in nursing school?
NURSING.com is the BEST place to learn nursing. With over 2,000+ clear, concise, and visual lessons, there is something for you!
Can I make a confession?
As a brand new nurse (straight out of school) in a 34 bed Neuro ICU, I was about to pee my pants the first time I heard "Code Blue Neuro ICU" sounding over the intercom.
While these transient episodes of adrenalin rushes where one of the reasons I wanted to work in the ICU I was terrified to actually respond to the code.
Would I know what to do?
What if the other staff discovered that I was a new nurse?
What if I make a mistake?
These fears raced through my head as my preceptor and I arrived to the room, I was devastated to find that the patient who was coding was a young mother who had experienced severe complications during the birth of her baby and had spent the last month on our floor unresponsive.
By the time we arrived the room was already swelling with medical staff (nurses, physicians, respiratory therapists, and residents) and family. My preceptor nudged me into the room and forcefully advised the other staff that I was going to jump in on compressions.
3 Code Blue Tips for New Nurses
Fast forward a couple years and I am now on the Code Team and Rapid Response Team responding to all codes and RRTs within my large Level I Trauma hospital.
After responding to countless codes in almost every department of the hospital I want to share with you a few tips that will allow you to learn and provide the best possible outcome for your patients.
If You Aren't Doing Anything GET OUT!
I know, I know, this sounds harsh, but codes are no place for gawkers. There will be 5-15 people in the room already each with a task and each working in unison to save the patient . . . even one extra body can greatly reduce the chances of a positive outcome.
If you are unsure what to do and do not have a task . . . step aside and take in all that you can or check on the other patients on the floor while the other nurses are busy in the code.
Do Something
Yes, this might sound like it contradicts my first tip but let me expound. The best way to learn is by doing. Getting in on the code and being a part of the team is the fastest and best way to learn.
Everyone can do compressions. Start with compressions.
You may need to walk right up to whoever is currently doing compressions and tap them out in order to do them and that is exactly what you should do. Hard and Fast!
As you confidence begins to grow you can start pushing drugs, recording, or manning the cart or defibrillator. But only do those things as you feel competent and comfortable.
Communicate
Communication is essential in everything we do in medicine and even more so during a code. Codes can be CRAZY (to say the least) and with so many people running around and doing things it is important that you communicate everything that you do.
ACLS is based on algorithms and whoever is running the code needs to know what has been done. This is no time to be timid or shy. When you do something SHOUT it out and make eye contact with the leader if possible.
The Mentally Strong Nurse (13 Things Mentally Strong People DON'T Do) w/ Amy Morin LCSW
Why Mental Strength for Nurses
Let's face it . . . nursing is a TOUGH job. Its also a highly challenging degree. We see things on a daily basis that most people will never encounter in their lives.
One a daily basis we get emails from nursing students who are considering giving up on nursing . . . it's really THAT hard.
What is mental strength?
Mentally strong people have healthy habits. They manage their emotions, thoughts, and behaviors in ways that set them up for success in life.
Amy shares that only 17% of adults are actually mentally strong . . . but if you were to ask a room full of people if they thought they were mentally strong, the majority would raise their hand!
Sadly, I would estimate that within nursing that number might even be a bit lower. I see so many new nurses entering the hospital for the first time with bright eyes thinking that they are going save the world. The truth of the matter is that health care can be incredibly depressing and stressful.
What does the nurse do when their vision of being a bedside nurse drastically collides with the reality of modern health care?
Unfortunately, what often occurs is the new nurse does one of a couple things:
Burns out
Develops unhealthy habits
Happiness and success are two things that everyone is searching for . . . many times in the wrong places!
This concept of mental strength will help you look internally and discover those areas you can work on to find peace, set you goals, and define success for yourself.
Nursing School
I have shared a few times before that right before finishing nursing school I actually withdrew . . . I had allowed a bad instructor to control my happiness. I had actually given up control of my life, happiness, and success to one lousy instructor.
How sad is that?
It wasn't for nearly another year that I returned to nursing school and completed my degree.
How often have you allowed individuals, patients, parents, siblings, companies to control your well-being?
I still have a ways to go, but I would like to think that I have grown a bit since that time in nursing school.
Don't Become Another Statistic
There is a bright side to all this . . .
You are a human BEING . . . life isn't over once you finish nursing school.
You can learn, grow, develop, and progress even after you get to add that RN after your name.
The moment we think are are done progressing we are in real trouble.
So here is what you can do to develop mental strength and avoid becoming another new nurse stastic and even more importantly so that you can be happy . . . really happy!
Write down your definition of success (in regards to things you CAN control)
Identify areas that you can grow in
Start incorporating the suggestions from Amy into your life
Learn More About Mental Strength
Being a successful nurse is so much more than simply learning a few skills and tricks. I want you to find true success and happiness in life. Learning how to develop mental strength is KEY to this. I invite you to read the article and book as well as consider enrolling in her e-course about mental strength.
3 Ways Being a Nurse has Impacted my "Real" Life
I love being a nurse.
I CHOSE to be a nurse after several other careers. Once I was in to nursing school I worked my butt off to become a good nurse.
Recently, I interviewed NurseNacole on my podcast and was reminded (thanks to her energy) why I love being a nurse.
To me . . . being a nurse is more than being able to put RN after my name. It means wearing a mantle on my shoulders. It means that I can be proud of what I do. It means that I have the knowledge to save a life. It means that I will sit with patients as they take their final breath. It means that I will hug moms as they watch their child die. . .
I take what I do very seriously.
The funny thing is . . . being a nurse is a LIFESTYLE.
You never stop being a nurse.
In my previous job, when I left work, I was done. Yeah . . . that doesn't work in nursing. Nursing has crept into every aspect of my life in some way or another. Here are 3 ways nursing has crept into my life.
Sh** Is Going to Hit The Fan
The most important and positive way that nursing has affected my life is that I have learned that "stuff" happens. Sometimes really bad stuff happens.
Usually . . . the worst possible thing happens.
During a 12-hour nursing shift it is impossible to explain how many things go wrong. A nurse runs around putting out one fire after another. Sometimes its the small stuff . . . other times . . . its the HUGE stuff.
You might go from giving CPR on one patient to watching a previously non responsive patient tell his wife he loves her within a matter of minutes. You have to learn how to keep your emotions in check and be prepared for when it all falls apart.
This has helped me in life. I love to set goals and plan for the future however, knowing that things can (and will) go wrong has helped me to appreciate when things are going well.
Prioritize and then Prioritize Again
No matter how much nursing schools try to prepare students on the importance of prioritization nothing can prepare students for the real world.
During the 12 hour shift you will feel like you are drowning and then someone hands you a 45 lb weight. (any Jim Gaffigan fans?). In a short 12 hours you have to complete 47,354 tasks while keeping the patients happy and deal with a new admission.
Imagine going to work and knowing that your first priority is the life or death situation. This is a lot to manage . . . it's tough.
Learning how to prioritize takes over your entire life. I have learned how to organize my life in a much better way. I rank all my tasks at home from 1-10 if something isn't a 9 or 10 . . . it's not important. This has helped me focus on what really matters in life (family) and let the less important things take a more realistic place in my life.
Cherish What Matters Most
People love to hear medical stories . . . I'm not sure why . . . they are either super gross or super sad.
In my time as a nurse I have seen some of the most heart-wrenching things, I have seen some truly incredible things, and some just plain gross things.
The moments that have stuck with me and affected my life the most are those moments when I saw a mom say goodbye to her kids and took off her breathing machine for the last time, the 32 year father of a newborn suffer brain death, the post-partum mom hemorrhage out and leave the father to raise 4 children.
It's impossible to come home from one of these shifts and not want to give your kids a HUGE hug and kiss.
Most people never have to see these things. While I feel deeply for the families, I am glad that I have been able to experience these moments and that they have tethered me to what matters in life . . . my family.
Conclusion
While this is not a complete discussion on codes or ACLS practices I wanted to provide you with a simple set of practices that you can incorporate to be less intimidated and learn when you respond to the next code or your first code blue.
Overall, I simply want you to have confidence and trust what you know
What other tips do you have for codes? Share your thoughts below.