Finally, Your LAST Semester Of Nursing School (now what!?!?) | NURSING.com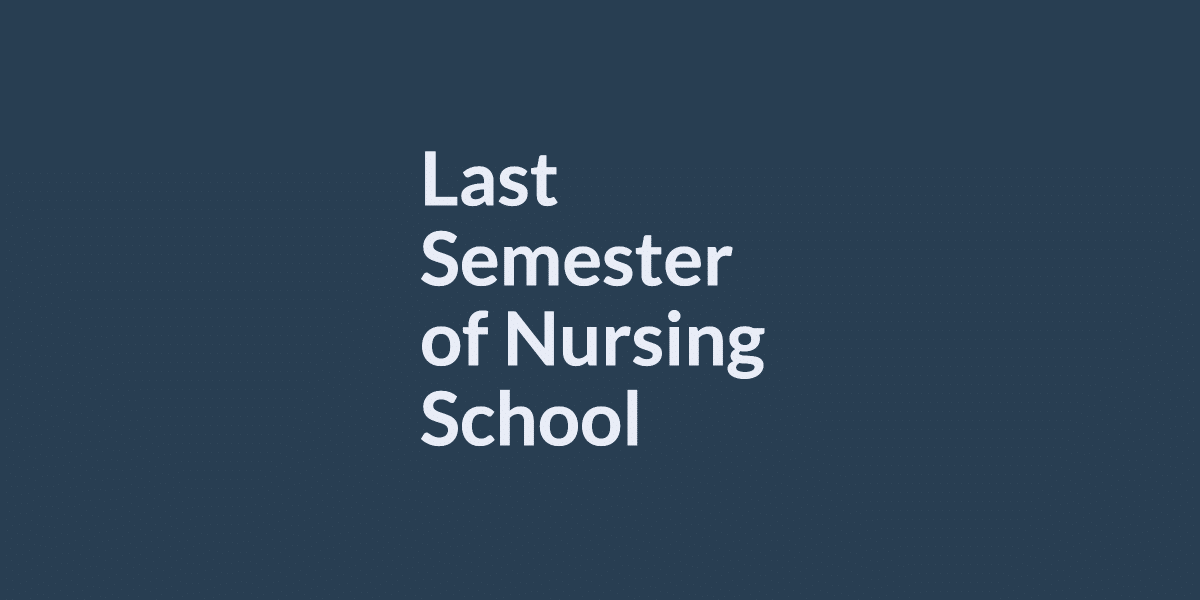 What are you struggling with in nursing school?
NURSING.com is the BEST place to learn nursing. With over 2,000+ clear, concise, and visual lessons, there is something for you!
A few years ago, the last semester of nursing school seemed like a lifetime away. Now that you are in the last leg of your nursing studies, it feels surreal reminiscing about all the worry you once had at the beginning to middle of your course.
How long will nursing school take? Am I ready for my next test? How many semesters are remaining? Will you meet the next deadline? How do I internalize all these nursing guidelines? Why am I so overwhelmed?
Now, you are this close … *pinches fingers* … to being over and done with all the worry and what not of nursing school. Congratulations. But no matter how much hope and relief that brings you, you know that things get harder, tasks increase, and expectations rise towards the end.
To put your mind at ease, here is what to expect and what is expected of you these last few months or weeks before you embark on your professional nursing career.
What To Expect During Your LAST Semester Of Nursing School
Just because it is the last semester doesn't mean it is not going to be busy. If your last semester is yet to start, you might look at the curriculum for the semester and think … "oh, I am only required to take three classes and a senior practicum? Huh, that won't be so bad!"
Well, that couldn't be further from the truth. Your semester will be one of the busiest because you'll be doing the following:
1. Preparing For Your Exit Exam
In your last semester, you will typically encounter an exit exam. It is similar to the professional licensure exam, NCLEX, and is used as an indicator of how you will perform at it.
Some schools use the HESI, but most use the ATI. You have to pass this exam by a certain score in order to graduate.
They cover everything you have learned up to that point, so you will spend a huge part of your last semester preparing for it.
2. Completing Your Clinical Hours
Since you are on your last semester, you have probably already done several clinical training rounds. However, your last semester's clinical hours are more significant.
You are required to grasp everything about the profession and prove to your supervisors and advisors that you can carry out all the nursing duties confidently. You will come across medical terms that you have ever heard of, but cannot recall anything about them, and be required to keep them at the tips of your fingers.
Carrying a notebook will come in handy when you come across these words or instructions that you need to remember.
You will be on your feet for at least 12 hours which is a very long time, especially since you are used to sitting in class for only a few hours per day.
3. Attending Lectures
Apart from working on your clinicals and practicing for your exit exam, you also have to attend your lecture classes. Previous studies have revealed that nursing students deem lecture attendance as a crucial part of their learning and believe that missing a lecture impedes their understanding of the subject.
The significance of structure in nursing education has been considered important to minimize psychological stress in nursing students. Attending lectures is known to be crucial in structuring nursing students' students by offering a favorable learning environment in community with other students.
In addition, attending lectures helps nursing students gain basic knowledge about the subject and offers them an opportunity to ask questions. It also enables them to access hand-outs and tips for passing their exams.
4. Putting In Job Applications
You wouldn't want to waste any time after you graduate. That is why as soon as your final semester of nursing school begins, you should create or update your resume
If you are lucky, you might get hired before you graduate. Although you cannot start practicing until you have passed your professional licensure exam, you can be hired on the condition that you complete all the necessary steps before you start working.
5. Completing Projects
There are lots of projects that you have to do in your final semester of nursing school. They include, but are not limited to:
Volunteering in the community
Presentations
Research projects
Group projects
Theses
Presenting and defending a senior project
Completing these projects is crucial. As such, you should ensure that you complete all your projects if you want to successfully finish your studies and become a valuable member of the nursing fraternity.
6. Planning Your Graduation
If you are planning on celebrating your graduation, you have to think about all the details. Where will it be held? Will it be open? Who will you invite?
Planning for your celebration is fun and exciting only if you have enough time to do it. If it creeps up on you the final days before you graduate, it may be quite overwhelming. To make it less daunting, follow the following tips when planning your graduation:
Set a date, time, and location,
Decide how much you want (or can afford) to spend,
Come up with a guest list and order your invites,
Decide on the food, drinks, and snacks,
Decide on the decorations,
Decide on the fun activities that will keep guests engaged,
Decide on whether you will handle everything, or you'll outsource to service providers, i.e. photographers, caters, decorators, etc.
Planning ahead makes the entire process less daunting. Be sure to take a deep breath before it starts. And, don't fret about what you forgot or what might not work. Also, be sure to ask for help from family members and friends. The more help you can get, the easier the process can be.
7. Preparing for NCLEX
As you well know, the NCLEX is the exam that you need to take after graduating before you can become a nurse. It is set by the Board of Nursing, and ensures that you have all the necessary knowledge and practical skills needed to be a registered nurse.
It is just as important … if not more important … as your nursing school's exit exam. Here are a few tips to help you prepare for your NCLEX.
Don't evaluate yourself during the test
Make a study plan
Be well prepared for the examination day
Believe in yourself
Gain familiarity with the current NCLEX test plan
Have ample time to study instead of rushing in the last days
Authorization To Test (ATT)
Before you schedule your NCLEX at a Pearson Professional Center, you need to apply for your ATT. To get one, you need to request registration or licensure from the Nursing Regulatory Board (NRB) of the state where you are seeking to practice. You have to pay a fee to the NRB along with your application materials.
Once you have been made eligible by your NRB, you will receive your ATT through the email you used to apply. Once you receive it, you register with Pearson VUE through one of the following methods:
Online, where you pay with your debit, prepaid, or credit card.
Phone, by calling Pearson VUE NCLEX Candidate Services at 866.496.2539 and pay your fee using your debit, prepaid, or credit card.
Keep in mind that submitting your registration does not automatically qualify you for the ATT. You have to meet all the eligibility requirements as per the NRB of where you are seeking licensure.
More information on ATT validation dates
The Nursing Regulatory Board specifies the validity period of your ATT. On average, they are valid for about 90 days.
The ATT contains your ID number, authorization number, and expiration date.
The NCLEX must be taken within the validity period of the ATT. If it expires, you have to re-register again.
If you have been made eligible and you haven't received you ATT, or have lost it, call the NCLEX Candidate Services to replace it.
The validity dates cannot be extended for any reason.
Remember to Save Money
Nursing school is not cheap. And your last semester will cost you a bit more than the others, so you should have at least $1000 saved up to proceed through without any hiccups.
If your school uses the HESI as the exit exam, it will cost you anywhere between $35 and $70. If it uses the ATI as the exit exam, it will cost you about $95. Some schools even have a practice exit exam followed by the main one, and you have to pay for both.
You also have to pay:
Between $30 to $500 for your nursing school pin
$100 to the board of nursing to apply for your license
About $40 – $60 for stuff for your pinning ceremony
$200 to register with Pearson VUE
For supplies such as textbooks, cord fees, NCLEX review material and graduation fees among others.
Some of the costs and fees you will be required to pay are not included here because they are unique to each nursing school.
Stay Strong, You Are Almost There
With the finish line in sight and so many tasks waiting for you, it is easy to burnout. The thought of sitting through one more lecture or writing one more paper may sicken you, your anxiety levels may be skyrocketing and you cant just bring yourself to complete an assignment on time.
My favorite way of staying motivated when nursing gets hard is to read some of the quotes by Florence Nightingale, the lady who revolutionized nursing and made modern nursing into what it is today.
To keep you focused and motivated, here are a few tips that will assist you:
Celebrate your successes and appreciate how far you have come.
Set goals as you are going through the semester and challenge yourself to achieve them.
Seek help from your teachers, colleagues, tutors, mentors, or public figures. You can get highly motivated simply by talking to them about what you feel.
If you are religious, pray for strength and guidance.
Keep your eyes on the prize. Remember the reasons why you wanted to be a nurse and remember you are on the final stepping stone.
Why Work With Nursing.com?
It is quite comforting knowing that you are going to understand all the information that you are learning. Nursing.com is that friend and ally that you need to help you if you are struggling or need to pass your nursing school and NCLEX.
So, why should you work with us?
On average, nursing.com students improve their lowest grade by 12 points.
Our students have a 99.86% NCLEX pass rate.
It is used by top students at NYU, Texas woman's university, Rutgers, and Grand Valley State University, Pennstate, and The University of North Carolina at Chapel Hill among others.
We have an endless number of study materials, practice questions and teaching styles to suit every student's preferred learning style. We also have a unique teaching method called the Core Content Mastery Method to help students master complex content faster and in a more engaging way.
You can study anywhere, anytime, through our mobile app.
You are guaranteed of passing the NCLEX.
This point needs some clarification. In the aforementioned point on preparing for the NCLEX, I pointed out that you need to take a reliable prep course. What makes a reliable prep course?
Some aspiring nurses take "adaptive" exams that just give you 100 questions and rationales and tell you how likely you are to pass the NCLEX … which technically is not adaptive. Then, when you reach the examination center and start answering, you realize you actually have zero preparation. The results? 109,689 NURSING SCHOOL GRADUATES FAILED THE NCLEX LAST YEAR.
Our prep course, SIMCLEX, is the world's most accurate NCLEX simulator. It is exactly like the NCLEX in all aspects, so you will get comfortable with the style and format of the big exam.
SIMCLEX is completely adaptive so it responds to you, just like the NCLEX … and that is just the tip of the iceberg. It also shows you 75 to 265 questions similar to the NCLEX, which have been taken and vetted by tens of thousands of nurses around the world. The questions also come with a time limit, so you can really get a feel for the right tempo.
After submitting your test, you get fully personalized study suggestions based on your results. Once the test performance is reviewed, the AI checks for three of your weakest areas and provides study suggestions in a few seconds. How can anyone fail with such features?
If for no other reasons, then work with us because of the samples of student reviews below.
– "I thought it was very similar to the NCLEX! The questions are difficult, but seemed to be about the same as the ones I had on the NCLEX…"
– "… I passed by NCLEX in 75 questions. For those who are asking if SIMCLEX works, my answer is yes yes yes. Not only did I use SIMCLEX to give an idea of my strengths and weaknesses, I was able to use the lecture content to hone in on the weaker areas…"
"… the whole course is set p to help you succeed!!! the SIMCLEX is so helpful to see where I am lacking and help me to get to the point where I feel confident about passing the NCLEX…"
The Deal..
Here is the deal you get once you decide to work with us.
You are allowed to test the website and our materials to know if they are the best fit for you … which we guarantee they are. The first three days of your trial cost you only a single dollar.
If along the way you decide we are not what you are looking for, you don't have to go through the lengthy process of needing to contact or wait a certain period before you cancel your subscription. Its immediate and you don't need to talk to anyone.
Our NCLEX prep is completely risk free. When you sit for your NCLEX without properly preparing then you fail, you have to pay for it again. And nothing is to say you are not going to fail again. If you prepare for your NCLEX using our simulator and pass it, we shoulder the risk of you failing the NCLEX. If you do, we pay you back the amount you used to pay for it… PLUS the same amount.
Conclusion
It's a bit overwhelming and somewhat terrifying that your entire future rests on passing ONE exam. But it doesn't have to be. You have already come so far and achieved so much that a single hurdle couldn't possibly stop you no matter how insurmountable it seems.
Most nursing graduates don't fail the NCLEX because they don't know enough – they fail because they are not fully prepared. If you are struggling with nursing school and need to improve your grades and pass the NCLEX, take control of your future now!
A couple of nursing stories
I hope these stories help you remember your "WHY".
---
Good morning, welcome to the NRSNG podcast. My name is Jon Haws, RN, and the founder of interest and G and today, you know, first of all, I feel like it's been awhile since we've been on here since we've had a chat. So I appreciate you taking some time out of your day to come listen to me and to hang out with me and to talk with me. I really love doing this podcast. We've been super busy with a lot of things that we've been working on planning for next year in 2020 things to help your guys's nursing journey be a little bit smoother, be a little bit better and help you guys find that success that you deserve and that you're working so hard for. And actually I'm going to be releasing a show on December 4th, a podcast episode on December 4th, where I'm going to share with you this pretty huge announcement that we have coming up.
So be sure to subscribe, be sure to share that and be sure to check out the episode on December 4th today, I wanted to do something a little bit different. I actually just wanted to share with you guys a couple of stories from my time in ICU and without going into a lot of details and everything like that, I thought, you know, as we're going into some breaks in school with Thanksgiving and Christmas and new years, I just wanted to share with you some of the stories that I have from my experience as a nurse on the floor, and you guys can listen to these and just kind of have these with you as you're traveling as you're taking time off and stuff like that. So I remember specifically one gentlemen earlier on in my career as I was a nurse I had just kind of been on my own and was done with my preceptorship and I was working in the neuro ICU and I was taking care of this, this older lady who had had a, an ischemic stroke.
And she had been in the hospital for a few days, maybe three, four days, something like that. And I worked night shift and this was getting close to Christmas time. And so, you know, during the night shift, all, you kind of get a lot of the lights out and you have just enough light to kind of see what's going on in the room. And every night this lady's husband would be there in the hospital. And the whole time he kind of sat in the recliner over in the corner and was just kinda writing away, just writing and writing and writing. And I never really knew what he was working on, but that's what he was kind of just doing over in the corner. It was writing while I was taking care of his wife. And so I took care of her throughout the night.
I went home, came back the next night and took care of her again. So at this time she had been there, you know, about four days, five days, something like that. And then the same thing, he just kind of sat there in the corner and was writing now, as I was leaving to go home that second night, he knew it was going to be my last night on. And as I was leaving to go home, he handed me a card and said, thank you for taking care of my wife and Merry Christmas. So I went home and I opened the card and it was a very well-written long card. The whole front, the whole back was all written, just expressing his gratitude for me taking care of his wife. And that really meant a lot to me. I saved that card. I kept it, it was the most meaningful Christmas card, but I think that I've ever gotten because he took the time as his wife was going through this struggle as his wife was recovering from a significant issue.
He took the time every night to kind of sit there, know my name, know a little bit about me and to write just gratitude for what I was doing as a nurse. And so I really appreciate that. And, and that would always really stick out to me. And I think that all of our patients and all of our patients, family truly drew do appreciate what we do. And I recognize that, and I recognize that as they're going through these traumatic experiences and as they're going through this, that a lot of them don't have the time or the ability to really think about expressing that gratitude. They're very stressed and they're going through a lot. And so but it was nice to get that card from him. And it's a Christmas card and a, a time of working in the hospital that I'll always remember.
There was another experience a little bit later on in my career. It was, again, it was an older gentleman and his wife who had suffered a very large stroke and she wasn't really going to recover. She was either going to a nursing home or she was going to pass away. It was definitely a terminal stroke. This is what was going to end her life. And this guy was a much older gentlemen. And she'd been in the hospital for quite a while, right in the ICU for quite a while because she wasn't recovering. He didn't want to withdraw care and they were trying to determine where she was going to go. So she wasn't responsive. She wasn't doing much. And she wasn't recovering, but this older gentleman has her husband would be there every single day, every single night. And he just stayed there in the hospital, would go down, eat in the cafeteria, come up and be with her throughout the day and throughout the night.
And he would just stand by her bed. And I told him one night when I was taking care of, I said, you need to go home and get some rest. You need to go home and, and rest up. And he said, I have nowhere else to go. This is my wife. And I want to be by her side. And that experience, it did take me back a little bit, you know, cause he had truly let go of all of his personal needs to be there with his wife and to be there with his loved one. And I think that that really meant a lot to me to watch him take care of his wife and to care for her even to the point of letting go of all of his own needs. And that, and that just was kind of a sweet experience to watch that that deep love that he had for his spouse. Even in this really dark time that he just wanted to be there with her.
Another one that I told multiple times before, but it really means a lot to me. And then these are, so again guys, I worked in neuro ICU. So a lot of my touching tend to have kind of sad endings, but these are the things that kind of stuck out to me and meant the most to me as I was working as a nurse. So another experience that I had was maybe a week or two after I had come off of orientation and I was taking care of this, this younger guy, maybe fifties, maybe late forties, who'd had a large stroke to the point that we were going to withdraw care. And so I'm about a week or two into my working as a nurse all by myself. And I find out that I'm going to be taking care of this, this gentleman and that we're going to be withdrawing care shortly into my shift.
So I, I go in there and all the family's starting to gather. They realize that we're going to be withdrawing care. So there's maybe 20 people there crowded into the room. And I begin to explain to them kind of what we're going to be doing, that we're going to be withdrawing care. We're gonna be turning off the ventilator. And then he'll expire. And we will you know, at that point they'll say goodbye. So he actually had a pacemaker. So we got a little magnet to deactivate the pacemaker. We withdraw the ventilator, we turn off all the medications and about 10 minutes later, he passes away. And at that point, you know, we kind of shut the blinds. I kind of closed the door, clean him up a little bit and have him sit there so that the family can say goodbye to him for the last time.
So I kind of stand outside the door, just give him some privacy. And time passes an hour passes, a couple hours passed and all the family starts to trickle out. And the last person in there was his mother and his mother was, you know, probably in her seventies, a little older woman, couldn't have been over five feet tall, very short, older lady. And I stand outside the door just kind of waiting for her, giving her time. And as she comes out the door, we, we shut the door and we leave her son in there by himself. And she comes out and she wrapped her arms around me and gives me a huge hug. And she looks at my name badge and she says, thank you, John, thank you for taking such good care of my son. I love you. I will always remember you.
And that moment truly stood out to me in that moment. She was entrusting her son in my care. That was the last time she was ever going to see her son. And she was leaving him in my care and she was going home and leaving her son with me. And I know that in that moment, she wasn't saying, I love you, John. And thank you, John. She was saying, I love you nurses. And I love you for taking care. And I always remember you nurses in that moment, I was the only healthcare worker there with her. I was the one hugging her. I was the one taking care of her son and she trusted me in my role as a nurse. And so as you guys progress on in your journey and as you begin to move forward as a nurse, always remember that always remember that you're representing every nurse you're representing your hospital system. You're representing me as a nurse. You're representing your classmates when you work with these patients. And that means something. People always that nurse that brings light to them in their darkest moments and is there to share their, their greatest joys as well. So remember that as you go forward and work as a nurse,
You guys being a nurse is such an incredible experience. It's something that, and we see things and we do things that so few people ever get to experience and it can be really hard to separate that. And I think that where a lot of you are right now in nursing school and in your nursing journey, it can get really hard to remember why it can get really hard to remember why you went into this, why you're suffering through this and, and dealing with, you know, a lot of the politics and the difficulties of nursing school. But I want you guys to over these holidays over these breaks that you have from school, take your mind away from the stress of school, take your mind away from the stress of the INCLAX for a day or for two days, or for a couple of days, even.
And just remember your wide, think back to some of those clinical experiences that you've already had that have been life-changing for you. And I know you've already had those experiences, even if you've only done one clinical experience and remember that you chose to go into nursing because you care about people. And because you want to see you want to alleviate some of the suffering in the world. And I know that regardless of why you went into nursing, there's a piece of you who went into nursing for that reason. And that's incredibly commendable guys. That's so incredible that you are doing that and that you chose to go into nursing, knowing how difficult it was going to be. So keep your heads up. Remember your why, especially at this time of year, you guys, we love you so much. We truly do want you to succeed because the world needs more nurses.
And our job here at NRSNG is to help you guys reach those goals. We make information more concise, more complete, and we explain it to you in a way that you will always remember. And that's what we do over@nrsng.com. If you haven't visited us, please check us out and share us with your buddies. And we want to help you succeed where the best place to learn nursing. Like I said, at the beginning of this episode, guys, on December 4th, there will be a new podcast episode coming out with a huge announcement. So please be sure to make a note of that and remember that. I think it's going to rock your socks. It's going to be exciting. So be sure to check that out guys now, like we always say here, go out and be your best selves today. Happy nursing.