What are you struggling with in nursing school?
NURSING.com is the BEST place to learn nursing. With over 2,000+ clear, concise, and visual lessons, there is something for you!
Choosing a bag for nursing school can be pretty intimidating. After all, you will be carrying around 4,374 pounds of books, writing 3 novels in clinical paperwork a week, and pretty much be living in the library . . . so you want something comfortable and cozy that works for you.
Below we have outlined our top picks for the bags that serve different purposes.
1. Nurse Mates Unisex Ultimate Nursing Bag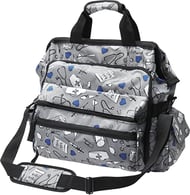 This pretty yet functional pink medical bag is made of high-density nylon, and it's water-resistant. It features an easy-to-carry handle and shoulder strap, nine compartments for your must-have nursing accessories, two side pockets, a key ring, and a syringe holder. This medical bag measures 13″W x 9″H x 14″D, and it costs $54.63. Shipping charges are included in the price.
Pros: There is a spot for every medical device in this bag, and it's comfortable on the shoulder.
Cons: This medical bag can tend to be a little bulky.
2. Nurse NGIL Medium Canvas Tote Bag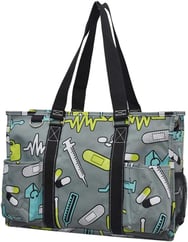 This beautifully designed nursing tote bag comes in assorted colors and patterns. It features a zippered main compartment that provides ample storage, a front pocket sized to fit a tablet with a sleeve, and a water bottle pocket. This nursing tote bag measures 15.5″(L) X 6″(W) X 10.5 "(H) and costs between $13.99 and $29.35 (plus shipping).
Pros: This tote is a fabulous price, waterproof, and it can hold a ton of nursing accessories and paperwork.
Cons: The bottom of this nursing tote bag doesn't have support.
Things Every Nursing Student Needs before Starting Nursing School
3. Nurse-Medical In Bag Organizer Tote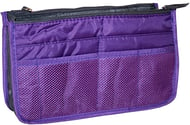 This cleverly designed medical bag comes in an assortment of fashion colors. It features six outer mesh pockets, two padded zippered pockets, four outer padded pockets, and a large padded inner pocket. This medical bag offers ample storage for all of your nursing accessories. This bag measures 12″W x 7.5″H x 3.5″D, and it costs $9.97 plus shipping.
Pros: This medical bag keeps your nursing accessories organized and together.
Cons: This bag doesn't have a zipper closure or snaps to keep it entirely closed.
4. Prestige Medical Nurse's Car-GO Bag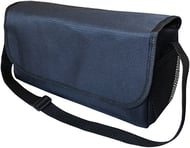 This unisex black medical bag features a travel mug holder, a front mesh pocket, a side cell phone pocket and a detachable aneroid compartment for added versatility. This bag has multiple compartments designed to hold extra equipment and personal items, and it also has Velcro strips on the bottom that will help to keep it in place on cloth seats or the floor. This medical bag measures 13″W x 4″H x 6.5″D, and it costs $13.72 plus shipping.
Pros: This bag was not too bulky, and it was easy to carry.
Cons" This bag wasn't deep enough.
Best Shoes For Nurses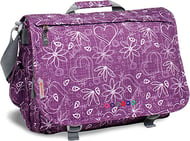 This 100% polyester nursing tote bag is available in several distinctive and whimsical prints. This nursing bag features a polyester lining, a zip closure, and it has a 19-inch shoulder drop for easy carrying. It features a padded pocket in the main compartment and a zip-top sleeve on the back perfect for holding folders. This tote bag measures 13.5″H x 17″W x 6″D, and it costs $31.81 plus shipping.
Pros: This tote is quite roomy, and it can accommodate a laptop along with books and nursing supplies.
Cons: The zipper on this bag sometimes sticks.
6. Khaki Vintage Army Red Cross Medic Shoulder Messenger Bag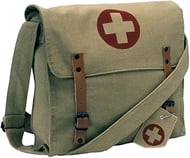 This khaki retro-styled medical bag features a Red Cross emblem, a large compartment with a long flap, brown leather closing straps, and an adjustable shoulder strap. This medical bag measures 12 1/2″H x 11″W x 3 1/2″D, and it costs $20.99. Free shipping is offered on this bag.
Pros: This bag looks cool, and it holds numerous medical items.
Cons: The holes on the straps weren't completely punched all of the ways through.
7. High Sierra Powerglide Wheeled Backpack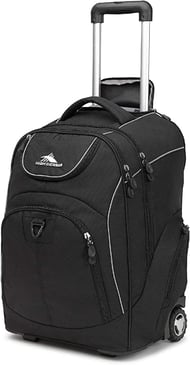 This wheeled bag has large main compartments and multiple pockets. It also sports a fully padded laptop compartment that will accommodate most 17-inch models. It also has backpack straps stored behind the zippered back panel. The bag is 21″ x 14″ x 9″ and cost $67.98 (plus shipping).
Pros: All-terrain wheels!
Cons: It is big, but you will need it to haul all your school stuff.
Honorable Mention:
Himawari Travel School Backpack with USB Charging
Laptop Backpack with USB Charging Port
Trunab Nurse Bag and Tote for Work with Padded Laptop Sleeve