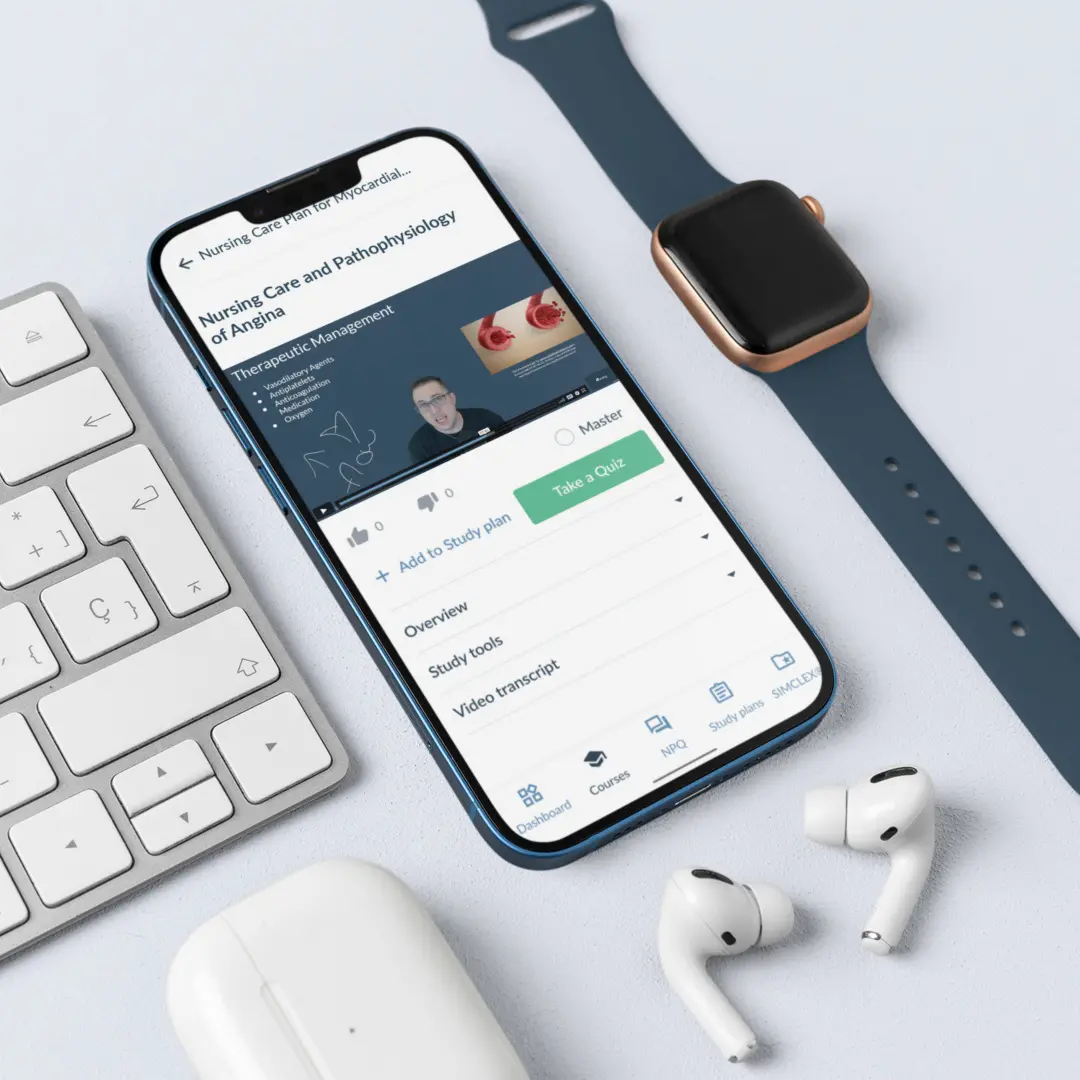 What are you struggling with in nursing school?
NURSING.com is the BEST place to learn nursing. With over 2,000+ clear, concise, and visual lessons, there is something for you!
Free NCLEX Apps (With Reviews)
One thing I am irrefutably grateful for is earning the "certified nurse" title. I can vividly remember the journey. I never got to a point where I felt like quitting was a viable option.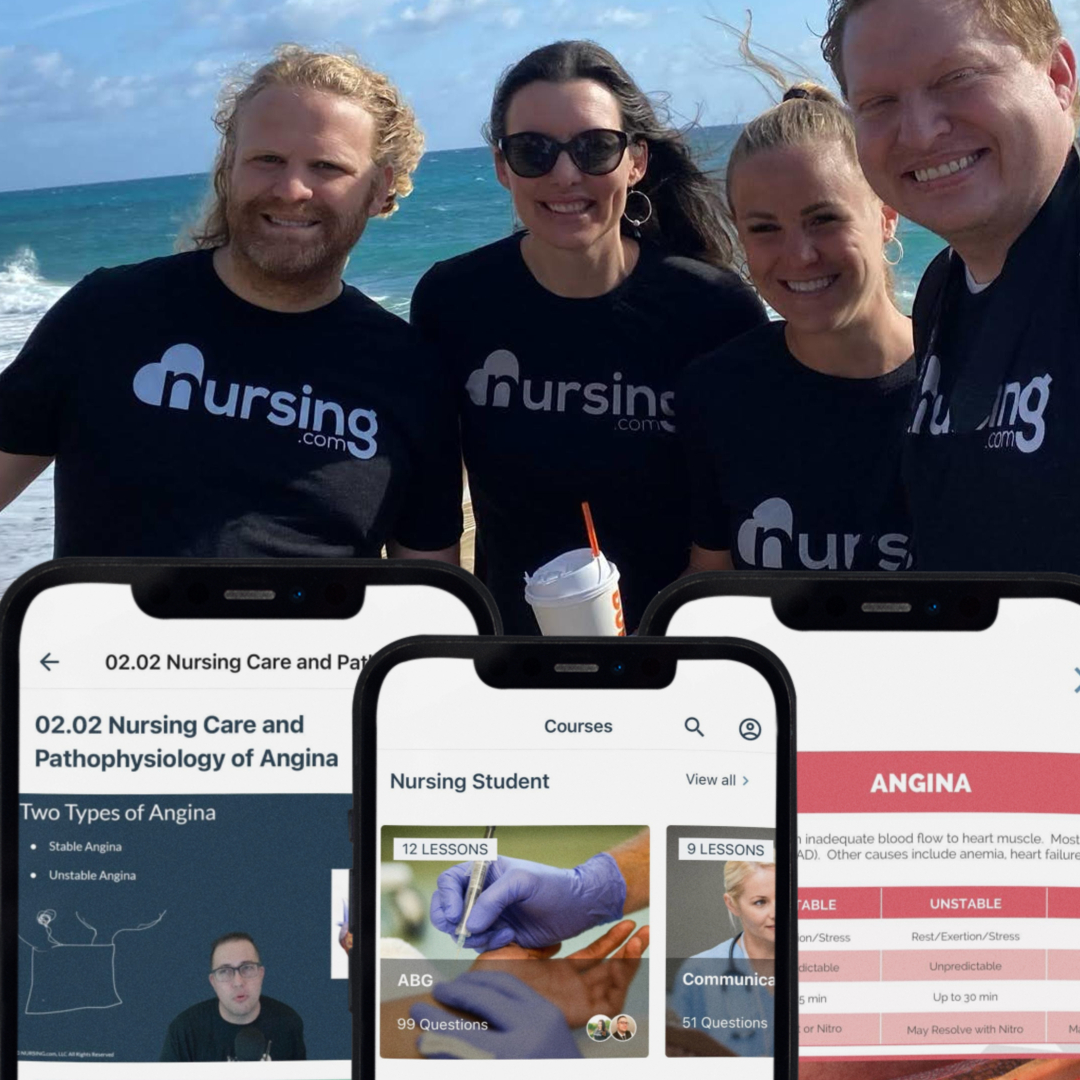 From the demanding workload, grueling lectures, and being a broke student, the journey was plagued with some challenges. One of the most stressful bits of the journey was studying for the NCLEX. But I am still here. I made it, and you, too, can.
You need to remain committed and concentrate when internalizing course materials. Besides the allotted class time, you should squeeze in study sessions whenever.
This implies that you can also study at a restaurant or when commuting if necessary. I know it looks like you will be hauling books everywhere; that is not what I mean.
I will share one of the tips that helped me succeed. Free NCLEX apps, precisely. I am talking about intricately designed apps to help you prepare and pass the NCLEX.
Let's get started, shall we?
NURSING.com | NCLEX & Nursing
While there are numerous free NCLEX apps, only a few are reliable. Furthermore, no one has the time to try out all of them when there is a looming exam.
Thankfully, I identified the Nursing.com NCLEX app, and this was a genuine game changer. This is a Nursing.com product, and according to their website, they are one of the top learning hubs for nursing students.
The app helps nurses excel by offering several instructor-recorded lessons. Each lesson presents complex processes in a manageable way.
Their prep course includes on-demand video lessons alongside an NCLEX simulator and practice questions from nurses. This program sounds fantastic, particularly with added adaptive testing algorithms.
The NURSING.com app also offers study tools that support learners with varying challenges and needs, such as ADHD and dyslexia.
Its commitment and attention to detail help nurses succeed, making NURSING.com reliable. Over 430,000 aspiring nurses have used the app to prepare for the NCLEX, and it has a 99% success rate.
Additional features of our app include:
6,500 NCLEX practice questions
SIMCLEX: Patented NCLEX simulation exam
All questions are written by NCSBN question writers
Video and image rationales
SATA questions and alternate formats
NCLEX.com Nursing Reviews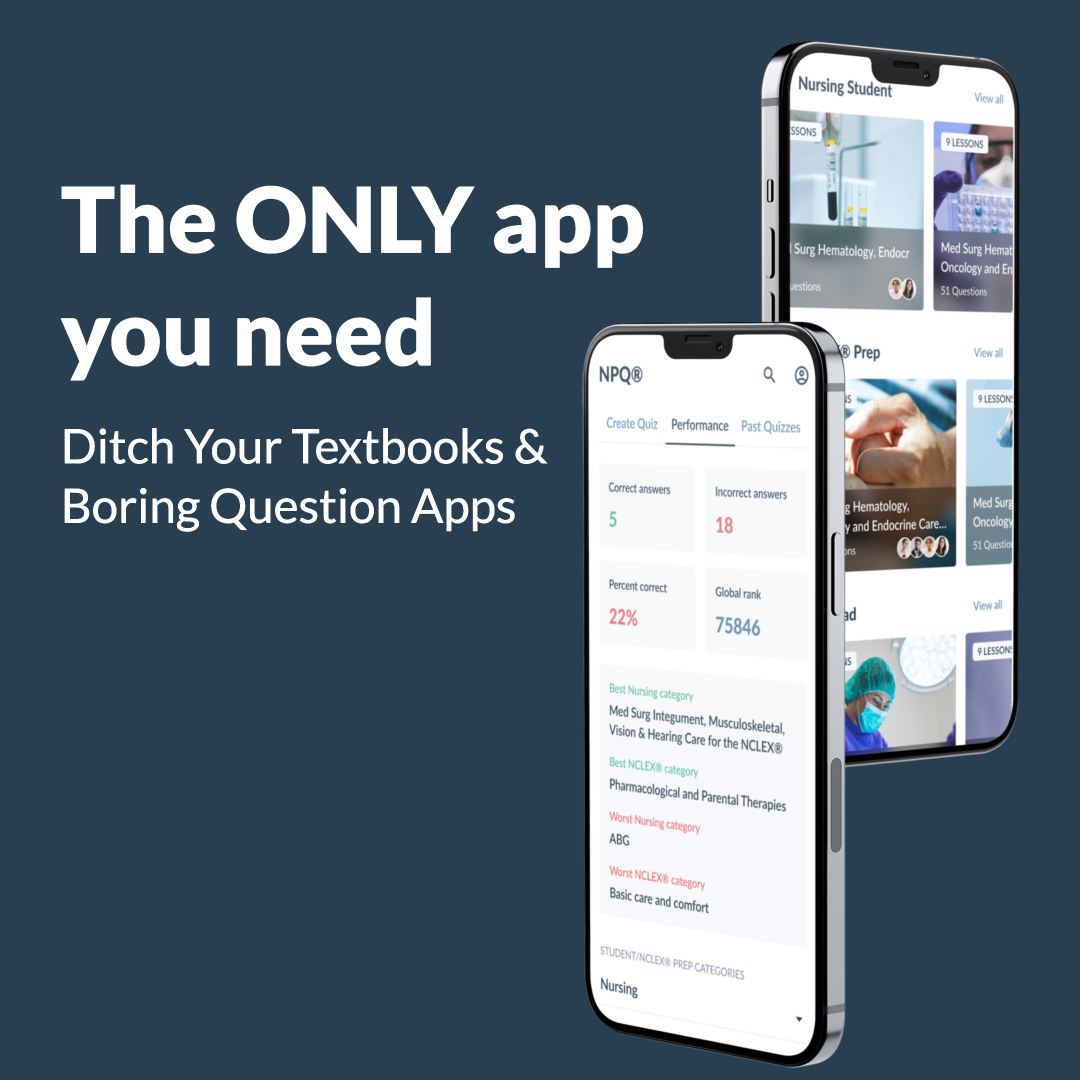 Here are some user reviews:
Uahnurese33- "I love this app, and the online version is even better. I love listening to this while driving, working out, or going to the store. I recently failed my NCLEX (I used HURST review before that exam...it obviously did not help), so a friend referred me to NRSNG, and now I am hooked. I wish I had NRSNG academy in nursing school. The content is explained so much better than my instructors had ever taught."
Google user- "NRSNG is awesome. Being a blonde, they've made this content so comprehensible that even I understand it. So far, the only not-even-negative thing I have with the app is that, even though I'm an all-in subscriber, it times out and starts functioning as it does with the free subscription. So I have to close the app and go back in and find where I was; it's super annoying, but the content is awesome."
I may go on and on about how NURSING.com is, but it would be best if you let the app speak for itself.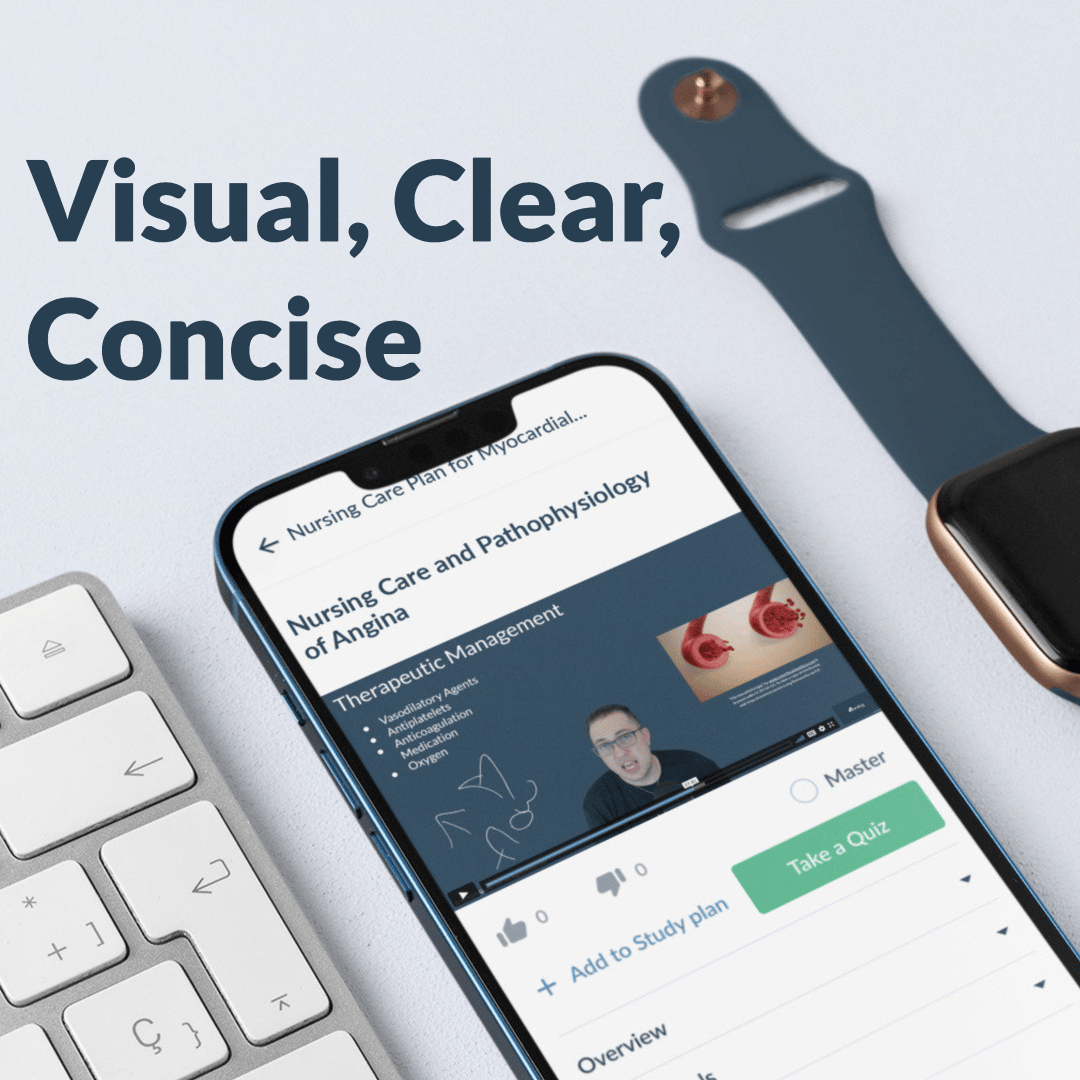 Other Apps
Studying is important. Other apps that could help you prepare for the NCLEX include:
RN Crush NCLEX Prep App, which uses adaptive learning and the free version, gives learners access to 250 questions.
NCLEX Mastery App is designed to help users access the NCLEX exam on the first attempt. The free version gives you access to 64 intricately selected questions.
UWorld NCLEX RN app, which is a powerful tool featuring 2000+ detailed rationales and quality study questions.
The National Council Licensure Exam (NCLEX) is an assessment that nursing students in the United States must pass before they start practicing. It is a comprehensive evaluation that tests your preparedness for the healthcare workforce. The rigorous nature of the NCLEX warrants sufficient preparation before sitting for the exam.
The NCLEX-PN (for practical nurses) and the NCLEX-RN (for registered nurses and above) have a five-hour completion time. Persons with visible impairments or reasons may request accommodations, including a separate testing room, additional breaks, and extra time.
Do I Need to Take the NCLEX?
You may need to understand the actual contents of the test by downloading the NCLEX-RN Test Plan. It will provide a comprehensive summary of the test requirements and specific formatting and ordering details.
Experts review and update the plan every three years, so ensure the plan you have is current. Here's a summary of what to expect on the test:
Physiological Integrity: Physiological Adaptation, Reduction of risk potential, pharmacological and parenteral therapies, basic care, and comfort.
Physiological Integrity
Health Promotion and Maintenance
Safe and Effective Care Environment: Management of care, safety, and infection control.
The test integrates the provisions above with nursing core competencies, which include:
Culture and spirituality
Teaching and learning
Documentation
Communication
Caring
Nursing process
The exam spreads out in percentages, with each topic covering approximately 6-23%. Since these percentages may vary, kindly check the current test plan for updated distribution information. Each content assesses your comprehension and knowledge across physical, social, and biological sciences.
Steps to take the NCLEX
Apply for a license through the Nursing Regulatory Body (NRB).
Register for the test on Nursing.com.
Look out for your eligibility information from the NRB and acknowledgment of registration.
Check for your Authorization to Test (ATT) email.
Schedule your assessment time and date
Take the test
Receive your results in approximately six weeks.
How to Prepare for the NCLEX-RN
Once you have registered, graduated, and received your Authorization to Test (ATT) for a specified evaluation date, it is time to perform a sanity evaluation to ascertain that you are packed, prepared, and ready for your nursing assessment.
Familiarize yourself with the test structure. The NCLEX employs the Computerized Adaptive Test (CAT) format, implying the adaptive nature of the exam.
Optional: Take a test prep through other companies such as Hearst Review, KAPLAN, or one of many others.
Practice: Indulge in the NCLEX-RN practice test or online simulation, or acquire a book with practice questions. Several free NCLEX questions applications online can help you practice for the exam.
Gather all resources you will need for the test day.
Ensure to get adequate rest before sitting for the test.
What if I Don't Pass the NCLEX?
If you fail the NCLEX the first time, you can consider a retake after 45 days. Please follow the above steps, except the first one.
It is natural to feel nervous before and after the exam. One of the best strategies to eliminate anxiety is to ensure you are adequately prepared for the NCLEX.
Studying for the NCLEX is time-consuming and may overlap with other commitments. The good news is that several applications allow you access to study questions anywhere and anytime.
If most of your class already boasts additional letters affixed to their names and you feel like you are struggling, please understand that whoever passes the NCLEX first and one who completes it last does not determine whether they will become a great nurse.
Grieve and Regroup
Failing hurts, and it sucks even more. You have to give yourself a break to grieve and come to terms with the exam outcomes. Grieving is a natural way to eliminate the bottled-up emotions that may overwhelm and impede your decision-making.
Let go of the hurtful thoughts that come into play when you remember the number of hours you put into NCLEX preparation.
Grieve for the moments you opted not to watch Game of Thrones so you could study for the NCLEX. Just let go, cry, howl or pig out.
Once you go through the grieving session, you will experience some relief and may get back you the right state of mind. This initiates your path to recovery, determining your next steps. You will never perceive failure as a complete defeat and be okay with it.
Think about it this way; if you have survived nursing school with the numerous assessments that come with it, you can also pass the NCLEX. As a nurse, one of the biggest tragedies you could subject yourself to is working extra hard to become a nurse, only to give up because of a test.
The NCLEX is just an Exam
I believe that the NCLEX is not the only tool that will determine whether you will become a good nurse or not. We are currently stuck to the NCLEX as the standard assessment for nursing licensure until practitioners invent another alternative.
The NCLEX Does Not Define You
The assessment is a reflection of your nursing competencies. It does not reflect how well you can handle patients, your love for nursing, or how caring you are. This applies to your NCLEX score as well. Please do not obsess with the numbers. 175 questions, 75 questions, or 300 questions do not matter. No one will print your NCLEX score on your license.
No one will show concern over how many times you sat for the exam before you passed, and your patients could care less about previous nursing courses that you did 'meh' on and those you rocked. What matters is how you handle becoming an RN and getting there.
Take Care of You
The NCLEX is an assessment that should have been reworked years ago, so your sanity and your career aspirations are what matters.
If you are uncertain about becoming a nurse, you do not have to become one. What is the point of passing rigorous assessments to allow you to practice as an RN, but your heart is withdrawn?
Let me clarify; I am not implying that you should abandon your dreams. What I am proposing is that you are allowed to be selfish under certain circumstances and start letting go of things that no longer serve you. However, if you start missing the path, it is time to take a step back, reflect, and readjust.
Get Motivation for the NCLEX Retake
This is a great start. You are gradually getting your mojo back. Shop for the best NCLEX preparation course, and forget what your peers use to evaluate your assessments. Search for what works best for you.
Choose a plan that resonates with your judgment, ask questions on the test's particulars, and read reviews. You will thank yourself for this decision.
Remain open to trying new things. Gone are the days when people relied on limited resources such as CDs to help them pass the NCLEX. Hundreds of online study groups, NCLEX preparation apps, and motivating podcasts exist.
Find inspiration if you are feeling stuck. The NCLEX may not acknowledge your dedication and involvement in repeated tries. Please check out Ashley's inspirational story. Pick yourself up and believe that your dream is valid.
If you resonate with Ashley's story, please share your story and thoughts with us. Check out NURSING.com offerings if you are ready to retake the NCLEX exam.
Tips on How to Pass the NCLEX on the Exam Day
You are at a point in your nursing oath when passing the NCLEX makes you nervous. You have taken this intense, long journey to reach this point in your career, and you certainly cannot envision the NCLEX results throwing off your ambitions.
So you are actively searching for anything that would help you study for the assessment, including advice from peers and instructors – and you are convinced that this will help you bring your A-game to the exam room.
I understand that some people lose sleep while looking for ways to pass the NCLEX on their first try. But these professionals have sat for the exam and conquered it. They serve as the best inspirations for what would work for you.
We compile NCLEX passing tips from seasoned nurses that could help you achieve positive outcomes within the first few tries. Passing the assessment has everything to do with how you prepare before the exam day. Our experts offer some habits and ideas that could help you gear up.
1. Set a sustainable schedule
At some point in your nursing career, you may feel like test-focused studying can be unappealing. However, think again if you are inclined towards cramming to help you pass the NCLEX.
Our experts affirm that even the test's wording mandates some adjustment; you should consider intentional study before sitting for the exam. Consider creating a schedule, regardless of whatever it looks like, and remain committed to it.
2. Study in a group
While this is not an option for every student, joining other students in a study group may work wonders for your retention and discipline. In this setting, you ask questions and may receive answers that will be particularly helpful. Everyone's mind works differently.
Working with other nursing students will equip you with ideas and insights you couldn't have envisioned alone. Your nerves may be getting in the way. Consult your peers and build a supportive network of nurses, which is equally a valuable skill for your future career.
3. Take several practice tests
A practice test helps you familiarize yourself with different NCLEX features, such as the format.
At this point, one of the most invaluable skills is understanding and learning how to take the test. Standardized test formats are not intuitive. For instance, some questions offer multiple correct answers in specific scenarios, and you may be penalized for failing to select the most suitable option.
Running practice tests equips you with confidence and helps you familiarize yourself with the test style and how to interpret the questions appropriately.
4. Study the exam itself
Visit the National Council of State Boards of Nursing (NCSBN) website for more information on the NCLEX. You may learn new insights from this platform. Knowing the structure of the questions and how the testing process works will help you eliminate potential format-related barriers.
Since the NCLEX uses computerized adaptive testing, every time you respond to a question, the computer re-evaluates your potential based on previous responses and the difficulty of these items. This implies that the exam sequence will differ between candidates.
5. Pay attention to your learning style
Major exams tend to make candidates feel like rote memorization is the only technique to help them succeed. Perhaps you have learned several things about your learning habits and style while in nursing school.
Stick to what works best for you. Some nurses benefit most from visualizing and making bullet lists. Consider incorporating this into your preparation regardless of your learning style.
6. Follow through on things that make you feel hazy
Perhaps you are taking a practice test or studying with your friend, and something you don't understand or remember pops up. Please write it down and look it up later.
Towards the end of every set of questions, some people will find it beneficial to look up, for example, every disease, potential intervention, medication, or anything that seems trivial and study it to ensure a good grip on specific requirements.
Whew! So you probably have done everything that helped you with the preparation, and now it's time to face the music. Feeling anxious may be inevitable, but I am here to give you the advice to make the NCLEX exam day less stressful.
7. Come prepared
Plan to dress comfortably and arrive early. Bring an appropriate ID, such as a driver's license, and expect to leave items, such as your electronics and bag, in a separate room.
Make sure to drink plenty of water and eat beforehand. You may be tempted to load up on coffee, but staying hydrated will help you remain focused and alert.
8. Try to envision every scenario
Remember that the NCLEX assesses your skills as a new practitioner, not an experienced one. Visualize every potential scenario in your head and consider what you would do based on what you have learned. If you have previous experience with patients, this may help you work through specific trivial scenarios.
9. Do Not Freak Out
Everything has been working out as it should, but your brain is starting to feel scrambled. You are constantly checking the time, and your nerves are getting the best. Kit took you so long to get to this point.
It is normal to experience these sensations. You could even start selecting random answers in an attempt to complete the test quickly. However, chances are that you will pass the exam, and randomly selecting responses is not the best approach.
When feeling extremely nervous, take a deep breath and think about the worst possible scenario. If you fail, you can retake the test. You've likely engaged in various stress-management techniques while in nursing school. Consider these when taking and preparing for the NCLEX.
The NCLEX demands extensive reading, but failure does not mark the end of your nursing career. Believe in the quality of your preparation and your abilities.
10. Trust yourself
You have taken time to prepare and completed numerous practice tests. This is a major achievement. Dwell on positive thoughts as you approach the exam. When in doubt, trust your instincts. This is part of the nursing school experience anyway. Show the world that you can competently handle what you studied.
Conclusion
Nursing can be a rewarding career and a demanding profession from the onset. Currently, one of the things that comfort me when feeling emotionally drained and exhausted is remembering the reason why I chose this path. One of my inspirations was to help people who are at their weakest.
Playing an active role in helping people through these vulnerable moments fills me with joy. This inspired me greatly when preparing for the NCLEX. If you want an all-in-one NCLEX prep solution, NURSING.com | NCLEX & Nursing is the best solution.