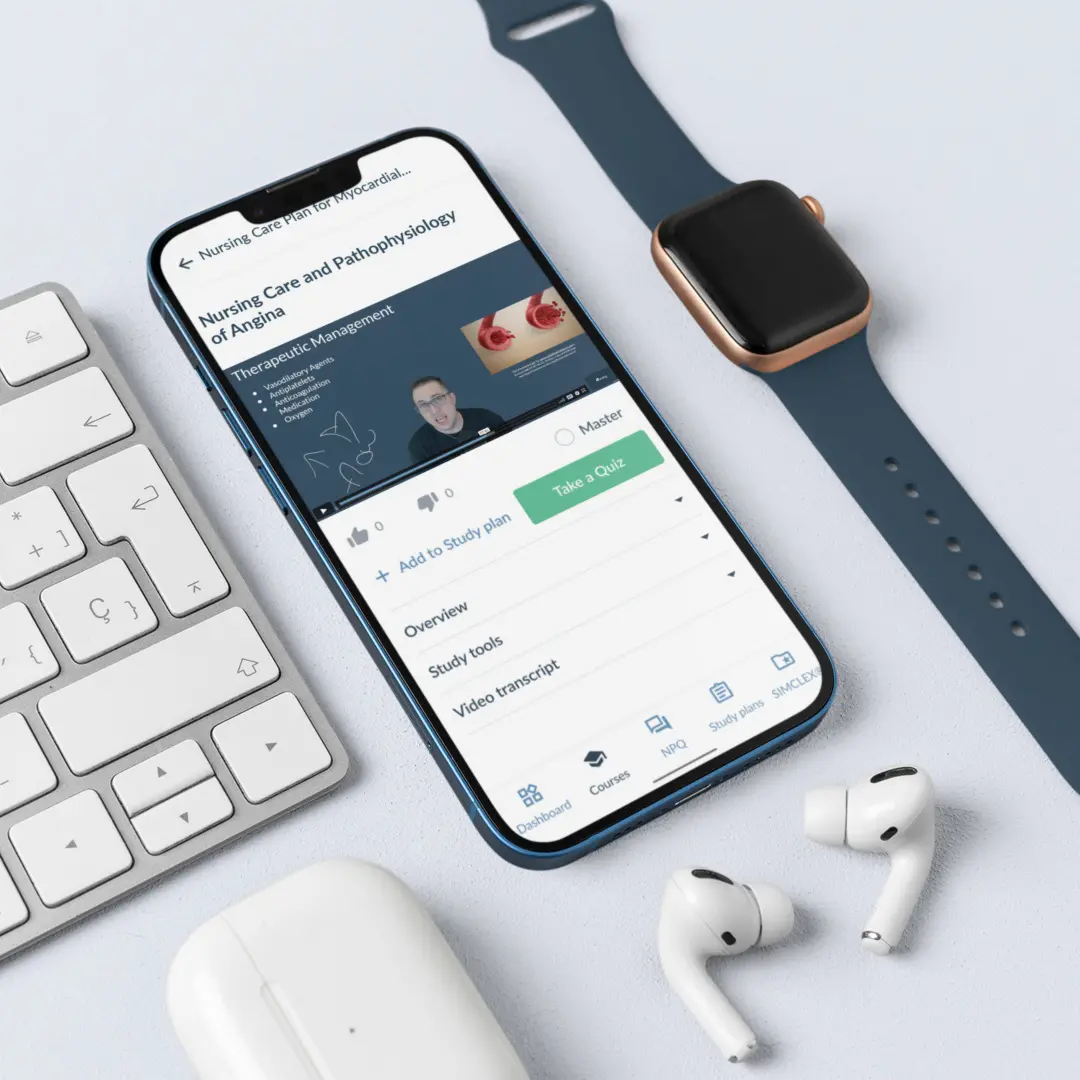 What are you struggling with in nursing school?
NURSING.com is the BEST place to learn nursing. With over 2,000+ clear, concise, and visual lessons, there is something for you!
As you complete nursing school and begin looking forward to the NCLEX, one important decision you will make is the best test prep company to study with. And at most times, the choice often boils down to UWorld, Kaplan, or NURSING.com, three of the most popular NCLEX programs in the market.
Since you only need to select one, you will have to weigh down the advantages and disadvantages of all programs. So which one should you go with? Read along for a detailed comparison between the various prep courses to determine which is best for you.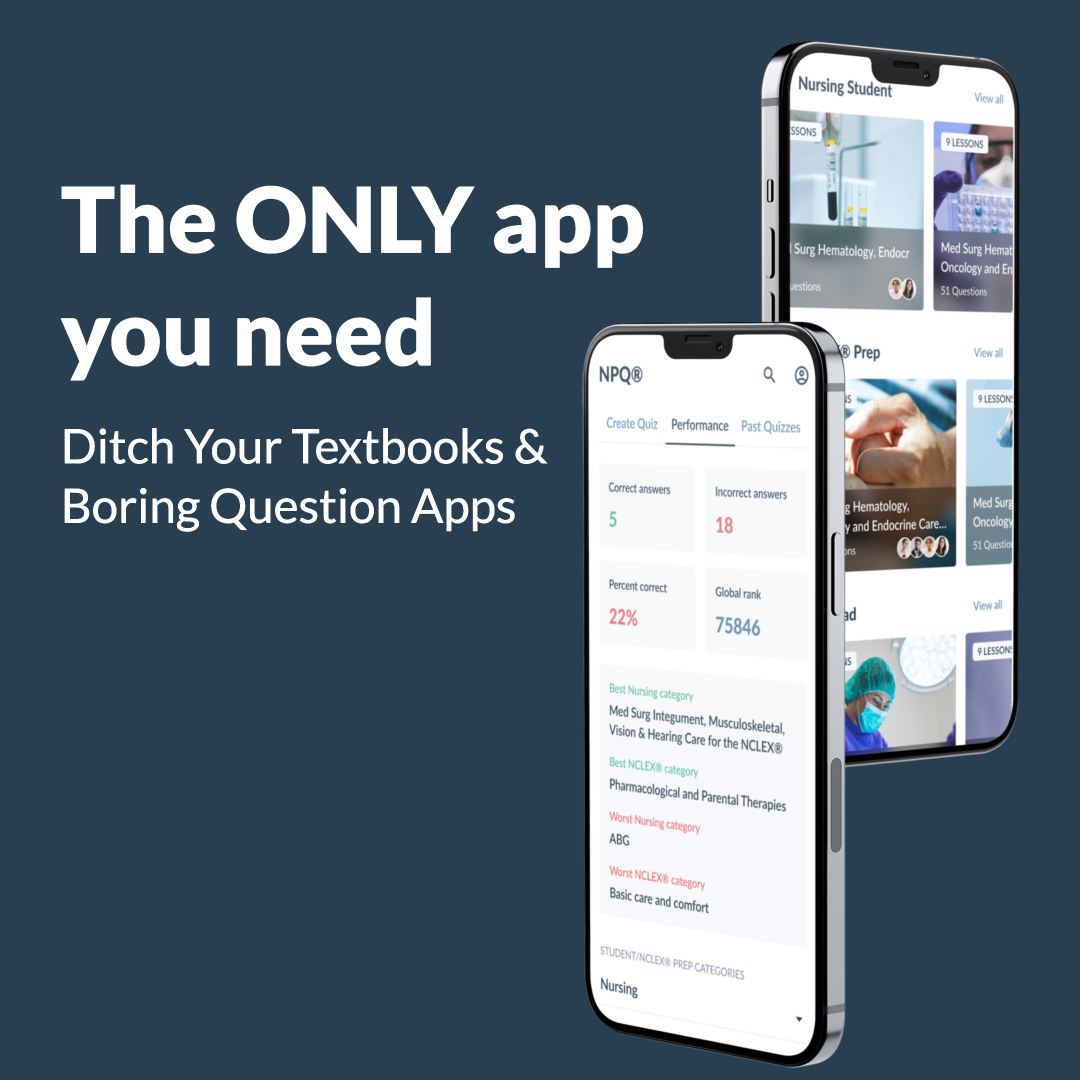 Kaplan vs. UWorld NCLEX
You already know that Kaplan and Uworld are two of the best NCLEX prep courses right now. In addition, you may have heard Kaplan is a better company because of its highly-praised test-taking strategies. However, when deciding which of the two NCLEX prep course providers is worth investing your money and time, there are many factors to consider. So let's dive deeper to determine which ranks better, UWorld or Kaplan, for NCLEX.
Kaplan NCLEX Test Prep
Kaplan is a for-profit learning company that offers test prep for more than 90 standardized tests, such as SAT, ACT, LSAT, MCAT, and licensing examinations like the National Council Licensure Examination (NCLEX). However, unlike most prep companies, Kaplan offers live online and in-person classes.
Kaplan NCLEX is one of the most sought-after course companies due to its special approach to test-taking. The company is also considered a beacon in the ed-tech industry, given its 80-year history of offering innovative learning to students and professionals. The Kaplan NCLEX prep course offers different pricing packages to cater to the various needs the student may have. Their services include an online seminar, video content, a live workshop, and practice tests you can access on all your devices.
Kaplan is a great option if you are looking for an established industry-leading test prep partner, need sufficient time to prepare for the NCLEX exam, or want to learn more about test-taking strategies.
Features of the Kaplan NCLEX Test Prep
Here are the main features of the Kaplan NCLEX prep courses:
A 7-day free trial
A mobile app that helps you study on-the-go
Many question types covered
More than 3000 test preparatory questions in the style of NCLEX
Three full-length CATs
8 hours of lectures offered by nurse educators
NCLEX-RN content review guide
Mode of Study
Depending on the package, Kaplan provides live lectures, either online or in-person. These classes are offered by highly-trained Kaplan Nurse Educators, who equip you with the skills you need for taking the NCLEX. In addition, Kaplan offers engaging lectures and trains you on their famous Decision Tree strategy that's unique to the company for NCLEX preparation.
The Kaplan Decision Tree will train you to break down NCLEX questions effectively. In addition, the company uses this strategy to guide you in applying critical thinking, thus increasing your chances of getting correct answers. Another advantage of this strategy is that it helps you analyze questions instead of simply memorizing content.
Kaplan will also provide you with a large quantity of revision material to help you prepare effectively for the NCLEX. You will have access to thousands of questions for the NCLEX test prep, with in-depth explanations for each answer, which helps you think outside the box.
Kaplan further provides a wide range of video content on essential nursing topics featured on the NCLEX. These videos serve as refresher material when you need help remembering topics you learned in nursing school. What's more, depending on your package, you can get the Kaplan e-book study guide to help in your NCLEX preparations. In addition, you will get round-the-clock support from the company's 600 registered nurses.
The Learning Platform
Kaplan NCLEX provides a very flexible study platform. You can access all study material from any device, making it easier for you to study on-the-go. Moreover, as part of the Kaplan NCLEX curriculum, you will have to take the computer adaptive tests. Once you complete the tests, you will receive comprehensive feedback, breaking down your performance in the different sections. This is important as it exposes your strengths and weaknesses, helping you adjust your study methods accordingly.
Length
Kaplan provides students with six months of access to lectures and study material. If you are a student preparing for the NCLEX, this should be more than enough time. Depending on how you want to prepare for the NCLEX, Kaplan offers various packages, for example:
180-day Qbank + CAT
180-day Qbank + CAT
180-day CAT only
180-day QBank only
What's more, if you do not pass your NCLEX on your first try or are not satisfied with Kaplan's services, Kaplan offers you a money-back guarantee. Check out the fine print for more information on this.
Kaplan Pricing Options
Kaplan is quite costly, though this may be worth every penny if it means passing the NCLEX on your first attempt. The Kaplan NCLEX test prep courses are divided into instructor-led and self-guided courses. If you want to take instructor-led courses, you can select Live-Online, Self-paced, or In-Person. In addition, there are various options for those who decide to take the In-Person NCLEX courses, including the Qbank, a prep bank, or a self-paced course.
Here are the various Kaplan pricing options:
1. Content + Prep Pack
This package costs $249 and gives you access to live and on-demand content, adaptive tests, and the question bank.
2. Self-Paced Package
This package grants you access to more than 210 Qbank test questions, the content video platform, the Kaplan app, the NCLEX channel, and more. The package costs $425.
3. CAT + Qbank
Under this package, you will pay $99 for Qbank only, $129 for CAT only, and $199 for both Qbank and SAT. This package will award you access to the question bank and the CAT for six months.
Advantages and Disadvantages of the Kaplan NCLEX course
Pros:
Unique Decision Tree Strategy
Provides live courses both in-person and online
Unlimited access to video content through their NCLEX channel that covers more than 300 essential nursing topics
On-the-go study plans on their mobile app
A higher score guarantee
A simple and easy-to-use platform
500+ page e-book
Cons:
The course is costly compared to other NCLEX programs
You can only access the course for a short time
The practice tests are often harder than the NCLEX
It's easy to get discouraged by the low Kaplan scores
UWorld NCLEX Test Prep
UWorld is a leading test prep company that also specializes in nursing licensure exams. Dr. Chandra Pemmansani founded the company in the early 2000s to develop a systematic way of learning inspired by real scenarios. Currently, UWorld is one of the leading test prep companies run by a team of experts such as qualified doctors, nurses, business professionals, and experts.
UWorld's NCLEX prep course is also highly-regarded among aspiring nurses due to its unique approach, such as the exam software that resembles the actual NCLEX exam. It is also preferred because of how comprehensive and tech-heavy it is. In fact, upon logging in on the platform, you will be awed by the sophistication of the user interface that displays clear illustrations and images.
UWorld is also famous for its thorough explanations of different nursing concepts. For example, the company uses diagrams to explain the rationale behind every right and wrong answer. What's more, UWorld NCLEX test prep uses performance graphs to help you keep track of your performance in relation to your coursemates.
UWorld NCLEX Features
The in-depth strategy used by UWorld is what makes them stand out. Here are some notable features of the program:
A friendly user-interface
More than 2000 study questions developed by nurse educators and practicing nurses
Customizable examinations based on your unique needs
The availability of flashcards for easy review
Performance graphs for analyzing your progress
Two self-assessments with NCLEX readiness predictor
A renewal function if you want to extend your question bank duration.
In the event that you would like to start your practice from scratch, UWorld has a reset feature that erases your previous performance.
UWorld NCLEX Course Options
The following are the main NCLEX courses offered by NCLEX:
QBank 6-month access - This is the highest-priced NCLEX package. In addition to getting access to QBank for up to 180 days, you get two self-assessment tests and a one-time reset option.
QBank 3-month access - This package grants you access to UWorld's QBank for up to 90 days with two self-assessments.
QBank 2-month access - This package offers you access to Uworld's QBank for up to 60 days with one self-assessment.
QBank 30-day access - This is the most affordable option. It offers you access to UWorld's NCLEX for up to 30 days.
UWorld NCLEX Pricing Options
UWorld NCLEX takes its pricing as its vantage point, as the course is more affordable compared to other NCLEX test prep programs such as Kaplan and Hurst. UWorld NCLEX test prep offers reasonable pricing with minor variations in the length of access. Their most affordable course is approximately $100, while their most expensive program is $300.
It is also worth noting that UWorld NCLEX offers institutional pricing that allows you to customize a package based on your needs as a student and your institutional goals.
Advantages and Disadvantages of UWorld NCLEX Test Prep
The Pros
UWorld has a great user interface. While this may not seem very important to some, it is a dealbreaker to many. UWorld's interface is designed to resemble the actual NCLEX, so you will have a familiarity advantage when sitting for the real test.
UWorld has many subject fields. Another perk of having access to thousands of questions is that you get good coverage over all essential subject fields. It would be very disheartening to purchase a UWorld test prep program specializing in some subject areas but neglecting others. UWorld offers lots of matching questions, drug calculations, prioritization SATA questions, and more.
UWorld has an effective mobile app. One of the most convenient factors about UWorld is its study app, which makes it easy for you to access practice questions on-the-go.
Rationales. Knowing the right and wrong answer is simply not enough. UWorld is a great platform to prepare for the NCLEX as they offer detailed rationales for which answer is correct and why the others are wrong.
UWorld has a huge QBank. UWorld's question bank has thousands of questions, which is great because you get to test your knowledge without coming across repeat questions.
UWorld has good customer support. Whenever you face a challenge during your study, UWorld has very active customer support that offers prompt responses to all your questions. You will get a link to the forum for each exam and a round-the-clock email for customer support.
The Cons
UWorld is a little expensive, especially when you take into account that it is primarily a question bank. After leaving school, the last thing you want is to spend more money on educational materials. Though quite pricey, investing in a good NCLEX prep program is beneficial in the long run as it will help you pass the main exam on your first try.
Sometimes the rationales can be too detailed. While the rationales are what UWorld is famous for, they can sometimes be too much. You could waste a lot of time going through the explanations.
UWorld does not provide video content lectures, which are very important for visual learners.
You may be forced to get additional external resources to cover more topics.
UWorld does not have a free trial for their NCLEX test prep program. This can be inconvenient if you are trying to make a comparison between different companies.
NURSING.com NCLEX Test Prep Program
Previously known as NRSNG, NURSING.com is one of the leading NCLEX prep course companies. The company has a pass rate of 99.86% and has helped upwards of 430,000 students pass the NCLEX exam. If you are wondering if the NURSING.com NCLEX prep program is worth it, here is an overview to guide you.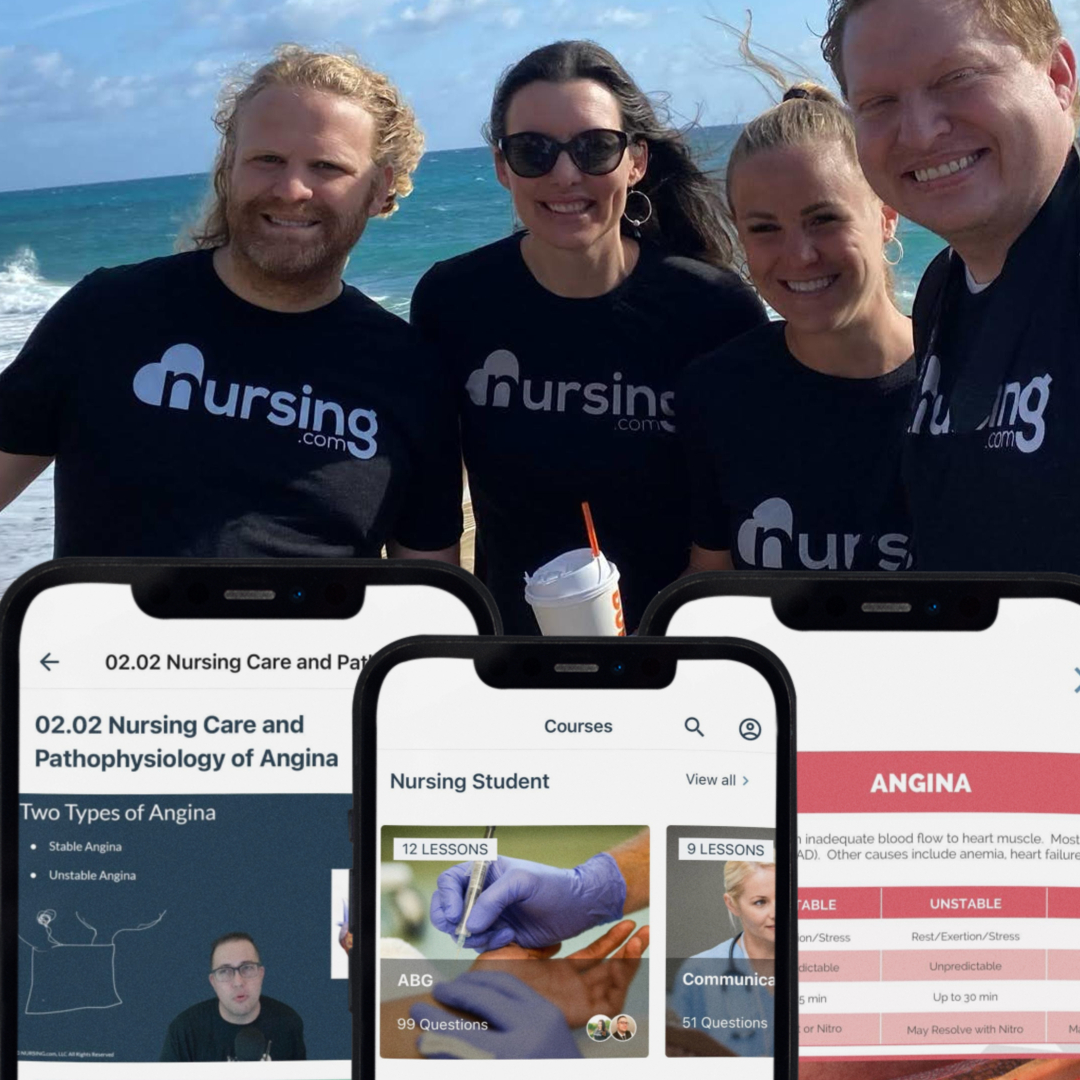 Curriculum
NURSING.com offers more than 6,000 detailed practice questions. In addition to these questions, you will get unlimited access to recorded video lessons that come as podcasts, tutorials, or videos. The practice questions also come with graphics that are very helpful for visual learners. The other great perk about learning with NURSING.com is that you get an e-book in addition to the study questions and video lessons.
NURSING.com Pricing Options
NURSING.com boats a unique pricing structure compared to other NCLEX test prep companies. For example, before paying for the complete subscription, you are awarded the opportunity to enjoy a three-day unlimited access trial for free. This is a nice chance to go through all the study material to see if you love what they offer. And the best part is that you can cancel within 30 seconds with no questions if you are unsatisfied.
You get two options if you do not cancel after the trial period -the first package is primarily designed for nursing students. You can choose between One YEAR + NCLEX or Two Years + NCLEX.
The two packages are designed to cover all your nursing school needs in addition to NCLEX prep. If you are in your last or second-last year in school and are still looking to take your NCLEX, this package could come in handy. The One Year + NCLEX Prep Package will cost you $82 for three months plus nine extra months at no charge. The second package will cost you six monthly installments of $82 plus 18 extra months at no fee.
This means that you will pay $50 for the first package and $500 for the second package. NURSING.com also offers a one-time package, which requires you to pay an upfront payment for NCLEX prep only. This package costs between $200 and $330 with 30, 90, or 180 -days of access. When you compare these costs to other NCLEX prep programs, you will find NURSING.com very affordable, considering that you get full access to video lessons, NCLEX prep, and up to 6,000 practice questions.
Video Lessons
NURSING.com provides more than 300 video lessons, all taught by trained nurses. The video lessons are short, thus easily digestible, and cover various topics tested on the NCLEX. In addition, the quality of these videos is excellent, with colorful diagrams to make it easy to understand even the most complicated topics.
Mobile Application
You can access the entire NURSING.com program through an app that is part of your subscription. This is a viable option if you have to study on-the-go. You can listen to lectures, play videos, or take practice questions on your phone or tablet at any time and place.
Practice Questions
One outstanding factor about the NURSING.com NCLEX prep course is that it comes with a ton of practice material. As mentioned, they provide more than 6,000 questions, structured like the real NCLEX. And what better way to prepare for the NCLEX exam than to practice on similar questions as those on the exam?
Review eBOOK
Another plus of taking the NURSING.com NCLEX prep program is that you will get access to the NCLEX Review eBook, which is more than 400 pages long and offers information in an easily digestible way.
Study Designs
The NURSING.com NCLEX prep program features study plans developed by the team. Depending on how much time you have to prepare for the NCLEX, you can choose between the four-, six-, and 12-month study plans.
SIMCLEX
The SIMCLEX is one of the most outstanding features of the NURSING.com prep package and is the most accurate NCLEX calculator out here. This feature was developed by NURSING.com's staff and software engineers, who spent many years developing the same adaptive algorithm used in the real exam. If nothing else, NURSING.com's SIMCLEX is their greatest selling point.
The adaptive algorithm changes the complexity of the questions depending on your scores on the test. The higher your scores, the harder the questions become and vice versa, thus giving you the opportunity to master the course material more effectively. To better your understanding, the system offers you a breakdown of every question, explaining why you got an answer right or wrong. When you are done, the system generates a performance report showing how you did on the various questions and your overall results.
NURSING.com's 200% Pass Guarantee
This makes the biggest difference between NURSING.com's NCLEX prep program and other companies. NURSING.com are so confident in their ability to make you pass the NCLEX exam that they are willing to refund you double if you do not pass the exam on your first attempt. This means that not only will you receive a 100% cash-back refund, but you will also make extra money in the process.
To qualify for the 200% (Semi-Crazy) money-back guarantee, you must pass the SIMCLEX test. However, if you pass the SIMCLEX but do not pass the NCLEX test, you will receive a full reward in addition to a similar amount to what you paid. Where else could you get such an insurance policy?
Conclusion
As you prepare for an exam, you are likely to feel overwhelmed by the available preparation options. And this is what happens when you are looking to take the NCLEX exam. Now you have three top options to choose from as you prepare for your NCLEX exam. Review each one carefully to determine the one best suited to meet your needs as a student.
While there are many other NCLEX prep course companies, NURSING.com offers a rock-solid NCLEX prep course that should be perfect for all students. Among many other benefits, their prep package is cost-friendly, robust, and well-rounded. It's a great platform if you want access to more practice tests, additional flexibility in course options, or are looking for accurate and detailed explanations for the various practice questions. What's more, you can easily access all the course content material from the mobile app.
So, if you want an affordable and reliable partner to help you pass the NCLEX exam on your first try, NURSING.com is the best option.