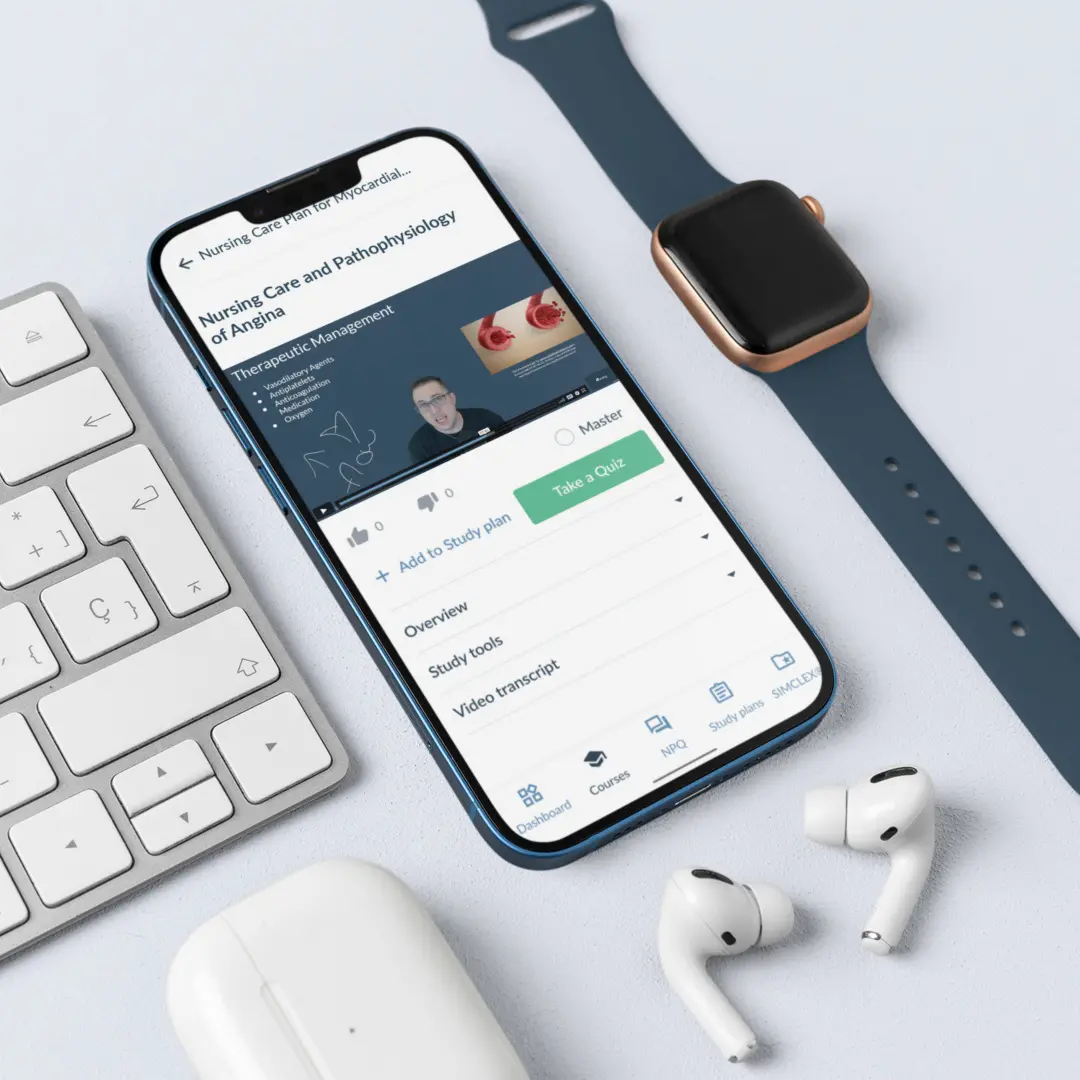 What are you struggling with in nursing school?
NURSING.com is the BEST place to learn nursing. With over 2,000+ clear, concise, and visual lessons, there is something for you!
NextGen Question App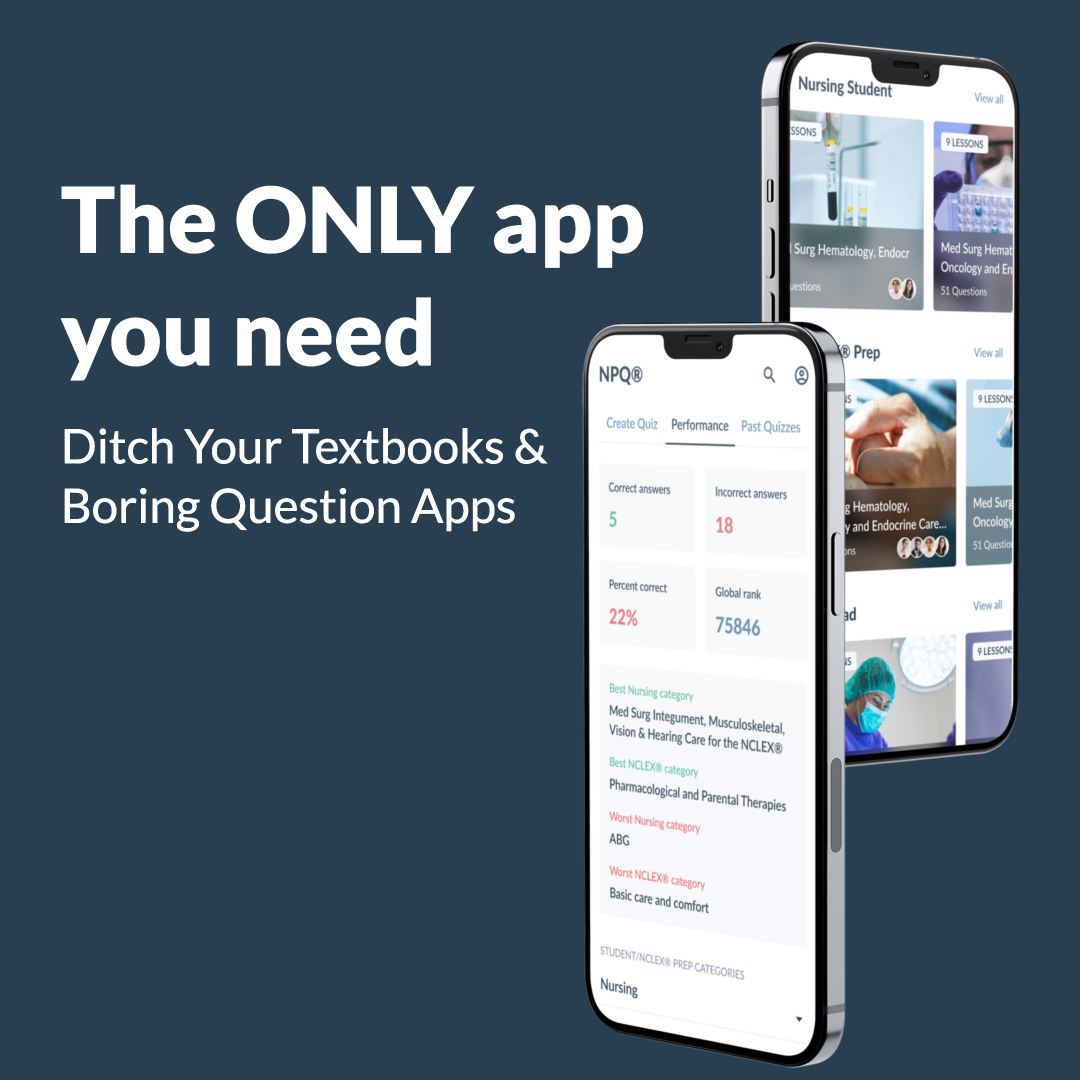 The modern healthcare environment continues to expand and increase competitiveness; hence our healthcare professionals, including nurses, must evolve and advance to cope with the changes. Significant changes in developed countries such as the United States include increased life expectancy alongside the rise in multiple chronic illnesses spreading rapidly across the population. Consequently, technological advancements have also brought about several medical discoveries and introduced new ways of improving the quality of healthcare delivery services.
Nonetheless, nurses still play an essential role in healthcare delivery that is irreplaceable. Therefore, we need to provide them with updated training to equip them with the critical judgment and decision-making skills required to manage the increasing health concerns and to expand patient populations in modern healthcare systems. Applications such as NURSING.com and emerging NextGen NCLEX are some new ways our technological advancements are helping nursing students and nurses improve their competencies and abilities.
NextGen NCLEX
NextGen NCLEX is the latest update of the NCLEX by the National Council of State Boards of Nursing (NCSBN). The new licensure exams for nurses are set to be introduced in April 2023 and feature case studies and five new question types.
NCSBN introduced NextGen NCLEX after discovering that the NCLEX questions were not adequately helping new nurses prepare for patient outcomes in the real world. NCSBN realized that our new nurse graduates increasingly faced unique medical scenarios with complex decisions that previous NCLEX did not address.
The main goal of NextGen NCLEX is to improve nursing preparedness for real-life medical dilemmas and complications. It will introduce new questions and include case studies that will help assess and enhance our nurses' critical judgment and decision-making. Therefore, it will help nurses improve their competencies in delivering quality patient care despite the complexity of the medical situations.
The NextGen NCLEX will entail three case studies that contain six questions each; however, there will be a total of between 70 to 135 questions for test takers. The number of questions depends on the test takers' previous Computerized Adaptive Testing (CAT) results.
As mentioned, one of the new features of the NextGen NCLEX is the five new NextGen Questions. These five new NextGen Questions types will include;
Extended Multiple Response- Test takers will have leeway to select more than one correct answer among the multiple choices in this question category. The question explores how a nurse reacts to specific situations within a clinical setting.
Extended Drag and Drop- Test takers will be required to drag response options into the blank spaces to answer the questions which examine patient issues.
Cloze or Drop-Down- These questions have a fill-in-the-blanks format where test-takers select out of the possible choices from the drop-down list to provide a correct medical statement or procedure.
Enhanced Hot Spot- Test takers must highlight important information from patient medical records to answer the question.
Matrix- In this category, test takers are required to select one or more choices from the selection of answers in rows on columns to address essential aspects of a patient's situation.
NextGen NCLEX will also introduce new research phrases that will be conducted using the following processes. First, the development of a clinical judgment model, subsequently, the development of prototypes and data collection. Consequently, research measurement, technology creation, alpha and beta tests, and launching.
NURSING.com
NURSING.com is a learning hub with diverse learning material that helps nursing students and new nurses learn how to improve their professional competency. However, our online application is also considered a revision site that helps nursing students prepare for NCLEX examinations to enhance their performance within the nursing program. It was established by Jon Haws under the name NRSNG.com in 2018 before being renamed in 2020 to NURSING.com to help students with difficulties in their nursing course.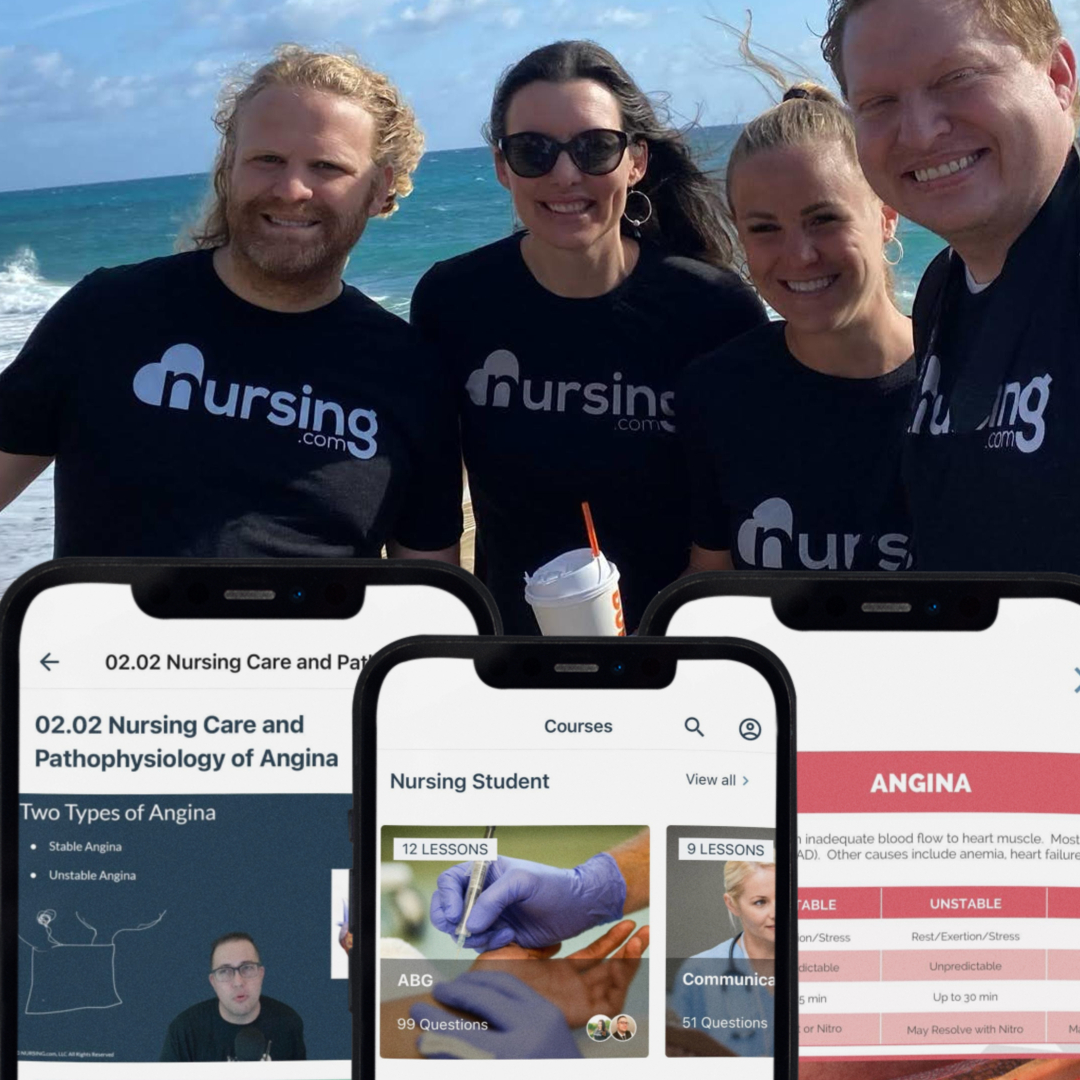 We have an NCLEX review program with a diverse portfolio of learning material, short video lessons, and NCLEX-style practice questions that help students improve their grades in NCLEX examinations. Currently, we have study material, practice questions, and lesson plans for the unrevised NCLEX version.
However, after NextGen NCLEX is unveiled in April 2023, NURSING.com will become NextGen Question App. We will help students review and revise material to improve their performance within the NextGen NCLEX examinations.
NCLEX (National Council Licensure Examination) is the national examination administered by the NCSBN to aspiring nurses that they must pass before they qualify to receive licensure. The test examines the nursing students or candidates' ability to apply foundational knowledge and competencies to handle healthcare complexities and provide safe and quality care delivery for patients in real-life healthcare institutions. Therefore, it evaluates aspiring nurses' preparedness for professional healthcare duties.
There are two types of NCLEX examinations; NCLEX-PN evaluates aspiring practical nurses with questions that examine their ability to engage in proper care coordination. Another type is the NCLEX-RN which analyzes aspiring registered nursing candidates with questions that explore their ability to engage in care management. The NCLEX exams have four main categories care environment safety, maintenance and promotion of health, and physiological and psychosocial integrity.
NURSING.com Features
As mentioned, the NURSING.com application is helpful to nursing students and nurses who want to revise for NCLEX or improve their professional competency. The features available within our application include the following;
NURSING.com allows first-time users to enjoy a three-day free trial before paying for the application. During the free trial, our users and potential customers can explore application features to determine whether we have services that meet their needs before making payments.
24/7 customer care services
If you run into a problem while operating our application, you can always obtain assistance from the 24/7 customer care services. Our customer care services will also help you solve subscription payment problems. You can call or chat with the NURSING.com support team via message or WhatsApp to resolve all issues relating to the app, whether day or night.
User-friendly and responsive interface
The app has a simple and easy-to-use user-friendly interface that allows customers to explore extensive searches on different nursing concepts and content displayed on the application. We also have a responsive interface that is visible and operates on mobile devices, tablets, and laptops. For instance, our application can be used for iOS and Android smartphones, which helps students to try out practice questions and read at their convenience anywhere at any time.
Data safety and security systems
Several data safety and security measures are included within the application to protect our user's data and confidential company information. Although our application collects personal information, user-generated content, device information, app information, and diagnostics on performance, we protect users' data by preventing exposure of this information to third parties.
Our application also has data encryption, as user information is collected and transferred to a secure connection each time one uses the application. Another critical data safety and security measure we offer is user autonomy. We delete user data from the application if the user requests that we delete their information.
Another essential benefit of NURSING.com is that we allow users to create personalized and customized study plans that provide reading suggestions based on the student's areas of weaknesses to improve their learning abilities. We also offer prebuilt NCLEX study plans that include NCLEX prep courses and structured revision and review schedules for reading and attempting NCLEX practice questions to help students improve their NCLEX scores. These study plans help students with learning challenges and reduce their anxiety about the NCLEX examinations.
Apart from access to a diverse portfolio of nursing information, we also offer our subscribers access to a support community composed of nursing students and nurses working towards the same goals of improving quality care delivery in healthcare institutions. An additional feature included in our application is a private Facebook group, where nursing students and nurses can develop personal and professional relationships to improve their professional competency. Consequently, we encourage users to engage with others users in our application community by providing reviews and feedback on the application.
In-depth video lessons & courses
NURSING.com has over 2500 videos containing lectures and readings that help pre-nursing and nursing students prepare and improve their grades for NCLEX examinations. Our 10-minute lesson videos explore various nursing topics and provide images, real-life scenarios, and rationales that help students and nurses to understand and memorize nursing concepts improving their NCLEX scores and professional competency.
Nursing NCLEX practice questions
There are over 6500 NCLEX practice questions that our subscribers can access and attempt before the actual NCLEX examinations. Nursing students can also take the SIMCLEX test, an NCLEX simulator test that allows students to familiarize themselves and prepare for CATs and NCLEX-style questions. Apart from learning how to answer questions to improve performance in the NCLEX examination, the NCLEX practice questions can also help students with anxiety problems and learning challenges.
Our application incorporates several visual study tools, including medical images, nursing mnemonics, PDF Nursing cheat sheet downloads, picmonics, and e-books. Nursing students and nurses using our application can access over 700 medical images that provide information about different types of medical conditions, equipment, and procedures that may be included within NCLEX examinations or present as healthcare challenges in the real world.
They can also download over 300 PDF nursing cheat sheets containing information about various aspects of patient care, including patient background information, medical history, lab tests, and vital signs, which help provide diagnosis, treatment and care for patients. Downloading and exploring our nursing cheat sheets will improve students' ability to memorize nursing concepts in a faster a more efficient manner which helps them provide accurate NCLEX answers while improving professional competency.
We offer over 300 nursing mnemonics that help nursing students and nurses to master and memorize nursing concepts such as drug information and disease symptoms, which helps improve NCLEX test scores and quality care delivery. Consequently, nursing students and nurses operating the app have access to over 400 nursing picmonics that are stored as audio-visual mnemonics. Our picmonics help students to remember essential nursing concepts tested in NCLEX examinations and the real world.
It also offers nursing students access to 8 e-books containing pharmacy information, laboratory testing, procedures, and other medical assessments. Our e-books provide learning materials that help nursing students prepare for NCLEX exams and help nurses deliver quality care.
Benefits of NURSING.com
The main intention of OUR APP is to help nursing students and nurses prepare for NCLEX examinations and improve their critical judgment and decision-making skills. We have already mentioned features within the application, such as in-depth video lessons & courses, nursing NCLEX practice questions, visual study tools, custom study plans, and support community. These features present several benefits for users, including;
Tracking progress - One of the main benefits of using our app is that nursing students can track their progress, especially when using personalized and customized study plans. We help nursing students identify the topics they have revised and studied and the remaining left areas, facilitating better reading schedules. Our visual representation of progress is also highly motivating, encouraging nursing students to continue reading, which translates to better NCLEX scores.
Tailored to users' needs - NURSING.com offers users NCLEX review study suggestions based on the three main areas of weaknesses identified in their SIMCLEX results. We also allow nursing students and nurses to create personalized and customized study plans, which helps them organize their revision and reading schedules to improve their NCLEX performance.
Automated feedback - When nursing students take our SIMCLEX test, they do not have to wait for instructor feedback like in the real world, as we have automated systems that instantly provide test scores. Having instant feedback on responses to questions and tests helps our users identify their problem areas and develop strategies for improvement.
Diverse nursing content - We provide users extensive learning material, including video lessons and courses, NCLEX practice questions, medical images, nursing mnemonics, PDF Nursing cheat sheet downloads, picmonics, and e-books. These features cover diverse nursing topics, including maternal nursing, cardiac nursing and care, and mental health disorders that cater to the needs of different groups of nurses. All topics include within our application make it easier for nursing students to find information for NCLEX revisions.
Promotes an independent learning style - Using NURSING.com encourages nursing students and nurses to develop an independent and personalized learning style. We encourage our users to take the initiative in selecting topics to study, which builds their learning skills and promotes self-development while reducing procrastination.
Flexibility - We allow users to develop custom quizzes and take pop quizzes to improve their motivation and prepare them for the NCLEX examinations. Our application also offers alternate format questions as users can select between word format questions and image-based questions.
Global ranking - Apart from providing instant results for our test-takers, we also offer a global ranking of their scores against other users. We believe seeing how they compare with other nursing students worldwide would motivate them to improve their performance.
NURSING.com Reviews
We encourage our users to provide genuine and honest reviews on the services provided by the applications. As mentioned, we collect data on reviews, conduct data analytics on the information, and use the feedback to develop strategies to improve service delivery. Overall, we consider ourselves relatively successful as we have ratings of 4.6 out of five at the Apple store and 4.0 out of five on the Google Play store.
Apple Store
Several users have presented genuine reviews about our online services in the Apple store. For instance, a user named SBC gave our application a five-star rating and commented, "NURSING.com offered Great customer support and a huge help with nursing school!" The user credits our application for scoring 84.5 on a maternity exam and ranking among the top 10% in class.
Another user named fer146876 also gave us five-star and claimed, "NURSING.com is a must-have application for every nursing student!" The user also commends us for having a responsive interface that can work with smartphones, laptops, and tablets and can be connected to IoT devices such as Apple TV. However, the user suggested we include NCLEX-style questions after video lessons to evaluate users' ability to apply the lesson learned on the video to improve critical thinking and memory.
User PhotoCrystalLee rates us a four out of five and comments, "The app is worth every dime IF you can actually afford it." Although the user complains about the price, she mentions that we provide extensive information helpful for nursing students.
Google Store
Besides Apple store reviews, we have several reviews on the Google Play store. For instance, a user named Sarah Gates rates us a five star and comments that the content within our application matched the questions presented in the NCLEX examinations providing her with a customized learning experience. However, she suggests that we should include tutorials on navigating different features provided within the application.
Another user name Tammy Denmark gives us a five star and mentions that" So far this is a go to site for me, it really helps me learn material in an engaging way!" Signed, Patt gives us a four out of five-star rating and mentions that he loves our app because it is helpful and has a simple breakdown of information. However, he suggested we should introduce additional questions for non-nursing topics.
Comparing NURSING.com TO Other NCLEX Apps
Several online revision platforms and applications offer nursing content and NCLEX examination-related material. NURSING.com has competitor apps which include Lecturio Nursing RN and Saunders Comp Review NCLEX RN.
Lecturio Nursing RN
Lecturio Nursing RN is an online educational platform serving as a learning resource for aspiring and registered nurses. It offers video lectures, exam practice questions, recall quizzes, and expert-made study schedules. Despite the benefits of using the Lecturio Nursing RN application, NURSING.com would still be considered a better application based on a comparative analysis.
Users have complained that Lecturio Nursing RN has application is slow at times, preventing them from accessing data. On the other hand, we have been applauded for having a fast and responsive server that facilitates quick data access.
Other users have also complained about Lecturio failing to unlock premium services and study courses after making payments and videos breaking down because of bugs. Selecting our app helps users avoid these problems as we offer efficient upgrades and have software security that prevents bugs from breaking down videos.
Another challenge is that users do not have a contact number to reach out to support and some users also complain and believe that the Lecturio app is unsuitable for nurses in professional practice. NURSING.com offers better features, as it provides a chat support system where users can connect to 24/7 customer services to help solves challenges they experience while operating the application.
We also offer NCLEX content reviews and extensive reading materials suitable for nursing students and nurses. Another critical difference is that Lecturio Nursing RN, unlike NURSING.com, does not offer NCLEX practice questions or related content; therefore, it cannot help nursing students who want to revise for NCLEX.
Saunders Comp Review NCLEX RN
Saunders Comp Review NCLEX RN is another NCLEX app. The application is an online book that helps nursing students prepare for NCLEX examinations providing a complete content review, test plans, test-taking strategies, and NCLEX-style practice questions. Despite offering NCLEX revision, Nursing.com is still a relatively better application than the Saunders Comp Review NCLEX RN.
Users have complained that the Saunders' application has faulty audio, which prevents them from listening to video lectures, NURSING.com has advanced audio servers that are responsive on different devices.
Some users also find it illogical to purchase the Saunders application when they own the book that provides the same information verbatim and can purchase questions from Elsevier. Our app does not have a similar problem as there is no available book; we provide comprehensive nursing information that cannot be founded on any other application online or offline.
What next for NCLEX and NURSING.com
NextGen NCLEX is an upcoming licensure examination system that will transform the nursing sector for students and practicing nurses. However, we must wait for it to be unveiled in 2023, and NURSING.com is more than prepared to transform into the NextGen Questions App. There is great hope for this updated version of NCLEX, as NCSBN created it after discovering limited preparedness among nurses in handling real-life healthcare dilemmas and complexities.
NextGen will use case studies to evaluate and improve nurses' critical judgment and decision-making to improve quality care delivery and patient care outcomes. Although we currently use the updated NCLEX version, we are the best option for nursing students and nurses as we provide a diverse portfolio of nursing information in different formats and within a user-friendly and responsive application. Once NextGen arrives, NURSING.com will be at the forefront of incorporating NextGen features within its application once they are released.