What is Orem's Self-Care Theory? (explained clearly) | NURSING.com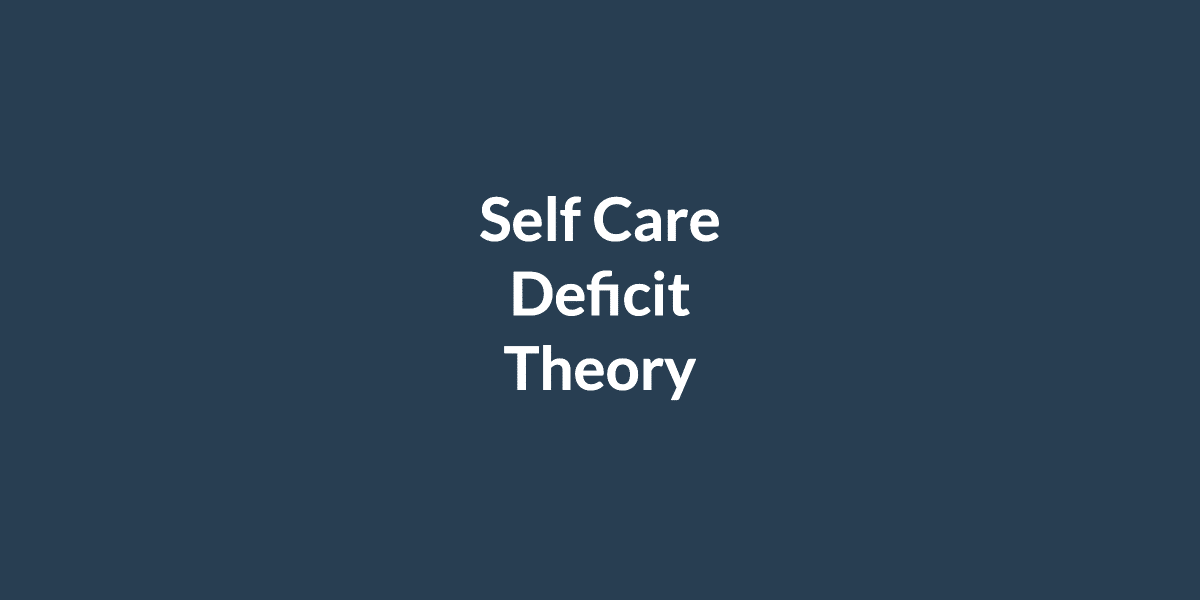 What are you struggling with in nursing school?
NURSING.com is the BEST place to learn nursing. With over 2,000+ clear, concise, and visual lessons, there is something for you!
There are situations when patients are encouraged to bring out the best in themselves despite falling sick for some time in health care. This is especially prominent in a rehabilitation setting…in which a patient is expected to be self-reliant after being taken care of by nurses and physicians.
Between 1959 and 2001, Dorothea Orem developed the Self-Care Deficit Theory to better the quality of nursing in general hospitals in her state. It's considered a noble nursing theory, containing a broad range and general concepts applicable to all cases of nursing.
Want to learn more?
View a suggested lesson
Description
Dorothea Orem's Self-Care Deficit Theory describes nursing as the act of helping others within the provision and management of self-care to take care of or improve human working at the house level of effectiveness.
It focuses on each person's ability to perform self-care. Orem defines self-care as the execution of activities that people trigger and act on in maintaining life, health, and well-being.
The circumstances that authenticate the existence of a requirement for nursing in adults is the absence of the power to take care of that quantity and quality of self-care continuously.
This care is therapeutic in sustaining health and life, recuperating from illness or injury, or dealing with their outcomes. With children, the condition is that the parent cannot take care of and provide therapeutic care in the same quantity and quality.
Assumptions of Orem's Self-Care Theory
The assumptions in the Self-Care Deficit Theory include:
To stay healthy and remain useful…..people must engage in constant communication to connect among themselves and with the environment.
The power to act willingly is exercised to determine needs and to make appropriate judgments.
Adults experience hardship in the form of action in taking care of self and others when making life-sustaining and activity-regulating actions.
Human agency is utilized to identify, develop, and transfer different ways to determine needs for and assist self and others.
Groups of people…with organized team activities and allocate responsibilities for giving care to its members.
Major Concepts of the Self-Care Deficit Theory
The major concepts of the Self-Care Deficit Theory include:
Nursing
Nursing is the art through which a nurse gives specialized assistance to a patient for self-care. The goal…is to provide a better quality of life while helping the patient become more responsible and active in managing their health care at home.
It's about nourishing, encouraging, protecting, compensating, and promoting recovery from illness and injury. The nurse also intelligently participates in the patient's care.
Humans
Humans refer to men, women, and children being given care either as single or social units. They are nurses' "material object" and the subject of the environment that nurses will act upon by providing direct care. It's through their actions that inputs are given to them, and they receive output.
Environment
The environment refers to the physical, social, cultural, economic, political, and historical surroundings in which nursing activities are implemented.
It's where human agencies give nurses opportunities to influence or be influenced by what is happening there. The environment also includes the family, community, and culture.
Health
Health is the ability to perform optimally as a human being. It's defined as the absence of disease and infirmity, total physical and mental well-being, and functioning optimally in an environment.
Health also includes the well-being of an individual and a group and encompasses the ability to reflect on oneself, symbolize one's experience, and communicate with others.
Self-Care
Self-care is an ability possessed by humans to meet the physical and psychosocial demands that sustain life. According to Orem, self-care is the practice of activities people initiate and partake in on their own to maintain their life, health, and well-being.
Self-Care Agency
Self-care agency is the power to act deliberately in meeting one's own needs. The inherent trait in humans makes them able to make choices and make judgments on their behalf. Self-care agency is influenced by essential conditioning factors.
Basic Conditioning Factors
Basic conditioning factors are those that affect self-care agency from birth to adulthood. These include the state of health, environmental conditions, health care systems, social interactions, mental ability, and maturity.
They also include resource adequacy and availability and biological factors such as body strength, senses, coordination skills, agility, and pain threshold.
Therapeutic Self-Care Demand
Therapeutic self-care demand is the need to participate actively in meeting one's health care needs. It's the totality of self-care actions and activities needed to maintain and promote optimum health and well-being.
It's determined by assessing one's entire situation. This demand is affected by social, cultural, political, psychological, and biological factors.
Self-Care Deficit
Self-care deficit is the lack of self-care activities or the manner in which self-care actions are performed. It delineates the need for nursing.
Nursing is only required when the parent, guardian, or dependent isn't capable of or is limited in providing continuous effective self-care.
Nursing Agency
The nursing agency is the attributes of nurses that enable them to act, know, and feel in a manner that helps them meet the self-care needs of their patients by exercising and developing their self-care agency.
Nursing System
The nursing system is the network of all the relations between the people involved; legitimate nurse and legitimate client. It's activated when the client's therapeutic self-care demand cannot be met or is limited, leading to nursing.
Self-Care Deficit Theories
Dorothea Orem's Self-Care Theory is composed of three intertwined theories.
The theory of self-care
The self-care deficit theory
The theory of nursing systems
Theory of Self-Care
This theory focuses on the patient's individuality and self-care abilities. The theory states that individuals can meet their own needs, but only under certain conditions.
These include the state of health, environmental conditions, health care services, social interactions, economic resources, the environment or community setting in which one lives or functions, and biological factors.
The theory of self-care includes three self-care requisites:
Universal self-care requisites
Developmental self-care requisites
Health deviation self-care requisites
Universal Self-Care Requisites
Universal self-care specifications are associated with life cases and the maintenance of the human structure and its functional integrity. They include:
The maintenance of enough air intake
The maintenance of proper intake of water
The maintenance of ample intake of food
The provision of care linked with the eradication process and excretions
The maintenance of a balance between a task and rest
The maintenance of an equilibrium between solitude and social interaction
The prevention of threats to human life, functioning, and well-being
The advancement of human functioning and development in social groups under human potential and desire to be normal.
Developmental Self-Care Requisites
Developmental self-care requisites become apparent when the adult's social interactions are judged. They can either be specialized expressions of universal self-care necessities detailed for developmental processes…..or new needs drawn from a condition or connected with an event.
They include:
Adjusting to a new job
Adjusting to body changes
Adjusting to a new social group
Adjusting to a new environment
Health Deviation Self-Care Requisites
Health deviations are conditions that affect health status and require more than usual self-care efforts. They are needed in situations of disease, illness, or injury.
They can also result from medical measures necessary for diagnosing and correcting the situation. They include:
Seeking and securing suitable medical care
Being conscious of and tending to the effects and results of therapeutic conditions and circumstances
Effectively carrying out medically prescribed diagnostic, curative, and recovery actions
Recognizing and attending to or controlling the discomforting or detrimental effects of prescribed medical measures
Adjusting the self-concept in accepting oneself as being in a certain state of health and in need of particular health care forms
Learning to live with the effects of pathologic conditions and the impact of medical diagnostic and treatment measures in a lifestyle that promotes continued personal development
The Self-Care Deficit Theory
The self-care deficit is based on the premise that clients and patients cannot meet their own essential needs; thus, they require nursing intervention.
The cause of this deficit in meeting self-care is related to limitations or barriers that prevent individuals from meeting their requirements for health, well-being, growth, and development. Orem identified five methods of helping:
Acting for and doing for others
Guiding others
Supporting another
Providing an environment that promotes personal development and meets future demands
Teaching another
Theory of Nursing System
This theory is about providing for individuals who are unable to provide for themselves. It is based on the belief that an individual will not meet basic needs.
The focus of this theory lies in assessment, planning, implementation, and evaluation so that adequate self-care can be attained. It's divided into three:
Wholly Compensatory Nursing System
Partial Compensatory Nursing System
Supportive-Educative System
Wholly Compensatory Nursing System
This system is employed when there are physical barriers to self-care. It focuses on providing for needs that the client cannot meet.
Persons with these needs are socially dependent on others since they cannot meet their own requirements, for example, newborns, after-surgery patients, etc.
The focus is on providing physical care that includes:
Protection techniques and protection devices
Positioning devices and positioning techniques
Equipment for activities of daily living such as feeding, bathing, toileting, transferring, dressing, and grooming
Assistance with instrumental activities of daily living such as using transportation, preparing meals, shopping for food
Partial Compensatory Nursing System
This system is employed when barriers affect the individual's ability to perform some self-care activities. They can meet their own essential needs but with assistance.
The focus of this system is on meeting physical care needs that include:
Management of body functions
Maintenance of equipment
Dressing techniques that are appropriate to the condition or disabilities present
Postoperative client in ambulating
Supportive-Educative System
This system is used when individuals can meet their own needs but cannot understand, learn, or perform them due to environmental barriers.
Individuals having the needs are socially competent enough to meet their needs but need to be taught how. The focus of this system is on meeting mental care needs that include:
Teaching and training
Making known the self-care skills needed for maintenance and recovery from illness, injury, or health conditions for individuals, families, and communities
Assistance in the development of environmental conditions that promote wellness
Theory of Nursing System – Assessment Process
The Self-Care Deficit Theory focuses on assessment through the use of the nursing process. Nurses assess the individual's ability to meet self-care needs and barriers to meeting self-care needs.
They then establish an individualized plan to facilitate successful knowledge or skill acquisition for self-care.
Step 1 –Assessment
Diagnosis and prescription to assess why nursing is required.
Analyze and interpret –make judgments regarding care
Design a nursing system and a plan for the provision of care
Production and management of nursing systems
Collect Data in Six Areas
The person's health status
The physician's view of the patient's health status
The person's perspective of their health
The health goals regarding health status, lifestyle, and life history
The person's requirements for self-care
The person's capacity to perform self-care
Step 2 –Nursing Diagnosis & Care Plans
The nurse formulates a plan that is either wholly compensatory, partially compensatory, or supportive-educative.
The two actions are:
Creating a good organization of the elements of a patient's therapeutic self-care needs.
Selection of a mix of helping tactics that will aid in compensating for or overcoming the patient's self-care deficits.
Step 3 –Implementation and Evaluation
The nurse assists the patient or family in self-care matters to identify and describe health and health-related results.
Gathering evidence in evaluating results attained against results outlined in the nursing system design.
The etiology element of nursing diagnosis directs measures
Evaluation
Application of Orem's Self-Care Theory
Orem's theory applies to the practice of nursing and has shaped how nurses view their roles. The role of the nurse in Orem's theory is to meet self-care deficits.
The goal is to provide client participation in meeting self-care requirements. For example, an individual's ability or inability to adequately take care of themselves may determine whether a nurse needs to assist them with their needs like bathing, feeding, etc.
If someone needs assistance with these activities because they lack the capacity or skills, then an assessor like a nurse or social worker may help that individual find the services they need to stay in their home.
Let's take the case of inadequate air intake…it poses a potential risk for impaired respiratory status. Orem's Self-Care Deficit theoretical framework directs the nurse to assess the individual's ability to care for themselves regarding their air intake.
Based on the assessment, the nurse guides and directs the patient accordingly. If they need help, the nurse helps them with it.
If they don't, the nurse might suggest some exercises that they can do independently to avoid becoming a problem later on. In this way, the nurse's intervention is supportive instead of compensatory.
Strengths of Orem's Self-Care Theory
Orem's self-care deficit theory allows the nurse to take a more active role in meeting the patient's needs.
This is beneficial as it helps build trust and rapport between the nurse and patient, making it easier to work together. Its strengths include:
Orem's theory involves a vast scope of processes and can be used by beginners and experienced health practitioners.
It outlines a comprehensive basis for nursing practice. It's practical in the fields of nursing education, nursing practice, and nursing administration.
The concepts of Orem's theory are easy to learn, even for beginners, and can be examined in-depth as they learn more and gain experience.
Orem clearly specifies when nursing is needed. It's required when the patient can't have the amount and quality of self-care necessary to sustain health and life continuously.
The self-care approach is simultaneous with the concepts of health promotion and maintenance.
Orem's theory is a deficit approach that works well with the disease-centered traditional system.
Limitations of Orem's Self-Care Theory
Orem's self-care deficit theory has been criticized in regards to its limitations. Some of these include:
Health is usually considered dynamic and ever-changing.
Theory is criticized as being mechanistic, whereby it doesn't allow for enough flexibility to adapt to a patient's unique needs.
The theory is simple and complex. It uses terms such as self-care deficit, self-care requisites, self-care agency, universal self-care, and self-care demand. These can easily confuse the reader.
Nursing interventions are described as being corrective and supportive, whereas preventive and promotive nursing concepts are not incorporated into Orem's theory.
Orem's definition of health is rigid as she refers to health as a concrete nursing system confined to three static conditions.
The theory lacks substantial acknowledgment of an individual's emotional needs and neglects the humanistic perspective.
Master How You Can Help Promote Patient Independence
Orem's contribution to nursing is substantial. Every day, nurses assess, diagnose and plan interventions for their patients while being mindful of their need to be independent.
By so doing, they can assist the patient in meeting their needs and maintaining health. If this rewarding aspect of nursing interests you, Nursing.com offers online nursing programs to help nurses learn how to assess self-care practices and the deficits of their patients.
This allows you to gain skills and market-relevant expertise while still pursuing an advanced degree. Sign up today, and let's dive in.