Introducing NCLEX Study Plans: Guidance for NCLEX Success is Here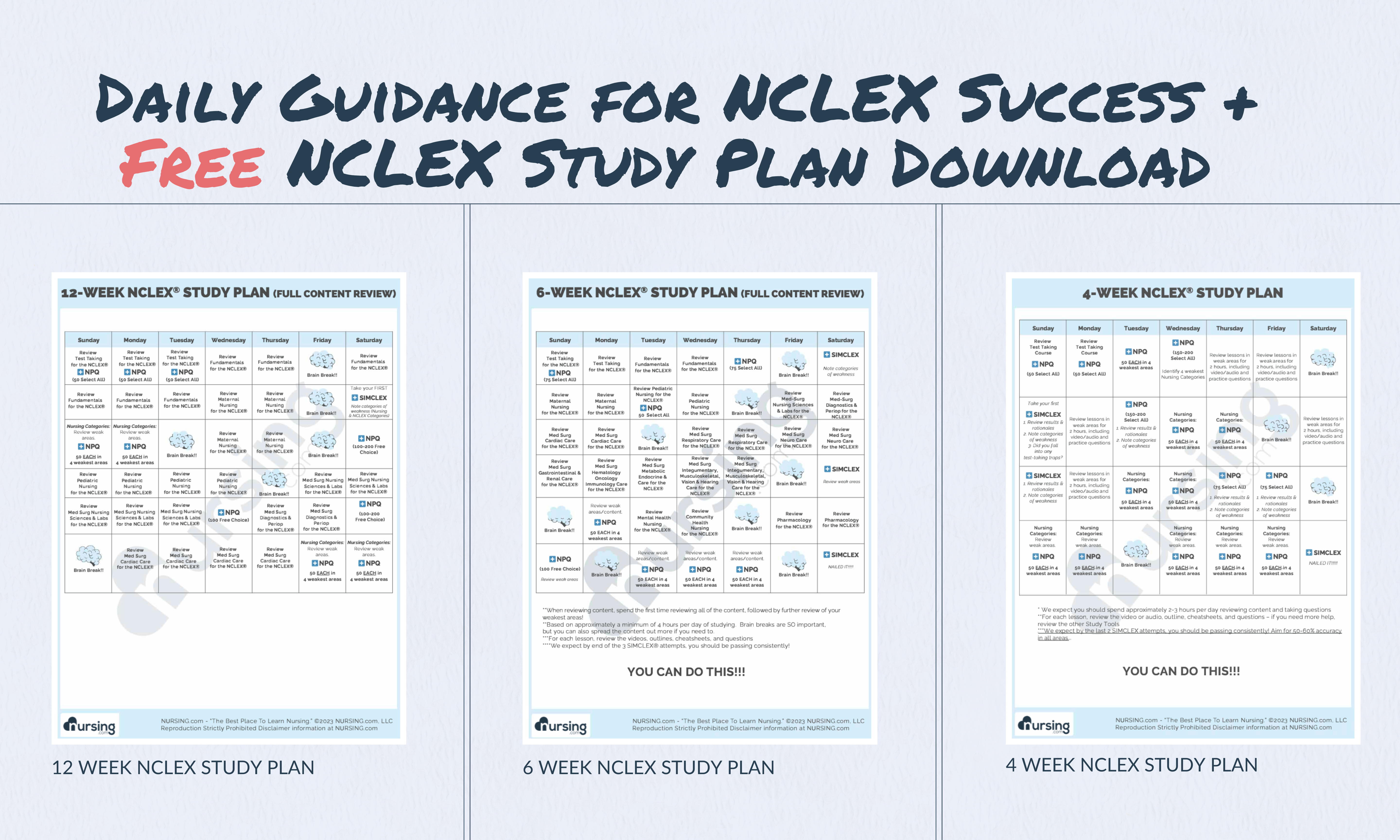 What are you struggling with in nursing school?
NURSING.com is the BEST place to learn nursing. With over 2,000+ clear, concise, and visual lessons, there is something for you!
Hi Future Nurse!
You clicked on this blog which means that you're preparing for the NCLEX.
How are you feeling? Are you feeling excited that you're almost to your goal?
Or are you feeling in the depths of dread…? Emotionally, physically, and mentally exhausted…? Unsure where to start or maybe just feeling overwhelmed?
No matter at what point you're at with studying for the NCLEX, I have a tool that can help get you organized and back on track or maybe it can help make the process just a little easier!
NCLEX STUDY PLANS! 🎉
Our Educators at NURSING.com meticulously reviewed, researched and referenced the NCSBN's NCLEX-RN Test Plan and the Lessons offered on NURSING.com to create 2, 4, 6, and 12 Week NCLEX Study Plans.
Our 2 and 4 Week NCLEX Study Plans are very practice question focused because, well, there's not a lot of time to review content.
Our 6 and 12 Week NCLEX Study Plans, though, are very content-review focused since there is more time to cover actual content.
These Study Plans provide you with daily suggestions on what to study, when to take practice questions and NCLEX Simulators (Try SIMCLEX®!), and when to take VERY important Brain Breaks.
It's so easy to pummel yourself forward and totally forget to take care of yourself while you prepare for the NCLEX, but this is your reminder that you HAVE to take care of yourself during this time.
It's so so so very critical that you take care of your emotional and physical health guys - I can't stress that enough so I'll probably remind you again a little bit later in this article.
Probably one of the best things about these Study Plans is that they offer general guidelines.
That's a good thing because that means that you can tailor these items according to how YOU learn, and what YOUR schedule is like.
Every student is different - some pick things up quickly and can retain the information easily and others may need to read things over at a slower pace and maybe many times over for things to stick (and that's OKAY)
Some students work full time jobs and have very little time to dedicate to studying and others may have a little more time to spend on studying.
Some are parents, single parents, caretakers.
Some have learning differences like ADHD or dyslexia.
Some struggle with mental health issues such as depression or anxiety.
Whatever your circumstances are, these general guidelines were made for you so that you can tailor them to make them work for YOU.
How to Use Your NCLEX Study Plan:
I'm going to walk you through the 6 Week NCLEX Study Plan with, but this process will work for any of the Study Plans.
The first thing you'll want to do is download and print the calendar! 👇
Take a quick glimpse at it and think about what your day-to-day generally looks like…
Think about how you learn and the pace that works for you and jot these things down so you don't forget to take them into account.
Okay, now let's break this thing down so it makes sense and you know 100% what you'll be doing.
Days 1-2: "Review Test Taking for the NCLEX & NPQ 75 Select All"
This means that, on your first day, you're going to review the Test Taking for the NCLEX Course as well as take Nursing Practice Questions (NPQ for short)
So you'll start by reviewing the Test Taking for the NCLEX Course! 👇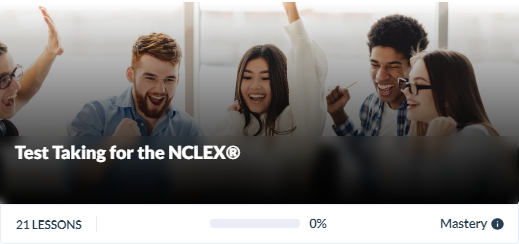 This Course covers important topics like what your study environment should be like and the big topics like Test Taking Traps and tips to overcome those traps.

Many students come to us and tell us how much they HATE SATA.
(It's totally valid - having more than 1 right answer makes things tricky! 😅)

But our SATA Lesson helps you break down these annoying questions so that you don't have to sweat every time one pops up. 🤘

Back to the Study Plan! If you look at the calendar again, you'll see that there are 2 days dedicated to reviewing the Test Taking Course.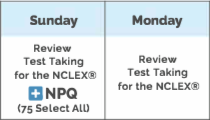 This is where you need to think about your schedule and the way that you learn.

There are 21 Lessons to cover in that Course, so, depending on your situation, would breaking that Course in half, reviewing it over 2 days, work for you?
Can you cover 10 Lessons in 1 day?
Can you cover all 21 in 1 day and actually retain the info?

This isn't like Google Maps where you try to beat the estimated arrival time. If you can cover all 21 Lessons in 1 day and your schedule and circumstances allow it and you are actually retaining the info, then great!

But it's not a race, so if you can't or even if you need to take more time to review the Course…tailor the Study Plan to YOU.

Another thing to keep in mind is that you'll also be taking NPQ (Nursing Practice Questions), too, which is the next guideline.
On this page, you'll create 2 quizzes: 1 of 50 questions and 1 of 25 questions to equal the 75 total

The Select All in the NCLEX Study Plan is not referring to SATA questions only (phew! 😅) but to select all the Nursing and NCLEX Categories.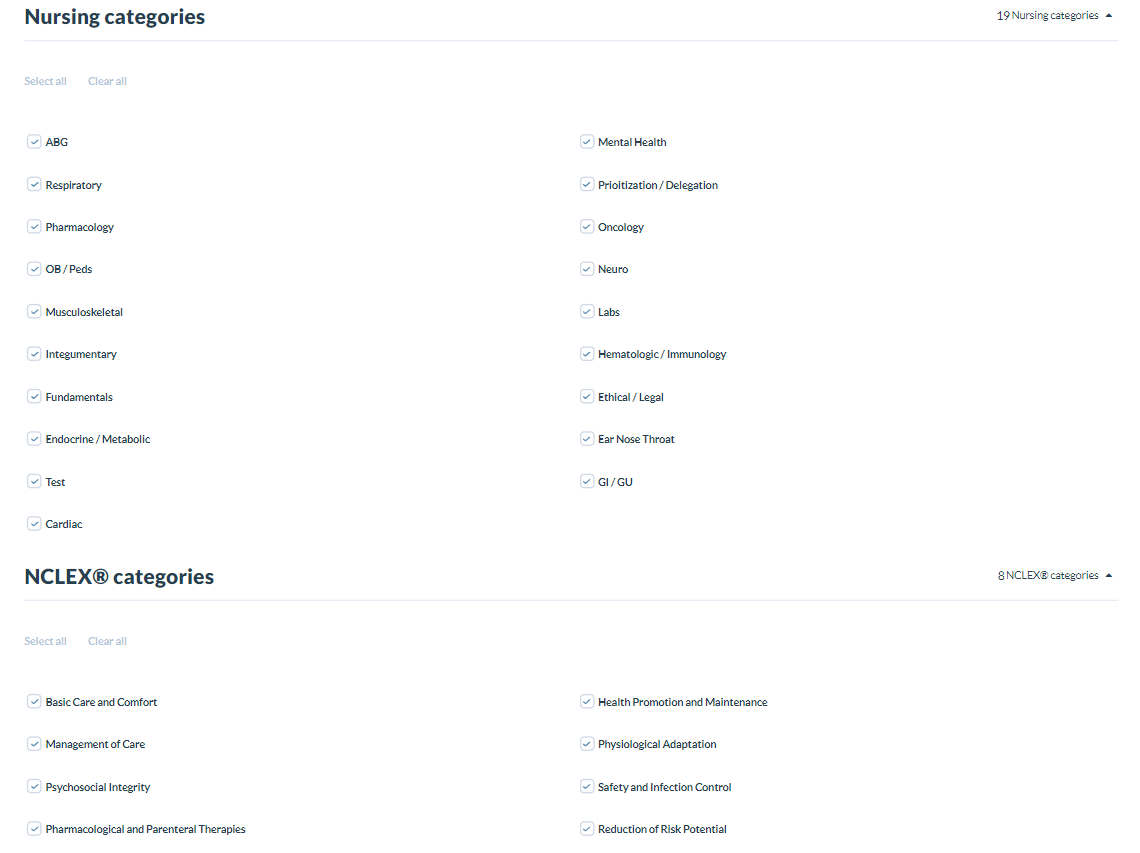 The idea behind this is to take a large group of "random" questions so that we can start seeing any areas that we may need to work on later.

If you take quizzes specifically for Cardiac, then we won't know if you're struggling with Respiratory functions and disorders.

So we want to get a general idea of where you are right now.

75 questions may not seem like a lot, but think about the time that it will take to also review every question - this is a CRITICAL step in preparing for the NCLEX!

It's not just about taking buttloads of questions, but making sure that you're reviewing each question and answer AND rationale to see why you got incorrect questions wrong and to make sure that you got correct questions right for the right reasons (not because you guessed and got lucky ☘️).

We have a cheatsheet that helps you break down each question and helps you self-examine what went wrong and what went right.
This is time consuming but oh so important AND you can use that same cheatsheet to help you break down your SIMCLEX® (NCLEX simulator) later on.
Days 3-4: Review Fundamentals Course
The next couple of days are reviewing another Course: Fundamentals for the NCLEX which has 27 Lessons

Nothing has changed - make sure you think about how you can tailor it to your schedule!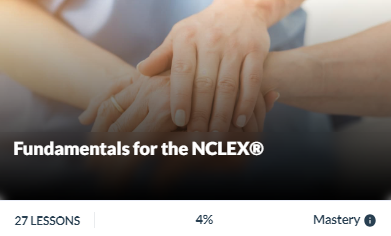 Day 5: More Practice Questions!
The following day is more practice questions: 75 questions total over all Nursing and NCLEX Categories (another general quiz)

(And don't forget to review!!!)
Day 6: BRAIN BREAK
🧠
On Brain Break days, do something that you love to do - something that brings you joy!

Go for a walk, read a book, catch up on your favorite show, get some well-deserved sleep! 😴

Resist the temptation to undermine the value of these Brain Breaks, thinking to yourself that you're wasting time on stuff you could be spending instead on studying.
That's all that's scheduled for this day, but, again - it's not just taking the exam which itself could take up to 5 hours.

It's taking it and then taking the time to REVIEW every question, answer, and rationale.
It's deep diving and notating trends and weak areas and test taking traps you may have fallen into.

So, as you plan your day or week out, don't let only seeing 1 item for the day fool you!
Lather, Rinse, Repeat
You'll repeat the same process for the upcoming weeks and once you get into the groove, things will start to feel more routine.

New processes and routines are hard to establish, but be persistent and consistent - you'll get there!
A Few More Tips...
Another thing I want to bring up is areas of weakness.

These are Categories that you see in NPQ and SIMCLEX® where you're scoring below 55-60%.

Based on some research we've done, NURSING.com students who pass their nursing exams and the NCLEX score between 55-60% so that's the sweet spot you should aim for.

So, any area below 55% is one that you should jot down and zero in on by either taking practice questions on or reviewing content for it if needed.

The last week of your review will focus heavily on weak areas so you'll have time to really dig into those areas.

As you ask yourself those questions from that cheatsheet on why you got something wrong, really try to determine: is this a content-related issue? Did I not understand what disorder or function the question was asking about?

If so, then go to your Courses and review that specific topic in your Lessons.

If you realize that a lot of the questions you're getting wrong are SATA, maybe you just need to get a quick refresher on Test Taking traps.

THIS is why it's so important to review, review, review those questions!
One Last Thing...
Studying for the NCLEX is stressful…

The pressure of it can sometimes feel like it's just too much to bear.

But I want to tell you that you CAN do this!

And I'm not just saying it to tickle your ears.

You took pre-reqs to get into a nursing program.
You went through the jungle that is nursing school.
You graduated from nursing school!

You couldn't have gone through ALL of that if you really didn't want to be a nurse.

So, stay dedicated, keep focused, and be patient with yourself.

You. Got. This.

And if you need any help along the way, you know where to find us.

Happy Nursing!