30 Nursing Graduation Cakes (I dare you to use #18) | NURSING.com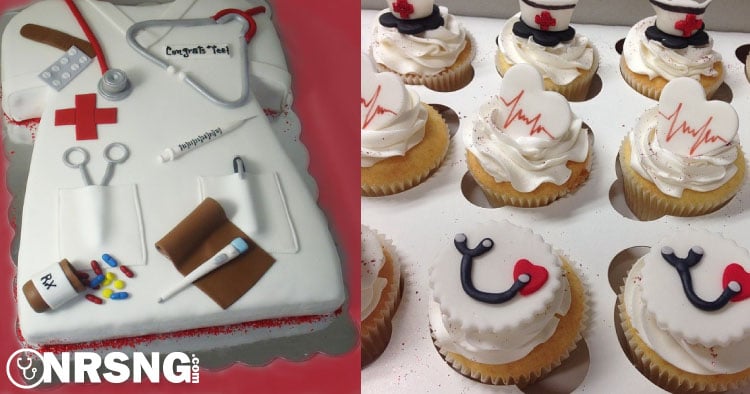 What are you struggling with in nursing school?
NURSING.com is the BEST place to learn nursing. With over 2,000+ clear, concise, and visual lessons, there is something for you!
Graduation from nursing school is a perfect excuse to indulge your sweet tooth and to buy some delicious cakes or cupcakes to celebrate. Here are some nurse cake ideas to help you celebrate graduating nursing school in style.
1. Nursing Graduation Cake with Cap, Pills, Stethoscope
2. Pills, Shots, Band-aids, and EKG Cake for Nursing Grad
3. Colorful Nurse Cake
4. Oh, The Places You'll Go
5. The Pill Pusher
6. Nursing Uniform Sheet Cake
7. Nursing Student Cupcakes with Fondant
8. Would You Eat This Nurse Cake?
9. Beautiful Cake for Nurses
10. Graduation Cap with Stethoscope
11. Fun Pink Nursing Graduation Cake
12. 3 Tier Nurse Cake
13. Cap Cupcakes . . .
14. . . . I Want One of These
23 Gift Ideas for Nurses (must read before Christmas/Graduation)
15. Fancy Fancy
16. This Is So Cool
17. NO MORE BOOKS!!!
17. Congratulations
A graduation cake for a nursing student! pic.twitter.com/GJ1iphHUIa

— ButterSweet Cupcakes (@ButterSwtCakes) December 27, 2013
18. Ummm . . . . .
19. Well Done Grad
#Graduation cake !😍👏🏽 how cute is that?! pic.twitter.com/ETjkyxWIeQ

— Destiny's Cakes (@destinyscakesUK) April 4, 2016
20. A Little Bit of Fondant
21. Nurse Cake Pops
Don't mess with her .. she stabs people with sharp objects !! #nurse #cakepop #cakepops #cake #bahrain #manama pic.twitter.com/e4wwG1lB1b

— Popilicious (@Popilicious_bh) February 24, 2016
22. Nurse Minion to the Nurses Station
ⓒ ☺️✨ #RN #Minion Pops =} #cakepops #minions #minioncakepops #Registerednurse #nurse #nursegraduation #loveanurse… pic.twitter.com/FWkNzor5ZV

— MINIONS (@MINlONS) May 24, 2014
23. Red
24. I'll Take a Piece of This Cake
25. I Love This One
26. Sooo Cute!
https://www.instagram.com/p/BTrmxD2Dt4B/
27. Candy Shot . . . STAT!
28. This Cake is Amazing
29. Why Isn't This in the Break Room?
https://www.instagram.com/p/BTOnNdmho8h/
30. Love it!
Graduating from nursing school is a huge accomplishment. . . . It takes a tremendous amount of sacrifice to complete a nursing degree . . . a sacrifice of time, self, and energy.
These nursing school graduation cakes are sure to be the hi-light of the celebration.
Which nurse cake is your favorite?