4 Little Known Tools for Mastering Pharmacology for Nurses | NURSING.COM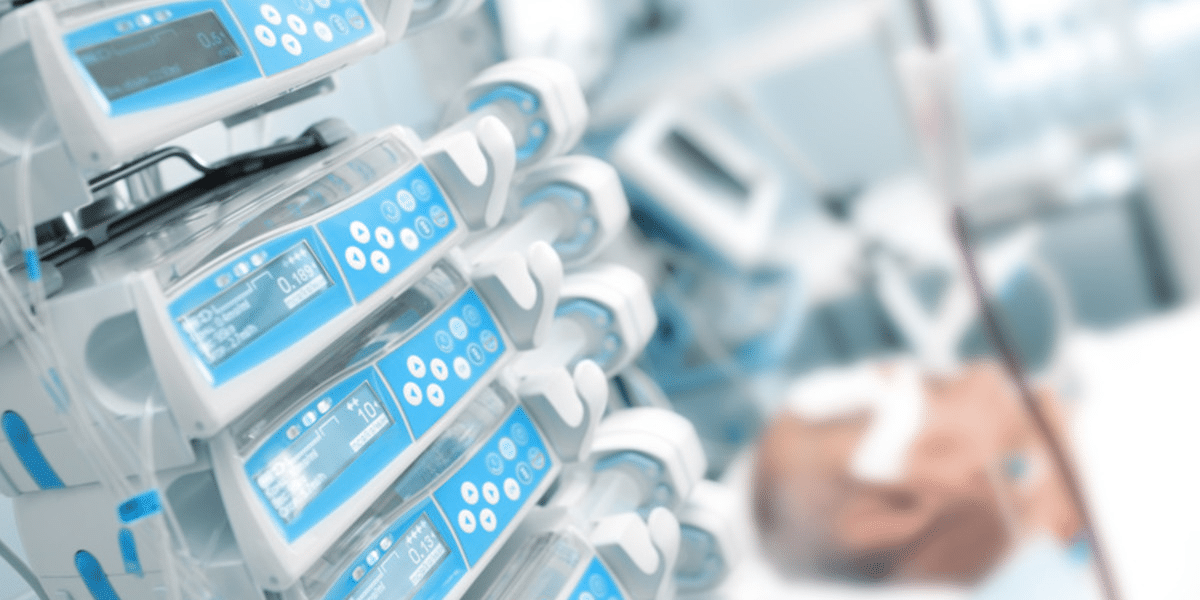 What are you struggling with in nursing school?
NURSING.com is the BEST place to learn nursing. With over 2,000+ clear, concise, and visual lessons, there is something for you!
Pharmacology Doesn't Have to be Your Enemy
I've asked 40,000 nursing students:
What is your biggest struggle is in nursing school?
Can you guess the most common answer?
💊 NURSING PHARMACOLOGY 💊
Look . . . I was no exception to this while in nursing school.
In fact, Nursing Pharm was possibly the most complicated subject for me during school.
No matter how much I studied . . . it always felt like I was learning a foreign language. Not only that, but lives were going to depend on me knowing the language!
But, (with a lot of work) I figured out how to excel at pharm and master the course by developing methods and strategies that I would like to share with you.
After years of working in a Level I Trauma ICU, mentoring students, and working with literally tens of thousands of nursing students around the world I have developed some tips and tricks that will help you demolish pharmacology for good.
With so many students (and practicing nursing) struggling so deeply with pharmacology we had to do something. I am going to share with you 5 resources that will help you demolish nursing pharm right now!
But First . . . . a Caveat
I have found that with regards to pharmacology nursing students fall into one of two camps:
Those that say "I will only be tested on a couple of meds on the NCLEX®, what's the point in learning pharm."
And . . . the smart ones. Seriously, those that realize that pharmacology is more than a grade. The meds we give our patients are such a MASSIVE part of what we do. The risks involved with not understanding meds are so huge . . . I won't go into that here.
If you are like the first student . . . you might as well stop reading now. But I can't imagine ANYONE that is part of the NRSNG Family would EVER think like that . . . so read on.
🎧 Med of the Day Podcast (free)
I LOVE podcasts. I probably listen to 2 per day and subscribe to over a dozen. Podcasts are such an incredible way to learn while on the go. I generally listen to a podcast every morning while I walk, I listen on the way to work, and just driving around town, waiting in line . . . whatever.
I created the Med of the Day Podcast to provide short, concise, detailed information on a different medication a day. Each episode is generally about 5 minutes and covers one of about 140 medications that are the most important for you to understand.
You don't need an iPhone to listen. In fact, you can listen right on our website.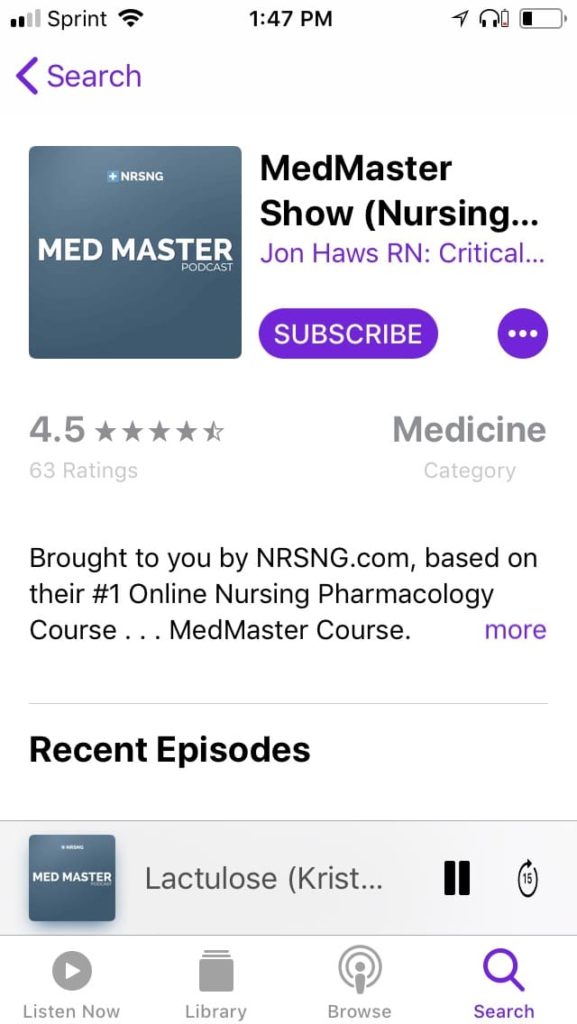 💊 MedMaster – Online Nursing Pharmacology Course
Listen . . . pharmacology is hard. Learning it doesn't have to be. No one wants to sit down and open another book trying to memorize and cram hundreds of meds.
MedMaster Course is our solution to the epidemic that is insufficient information and teachers to educate students on nursing pharmacology. You aren't the only person who struggles with pharm.
I get so many emails every day from students in your shoes. The MedMaster course is packed with my tips for not only learning pharmacology but understanding it as well.
In total there are over 30 hours of video and audio lectures, cheat sheets, and tons of freebies (including 90 NCLEX® style pharmacology practice questions). For a small fraction of what ATI or Kaplan would charge you for limited access to their pharm programs, you can get MedMaster access (including downloads of all lectures).
MedMaster is included with NURSING.com so not only will you get help with pharmacology, but you get access to all the other courses and tools included inside your NURSING.com membership.
MedMaster Course Details
The course is broken up into 5 sections:
Section 1: NCLEX® Must-Knows
Section 2: Math for Meds
Section 3: Must-Know Medication Classes
Section 4: 130 Commonly Tested Medications
Section 5: Disease Specific Pharmacology
Section 6: Handouts and Freebies
Section 7: 90 NCLEX® Pharm Questions
This really is the course that I WISH existed while I was in school! Every lecture is viewable on any device (including your phone).
View Our Nursing Pharmacology Course
Start Watching for Free
Here's what others are saying:
📚 140 Must Know Meds ($9.99)
Here's the deal . . . it's impossible to learn EVERY medication. This book includes the top 140 medications that you need to know in your practice as a nurse, for your pharmacology course, and for the NCLEX®.
While I was in nursing school, I would take TONS of practice tests. During each test, I would record every medication that was tested. I then went to NIH and other sites to discover what were the most prescribed medications. With this database in hand, I was then able to (with the help of my team) develop this book.
We cut the fluff, gave you only the meds, and the information that you actually need to know. If you are looking for a cheap option to learn the meds you need to know . . . this is a great option.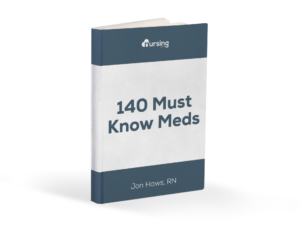 The book has an average rating on Amazon of 4.5 stars and has helped hundreds of students. The book is included in the MedMaster Course for free. But if funds are tight . . . this is a good second option. You can pick this book up on Amazon if you CLICK HERE.
RELATED ARTICLE: Med Math (dosage calculations, drips, and formulas)
🧦 The SOCK Method for Mastering Nursing Pharmacology (free)
For many students, I've found that the only thing really standing between them and success in pharm is a method for learning medications and drugs.
When I finally realized that, I went to work developing the S.O.C.K. Method (yes, that's really the name).
The SOCK Method is a four-step process to help you learn meds. When utilized in nursing school, it will greatly accelerate the speed at which you can master nursing meds.
Read the blog post and download the cheatsheet here, or watch a preview of this lesson below:
We Are Here To Help You Pass Nursing Pharmacology
If you are struggling – we can help. While you might feel intimidated right now – rest assured – you can pass Nursing Pharm.
View Our Pharm Course Now S

tart Watching for Free