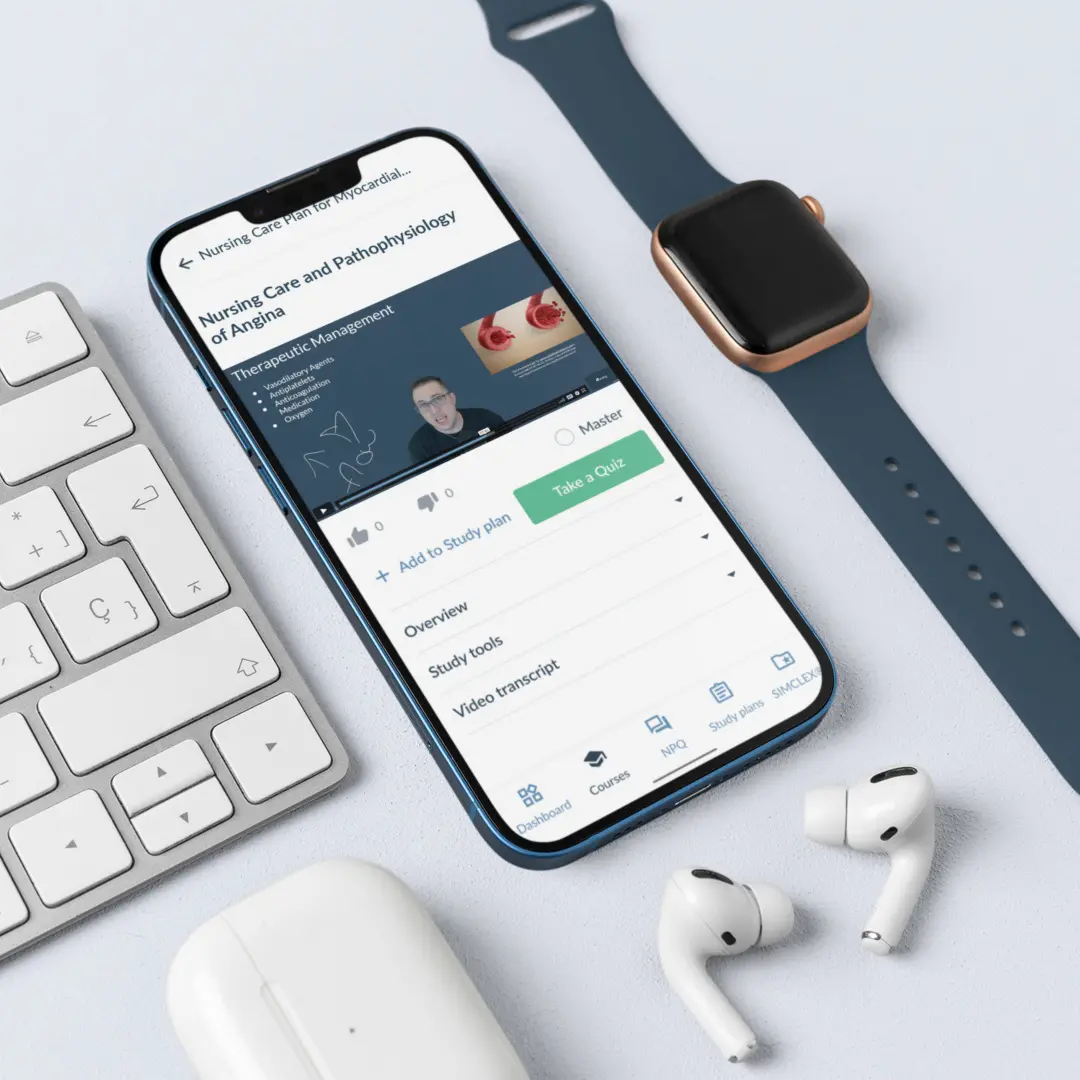 What are you struggling with in nursing school?
NURSING.com is the BEST place to learn nursing. With over 2,000+ clear, concise, and visual lessons, there is something for you!
So, you've decided to become a nurse. Congratulations! The world needs nurses! But before we get into all the details of nursing school and everything that comes with it, let's first talk about one vital subject: the TEAS exam.
If you're reading this article, chances are good that you already know what the TEAS is—it's a standardized test that many nursing schools require their students to take to prove their competency in several core academic areas.
The reason for this may sound pretty obvious. If someone can't pass the TEAS and demonstrate mastery of the material required for their intended career path, they probably aren't able to handle a clinical program in nursing school. It means they'll almost certainly fail those courses before graduating!
Why is the TEAS Exam a Requirement in Nursing School?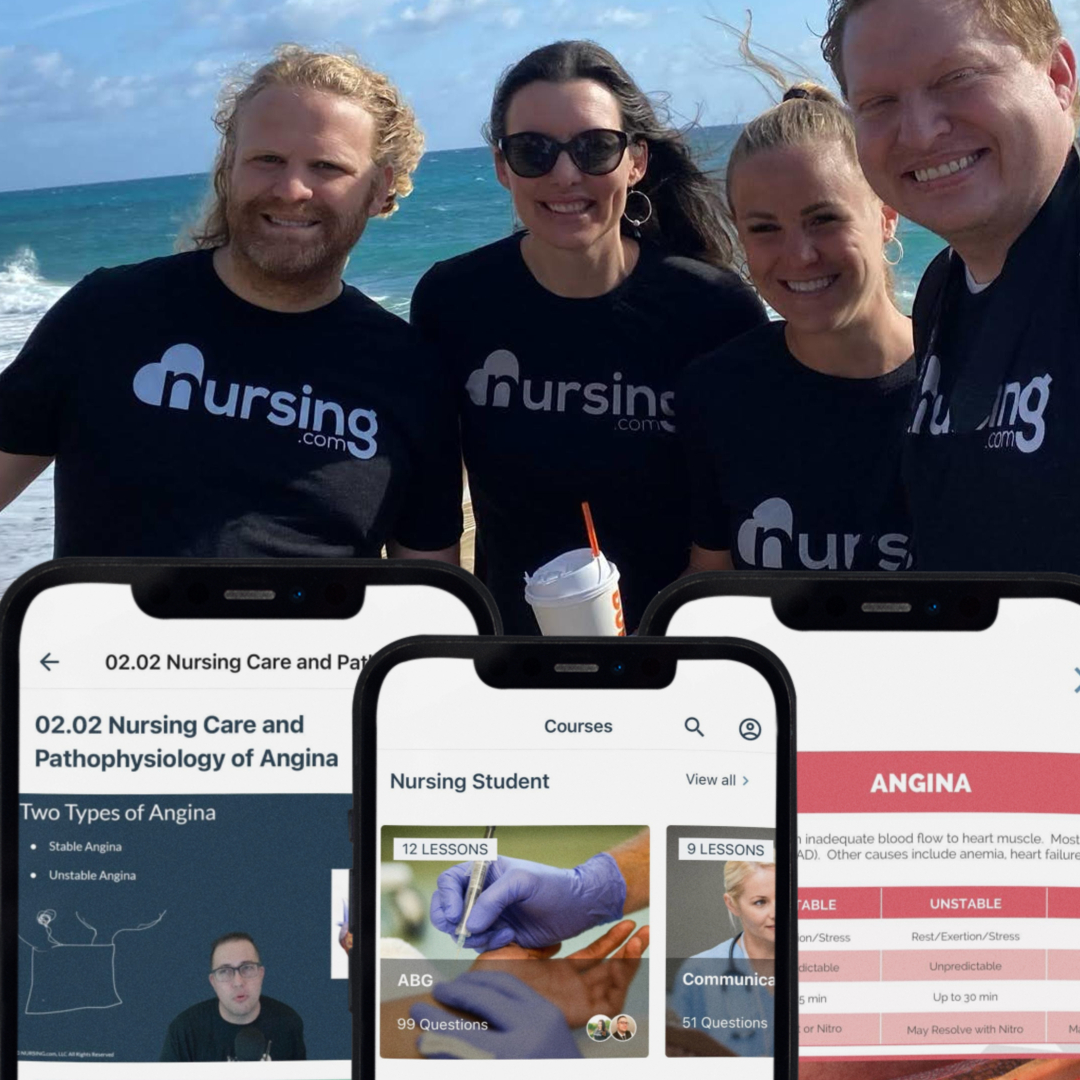 The TEAS exam is a requirement for admission to most nursing schools. It's like a mini-GPA test that shows schools how well you can think on your feet and make decisions under pressure. The TEAS exam is a standardized test that measures fundamental reading, writing, and math skills.
The primary reason schools require the TEAS exam is because it offers them an objective way of evaluating students' readiness for the academic rigor of their nursing programs. If you score well on the TEAS, it shows schools that you can succeed in nursing school.
The TEAS exam is designed to be taken by people with a high school diploma or equivalent. If you're planning to take this test, ensure you've graduated from high school (or earned your GED) before taking it!
They want to ensure that applicants have strong enough academic backgrounds and that their scores on this test demonstrate their preparedness for the content covered in these courses.
Why You Need a Good Score on the TEAS
If you're planning on applying for nursing school soon, you need to be sure that you're ready for the TEAS. This can mean taking extra time to prepare and study—an app like ours can help!
If you don't have a high enough score, your application might be rejected outright! So it's worth studying what makes for a practice test session and then ensuring that all your studying will help you get that top grade.
The TEAS is a vital exam, and even if you don't plan on attending nursing school right now, it's still a good idea to do well on it. If you want to be an RN in the future, this test can help when considering what schools might accept your application.
Is the TEAS Exam Hard?
This is the most common misconception about the TEAS exam, and it's simply not true. This test assesses your ability to think critically, synthesize information, and apply what you've learned to a new situation. It also tests whether or not you can read complex passages and understand their meaning. If you're prepared for these things, you'll be ready for the TEAS!
The ease of the test is directly related to how much time and effort you put into preparing for it. The more time you spend studying and practicing, the easier the test will be.
What is the TEAS Test Like?
The TEAS exam consists of four sections: Reading Comprehension, Mathematics, Science, and English. The number of questions for each section and the time limit to answer them also vary. The Reading Comprehension section has 53 questions, which you have 64 minutes to answer. The Mathematics section has 36 questions, which you have 54 minutes to answer.
The Science section has 53 questions, which you have 63 minutes to answer. The English section has 28 questions, which you have 28 minutes to answer. In total, the TEAS exam contains 170 multiple-choice questions that cover all four areas of the test.
The passing score for the TEAS exam varies depending on the school. However, a composite score of between 55%-70% is considered passing, so you should aim to score at least that high on the test.
In addition to the TEAS exam, many nursing schools require you to submit a high school transcript and SAT or ACT scores. The TEAS test is not adaptive, meaning it does not change based on how you perform within a section. Instead, it is a fixed test that remains the same throughout.
Your score will reflect this difference if you perform better in one section. The TEAS exam is also a computer-based test you can take at any time of the year. However, it is essential to be aware that since this is a standardized test, there are specific testing dates for each state where you want to take the exam.
Why Your Teas Study Guide Matters
Your TEAS study guide is the most important thing you can use to prepare for the test. It is what makes the difference between a pass and a fail. Your study guide is your comprehensive outline of all the important content you need to know, and it covers every question type you might encounter on the test. It's like your own personal tutor that will teach you everything you need to know to pass the test.
When it comes to TEAS, you may ask many questions on the test. The best way to prepare for these questions is by studying from a reliable source. But with the many materials available online, how do you choose one that is accurate and reliable?
As a student, you want to ensure that the material you're studying is current. TEAS always has frequent updates, so it's essential to be up-to-date with the latest trends and standards in nursing education. A good study guide will cover every topic on the test and explain why each question type is on the exam.
A compelling study guide should also provide you with a strategy for tackling each type of question. A good study guide will walk you through the test-taking process step by step and show you how to get the most out of every question. A good study guide should also be easy to use.
You'll want a guide organized in a way that makes sense for the exam. It should have detailed explanations of all of the material on the TEAS, with plenty of examples and illustrations to help you understand it better.
Finally, your study guide must match what you're learning in school so you don't feel you're wasting time studying outdated material.
The best way to find a good study guide is by researching. Look online for reviews of different guides, and find out what other people say about them. Talk to your teachers and classmates and ask them if they know of any good resources they've used.
You can also try asking other nursing students for recommendations. If you're taking a class at a community college, ask your classmates if they know of any good resources they've used in the past.
What to Look for in a Test Prep App
There are many TEAS test prep apps, so knowing which one is best for you can be challenging. Here are some things to look for:
Does it prepare me for the actual test?
You should ensure that whatever app you choose has been updated recently and reflects changes made by ETS (the company that administers the test). If an app does not get the latest updates, it may still include questions or answers from previous editions of the exam and, therefore, not reflect what will be on your test day.
Is it easy to navigate?
Look at other people's reviews and how simple or complex they found navigating through various screens within this program before purchasing any app or software. This way, if something isn't intuitive enough or doesn't work well with their device, another one might do better instead! There should never be any confusion about how something works, whether we're talking about websites during web surfing sessions or apps during mobile app sessions. If you're confused about how something works, then there's a good chance that others will be too.
Are there clear instructions on how to use it?
The TEAS app you select should be easy to understand and use. It should have clear instructions on how to get started, what each screen does and how you can best use it. You want to ensure that the app is intuitive enough that you don't need a manual or training course to figure out how it works before you start using it.
Can I use it on my phone and tablet?
You want to ensure that the app you select is available for mobile devices and computers. You need to access it from wherever you are, so make sure your TEAS test prep app works on all your devices. How much does the app cost? You don't have to spend much on a TEAS test prep program, but some options will cost more than others. You must know what the app costs before you buy it so that you can budget accordingly.
How many questions does it have?
You want to be sure that the app you select has enough questions for you to practice with. If you're only allowed a certain number of queries per month, ensure enough is available for you to use up your allowance before buying more.
How many different practice types does it have?
Different test prep apps will offer a variety of ways for you to practice. Some let you choose from multiple question formats, while others only have one type of question available. You want to find an app with all the different types to prepare yourself for every scenario on the real TEAS test.
What features does it offer?
The TEAS test prep app should provide a variety of tools and features so that you can get the most out of your studying time. Look into what each one offers before making any purchases to ensure you're getting the most out of your money.
Can it track my progress?
You want to ensure that the app has some system to see how well you're doing. You don't want to waste time or money on something that isn't helping you get better at taking the TEAS test! The TEAS test prep app should be able to track your progress so that you can see how much more studying you need to do. This will help you understand what areas need improvement and where you're already strong.
Can I customize it?
You want to ensure that the app has some customization features to get the most out of it. Maybe you need some extra help in one area or another; you want to be able to choose what kind of practice test questions and tests you're doing. The best TEAS test prep apps will let you set your own goals and customize the app to meet those goals. This will help you improve at taking the TEAS test because you'll study what you need to know!
What are other people saying about it?
If you want to know whether a TEAS test prep app is good, you can always check what others say about it. You can look at reviews from teachers or students who have used the app or read blog posts written by people who have used it themselves. It's always important to get multiple perspectives on any product before you buy; this way, you'll be sure that the app is suitable for your needs!
What does the app offer?
If you're looking for a TEAS test prep app, it's essential to know what kind of content will be available in the app. This can include things like videos and flashcards; if you want something that has more than one type of content, then make sure to look for apps with those features!
What kind of support is available?
If you're looking for a TEAS test prep app, it's essential to know what kind of support will be available. This could include things like customer service and phone or email support; if you want something that has more than one type of support, then make sure to look for apps with those features!
What Makes Our App, Nursing.com, So Great?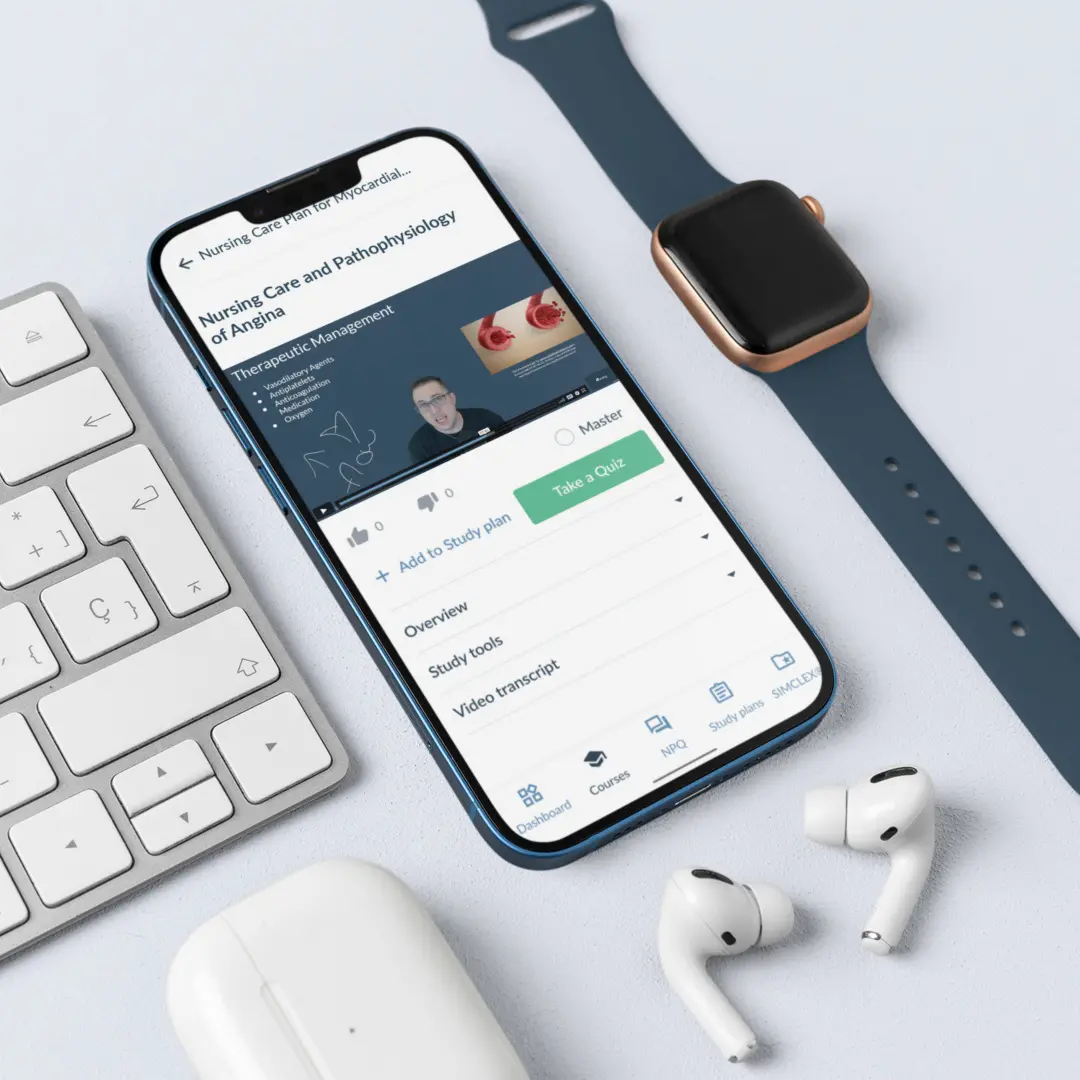 The Nursing.com app is the best TEAS study guide on the market. It's been developed by a team of nursing experts who understand what it takes to succeed on this test. Here is what you should expect from the Nursing.com TEAS app:
It's comprehensive: We cover all four sections of the exam and include hundreds of passages and questions so you can feel confident about your knowledge before taking the test.
The Best Materials: We have various high-quality resources to ensure you can study anywhere and anytime. From our flashcards and practice questions to our videos and quizzes, we have everything you need to ace your TEAS test.
A Full Range of Topics: Whether you want to focus on math, science, or English, we have something for you! All your practice questions are up-to-date practice and are similar to those on the actual exam, so you will be ready when it comes time to take the test. Study up to 6,500+ practice questions that reflect what you'll encounter on the exam.
The Best Customer Service: We offer 24/7 customer service from our knowledgeable and friendly team. If you need help with your order, have questions about our products, or want to ask about any other aspect of your TEAS test study materials—we're here for you!
The Best Practice Tests: We only trust experts to curate our practice test in each subject area, so they match what's on the exam—and they're free! The more questions you get right before sitting down for the real thing, the better your chance of getting a higher score on test day. Our team has worked with thousands of students over the years, and they know what it takes to study for and pass the TEAS exam. We've poured that knowledge into our app so you can get the most out of your studying experience.
It's accessible: You can study on your schedule and at your own pace, so if you're busy or need extra help with a few areas, this app is for you!
Get more than just study tools: The app comes loaded with more, including TEAS and nursing care plan mnemonics to help you remember important concepts and details.
Nursing.com is also incredibly user-friendly: It is easy to use whether you use a mobile device or a computer. The interface is well-designed, intuitive, and easy to navigate. You'll never have to worry about getting lost or confused when using this app!
Why Is nursing.com's App Better Than Other Test Prep Apps?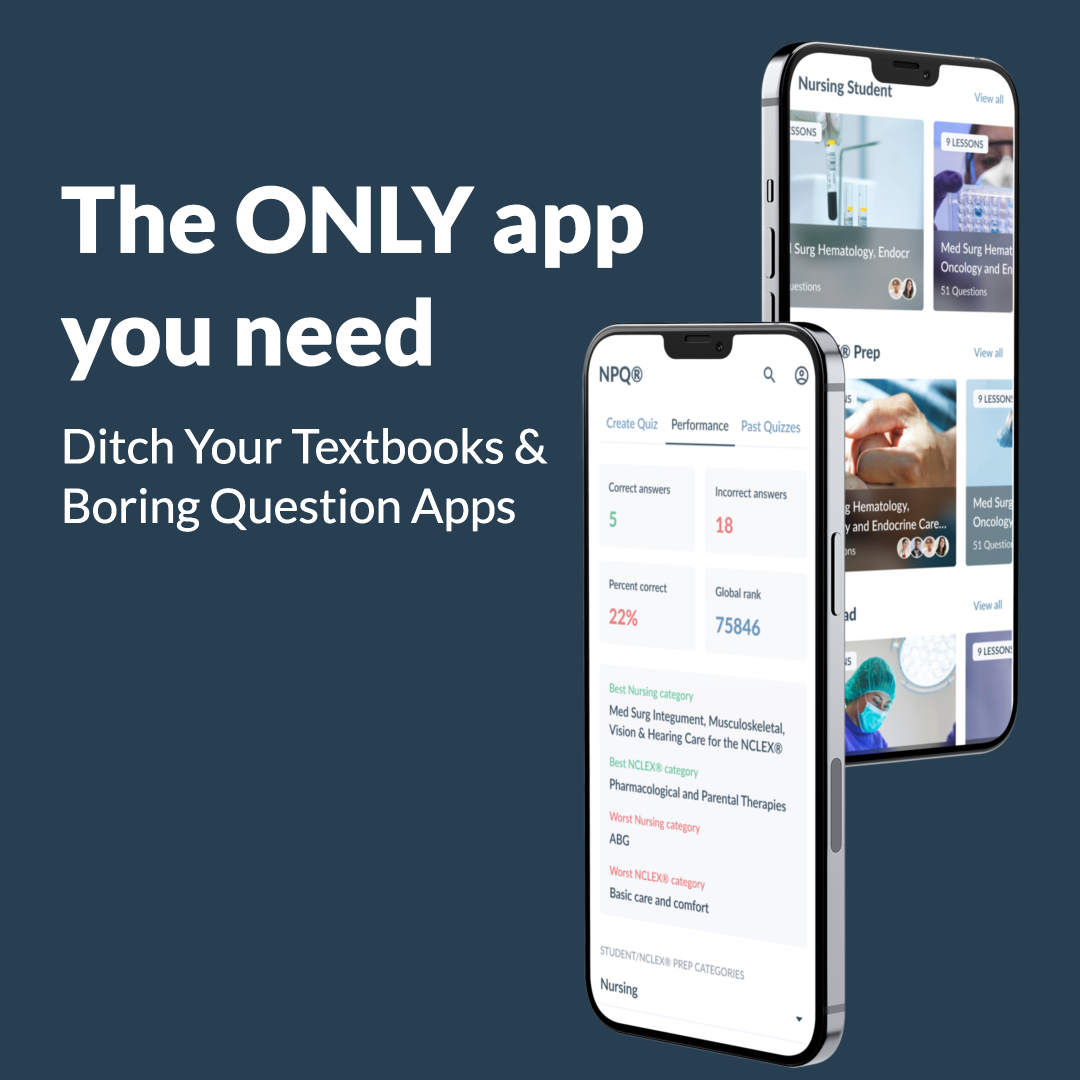 Our app is better because we do not just put out content. We have a process of ensuring the content you receive is transparent, of top quality, and helpful.
We begin the process with our trainers talking to current and future nurses about their concerns and needs. They then take this information and use it to create relevant, helpful content that is easy to understand. We want our users to be able to rely on the app as a tool whenever they need it, whether they're studying for an exam or looking for a refresher on their knowledge base.
The educators then go through a training process, where they work with a coach who helps them develop their curriculum even further.
Each lesson is meticulously checked for clarity and quality before it is presented to you, so there are no surprises when taking your test. The classes are engaging and interactive so that they won't feel like a chore; instead, they will feel more like a game or puzzle that you are enjoying while you learn.
We want to keep your attention so we can help you retain more information and pass your test faster! The best part? You can access the lessons 24/7 online, so they will never be out of reach when you need them most.
How do I download the nursing.com app?
You can download our app from either the Google Play Store or Apple App Store by searching for "Nursing.com" in your search bar. If you have any issues with downloading, please talk to our customer support team.
How do I log in to the nursing.com app?
To log into the Nursing.com app, click the "Sign In" button at the bottom of your screen. You will need to enter your username and password or create an account if you don't have one already. To enjoy all the services in the app, claim your free trial offer or subscribe to one of our monthly subscription plans.
How do I cancel my nursing.com app subscription?
You can cancel your subscription through the iTunes store or Google Play Store at any time by clicking on "Account & Billing" in the left menu and then choosing "Cancel Subscription." Please note that we will automatically renew your subscription unless you cancel before your next billing date.
Conclusion
The TEAS is not just a test, it's your ticket to a new career. And with so many people competing for the same job, you must do everything possible to stand out from the crowd. That's why we've created this app—to give you everything you need to succeed on your TEAS exam, including a comprehensive study guide with videos and practice questions that will boost your confidence going into the test.
We know how difficult it can be to pass this test, so we've made things as simple as possible by breaking down each section into smaller chunks, so you can focus on one area at a time until you're comfortable with it before moving on to another section. The app is available on iOS and Android devices, so we've got you covered no matter which one you prefer to use!
Contact us today to learn more about our TEAS mastery app and how it can help you pass your exam the first time!