What are you struggling with in nursing school?
NURSING.com is the BEST place to learn nursing. With over 2,000+ clear, concise, and visual lessons, there is something for you!
Every nursing student dreams of passing the National Council Licensure Examination (NCLEX) and practicing as a registered nurse. However, the NCLEX is different from other tests available. It conforms uniquely, and most students have never faced a test like it before.
Still, nursing students try everything to pass the examination to finally be able to practice after the challenging, long hours dedicated to studying nursing. Therefore, it is necessary to adequately prepare and know how to pass the exam on the first attempt.
Besides attending clinical and reading textbooks and notes, you can equip your resources with NCLEX apps. The best nursing study apps help you get a better shot at completing the licensing exam and becoming registered.
NCLEX prep apps have the necessary study materials and are, therefore, must-have resources for nursing students as they enable you to:
Study remotely anytime and anywhere
Know what study areas to focus on.
Dive deep into challenging topics that you don't understand
Track your prep progress and evaluate your readiness for the NCLEX.
As a nursing student, there are two things you can do to prepare best:
Have a relentless and undying thirst for more knowledge.
Take as numerous practice questions as possible and dig deeper into any part you don't understand very well.
If you lack the desire to learn, no program, book, teacher, or app will save you. Without taking any practice questions in readiness for the exam, you'll have no idea about areas that need more focus when studying. With that said, NCLEX doesn't have to be so difficult. With the help of these NCLEX prep apps, the pain of nursing studies is relieved, and you ease your anxiety about the exam.
NURSING.com boasts over 300 high-quality video lessons and a high pass rate of 99.86%. The home page describes NURSING.com as a "classroom supplement for visual, anxious, ADHD, and dyslexic nursing students."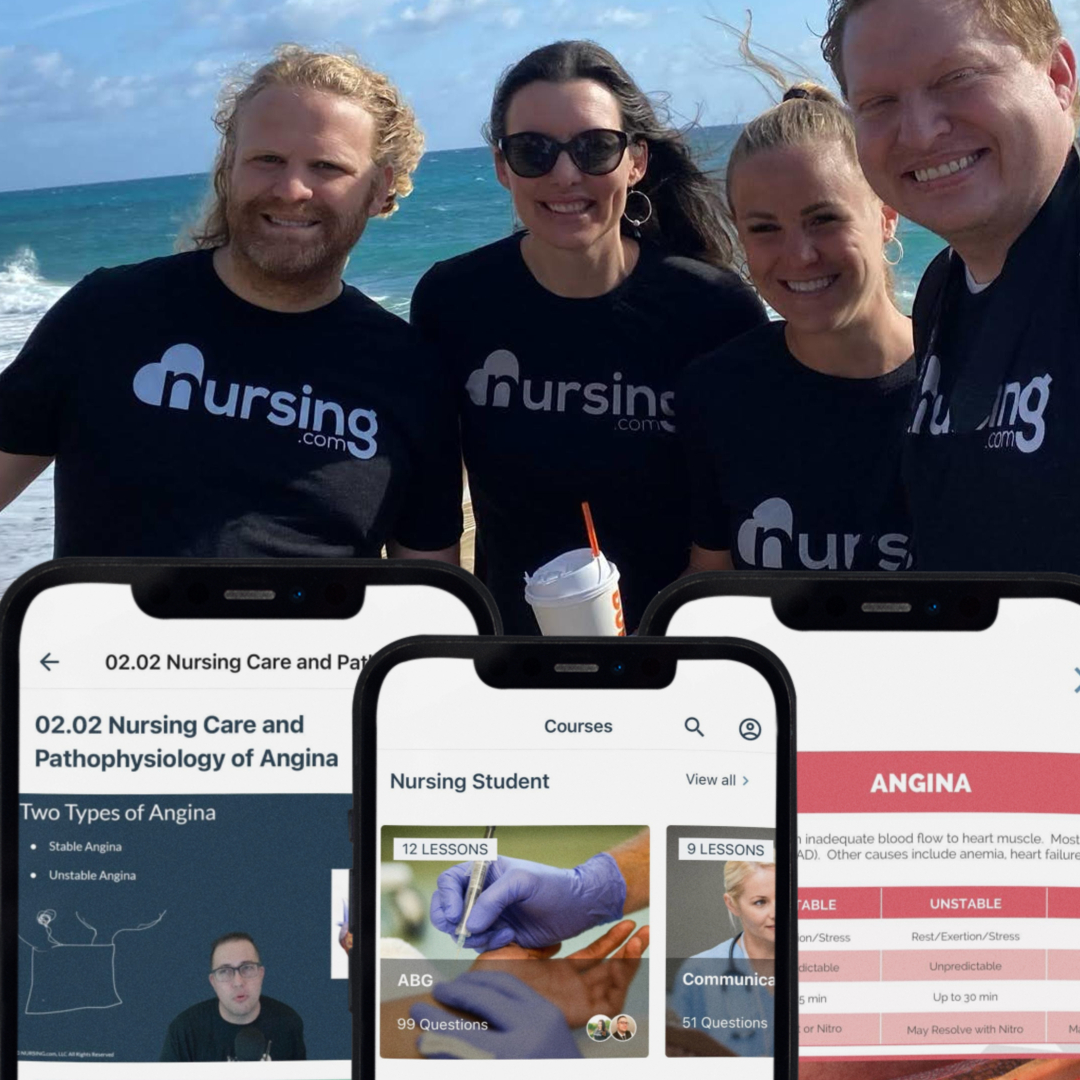 NURSING.com offers NCLEX Prep courses through the Core Content Mastery Method, which is one of the reasons for the extremely high pass rate. While it provides a subscription-based prep model for nursing students, a large percentage of their study materials are provided via either the one or two-year NCLEX prep program.
Picnomics, over 300 clear, concise and engaging videos, Cornell notes, and audio lectures help struggling nursing students learn more effectively.
The app's top highlights include the following:
200% NCLEX Pass Guarantee
3-5 realistic SIMCLEX test attempts
Free 3-day trial on any chosen package
Comprehensive NCLEX eBook and review materials
Over 6,500 practice NCLEX questions
Free mobile app
The courses are quite cost-effective, and you can purchase them for $249 for 90-day access, including 3 SIMCLEX attempts, or $329 for 180-day access, including a three-day trial and 5 SIMCLEX attempts.
SIMCLEX, or simulated NCLEX, AI-supported test results reviews, offers personalized learning suggestions that help you dive deep into the study topics that challenge you the most. Plus, the quality of 6500+ practice questions by NURSING.com is meant to match the level of the real NCLEX, including the alternate format questions.
Their comprehensive NCLEX reviews eBook pack about 400 pages of review content into an easy bullet point format, acting as a quick study guide. Overall, NURSING.com offers an on-demand study course for visual learners. This is due to its:
Unique learning strategies: If you have attention deficit disorder, dyslexia, or similar learning disabilities, it's still possible for you to have an excellent learning experience through the NURSING.com NCLEX app. Its visual-rich curriculum is specifically designed to meet various students' needs, and any nursing student can benefit from the unique teaching approach of the concepts.
Incredible pass guarantee: NURSING.com is extremely confident that any nursing student learning through their prep courses will pass the NCLEX. This is evident in their unbeatable promise of a 200% pass guarantee, meaning you get back double the money you pay if you fail to pass the NCLEX exam after strictly following their course.
Accessibility and convenience: Alongside the standard study resources such as flashcards and practice questions, Nursing.com provides supplementary audio lectures and video transcripts. The NCLEX mobile app is also easy to use and allows students access to the same study content on tablets and smartphones. The multifaceted set of study materials and the convenient access strategies make it easy for nursing students to study anytime, anywhere.
Affordable packages: You don't have to worry about a heavy budget for your NCLEX prep course with Nursing.com. The platform offers affordable pricing packages that net you several months of access. They also provide an amazing three-day free trial of their courses on any subscription.
Start your free trial today!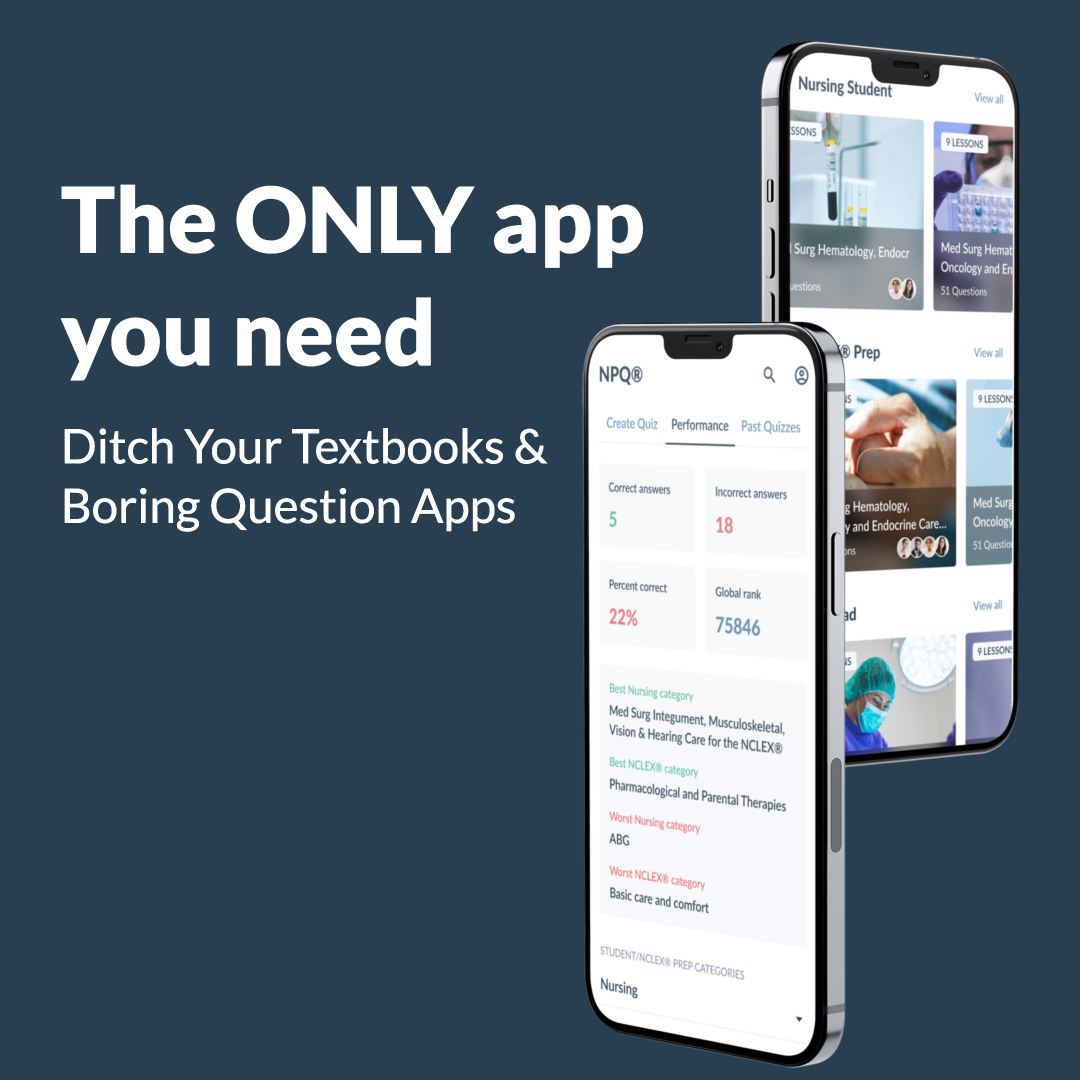 2. HESI NCLEX RN
Get ready to pass the NCLEX-RN exam with HESI. This comprehensive NCLEX review app features an all-in-one, complete review of the nursing information you need to pass the exam. You also experience similar testing with the NCLEX RN.
Since it is designed in an easy-to-read format, the HESI study guide presents a content review by concepts and clinical areas. The series of valuable tips offered helps students to apply critical thinking and clinical decision-making principles.
With over 800 well-organized practice questions, the app lets you practice testing in a similar electronic format to get the same experience you will get on the NCLEX RN exam. The best thing about the HESI NCLEX app is that it allows you to add your own study notes. You can also conveniently bookmark practice questions to dive deeper and understand them better.
The practice questions are offered in three modes including:
The regular quiz mode with no limit.
The timed quiz mode
The Vitali-3 quiz mode – This only allows you up to three mistakes during the practice session.
Below are some features that make HESI a comprehensive study app.
More than 800 NCLEX practice questions, including alternate item formats that simulate the NCLEX RN exam experience and help you to prepare more efficiently for the HESI exit and NCLEX RN exams.
HESI Hint boxes highlight crucial clinical concepts and information commonly included on the NCLEX-RN exam.
Critical thinking practice questions with rationales and answers, helping you understand key content and concepts.
Prioritizing and fill-in-the-blank study questions mirror the testing format on the NCLEX-RN exam.
Study chapters arranged by clinical area and consistent chapter format make it easy to search for prep topics.
Pharmacology tables easily summarize the critical drug therapy content usually emphasized on the NCLEX-RN exam.
It is amazing how this app offers all you need to prepare for the NCLEX just by using a tablet or smartphone. The app is also accessible even without the internet.
UWorld is trusted as the best option for busy students preparing for the NCLEX exams. It features more than 2,000 NCLEX-RN practice questions or over 1,200 NCLEX-PN questions in their QBank that challenges you and helps you develop critical thinking and analysis abilities.
The QBank presents in-depth answers with visuals and explanations to questions helping you understand the rationale behind each study topic. You can answer the questions in timed or tutor mode to challenge yourself and experience the content-heavy rationales.
The UWorld QBank allows students to create flashcards and performance graphs to make reviewing easy during studies. In addition, you can customize the exams according to your current exam prep needs. For visual learners, UWorld's vivid illustrations of content and concepts are quite helpful in digesting the clinical rationale behind the wrong or right answers.
The QBank also comprises alternate format practice questions that give you a similar feel to the actual NCLEX questions. UWorld has a mobile-friendly interface making it easy to study on the go.
For $129, you get access to comprehensive self-assessment questions to help you test for your NCLEX exam readiness. Their content is amazing, and the learning approach is highly effective and capable of hitting all types of students. Several schools have partnered with UWorld, thus increasing the chances that you will get affordable pricing for their prep courses.
Key features include:
Customizable exams and flashcards
Extensive practice questions with multiple concepts and visual illustrations
Alternate format study questions
2 SIMCLEX exams
Renewable discounts.
The UWorld app comes with medical charts and images to assist in learning. Investing in this app is a perfect step toward passing the NCLEX exam.
NCLEX Mastery is one of the best NCLEX prep apps for the licensing exam because of its on-demand study materials and extremely cost-effective (one free version) way to prepare for the NCLEX RN. Most on-the-go students and those who like to self-study on mobile devices find the NCLEX PN Mastery and NCLEX RN Mastery apps appealing. Apart from having inexpensive auto-renewing 1, 3, or 12-month subscription packages, NCLEX Mastery offers an amazing double money-back guarantee if you fail the exam after following their course.
This prep app has a section with images and mnemonics to help students with various nursing terms. It grants over 1,800 NCLEX-RN and more than 1,600 NCLEX-PN practice questions, along with category-specific quizzes based on previous tests, complete with extensive illustrations. You can also view your detailed progress metrics to track your performance.
NCLEX Mastery costs between $24.99 to $114.99. You can also decide to purchase two of their simulation NCLEX exams to test your progress.
Top highlights of NCLEX Mastery include:
Accessible online learning
high-yield practice questions
Comprehensive mnemonics
Double money-back guarantee for students who fail the exam.
This app can also predict your likelihood of passing the NCLEX exam based on your practice test scores. It provides the right answer with diagrams when you answer practice questions wrongly. This way, you better understand the questions and their answers. The ability to track your progress also lets you know if you are ready to take the NCLEX exam or need more practice.
In addition, the app allows access to the online version through your desktop, laptop, or phone, even without a network connection.
5. NCLEX RN Pocket Prep
Pocket Prep is a top-rated app and a suitable choice for new nursing students just reviewing for the NCLEX. The app has more than 1200 sample questions, split up into the eight sections of the NCLEX-RN exam. Based on these classifications, you may determine where your strengths lie and where you need to put more effort into development.
NCLEX RN Pocket Prep Features include:
Simulation and study modes for practice
Automatic test storage and retrieval
A comprehensive study of past performance
Enhanced for mobile phones and tablets
Internal messaging with our specialists
Daily question
Study reminders
Exam preparation timer
The questions are based on the most recent tests and have extensive justifications. You can utilize the timed quiz feature to test your knowledge and speed in a short amount of time. The app's best feature is undoubtedly the ability to pause the tests and return to them at a later time.
Nursing students can also submit their NCLEX applications via their mobile app or website. You can get the app for as low as $14.99 monthly and $89.99 yearly.
6. NCLEX RN Exam Prep
This app is unique. Rather than providing a numerical score as feedback, it simply gives you a passing or failing grade. So, ensure you get at least half of the moderately difficult questions right.
The program provides users with 2,500 questions, 55 tests, and 6 practice examinations to help them get ready for the licencing exams.
All of this, plus the ability to reset your progress and daily new questions, is yours for just $12. It's cheaper and more cost-effective than competing programs. Because of the dark mode, the app stands out from the crowd and is highly sought for.
7. Saunders Q&A Review for NCLEX-RN Examination
Saunders Q&A Review is among the best free nursing applications available. It provides access to an average of 400 questions with the option to purchase 6000 additional questions within the app.
The app also offers practical medical remedies and excellent justifications for why certain responses are correct and others are not. You can get the app for $40- $60.
You can speed through the quizzes and get the answers you need with the help of the study and time modes features. In addition, you can use Saunders even when there is no internet connection.
One of the best parts of this software is the Study Mode, where you may select a topic, provide a solution, and immediately see the justification for that answer. It also offers a Time Mode where you try to answer as many questions as you can in a given amount of time. Speed is one of the main goals of this mode.
You can take exam questions from the best-selling study guide. You may try the app out with a free light edition with only 25 questions, or you can buy the full version with 1,500 questions and the opportunity to make your own quizzes.
Epocrates
When it comes to free nursing applications, Epocrates is one of the most helpful and comprehensive. The section on drugs and medications on the NCLEX is the sole topic of this study guide.
According to reviews, this NCLEX software serves as a quick reference for nurses and nursing students regarding medication administration. The following are some of its features:
There are detailed and cautionary monographs available for both over-the-counter and prescribed medications.
Built-in drug interaction checker to help avoid potentially dangerous drug interactions.
Check the pills' color, imprint code, size, and shape to determine what they are.
More than 600 equations and dosage calculations.
Although it's not specifically designed to help you pass the NCLEX, this app can be helpful if you're struggling with the drug and pharmaceutical knowledge domain.
This app might not be the best option if you're looking for something that covers a wide range of nursing-related topics.
It is one of the top NCLEX review applications because it follows the format of the NCLEX-RN 2013 exam and provides various useful features. This program has over 800 multiple-choice, ordered answers, choose all that apply, picture hotspot, and chart display questions modeled after the NCLEX. Choose the subjects and question count to make individualized quizzes.
Each question includes extensive justifications for both the right and wrong responses. The application also features a calculator and goes for $19.99 for Android and iOS.
The following are a few of its more notable features:
More than 800 NCLEX questions
Questions with a separate character
Customizable quizzes
Integrated calculator
Discussions led by student
The packages for ATI RN Mentor go for as low as $15 and as high as $525.
With RN Crush!, you can see where in the world you stand statistically. Find out how you stack up against students all over the world. Compared to similar apps, their database of questions is by far the most extensive.
Its features include:
More than 3,000 questions by RN question writers
28 Fundamental statistics to assist in concentrating your studies
14 anatomical and 8 NCLEX® categories
4 game modes to prevent boredom
Save questions for later consideration
Share questions via message, email, and social media
All questions are immediately stored to finish or reviewed later
Accomplishments that enable you to improve continuously
Check each box that applies
Detailed explanations for each question
A timer to help you determine how long every question will take
Easy resource access from NRSNG.com
The app is an NCLEX test preparation company. In contrast to the competitors, it is only committed to NCLEX exam preparation. That is why achieving your goals is the app's sole concern. You can get the course for as low as $197 a month.
NurseThink for Students is a one-of-a-kind application that may be utilized in the classroom, for independent study, in collaboration, and even for clinical preparation. Designed to enhance cognitive learning in a shorter period, it enables students to transition from "acquiring" knowledge to applying it in patient care.
In nursing school, priority requires taking notes. The focus is on assisting nursing students to effectively and consistently manage enormous volumes of information. Students will use a conceptual approach to examine the use of NCLEX® related nursing practice standards.
The app is free with in-app pùrchases. Students who use this tool will learn how to learn while taking notes for all topics, including medical-surgical, mental health, community health, and maternal-child. The NurseThink Notebook will assist with all examinations, checklists, and tasks.
It has brain exercises that will benefit nursing students throughout the year and on the NCLEX. Students can strengthen their analytical and deductive skills through regular use of this note-taking system.
Notable features include:
Grade tracker
A searchable alphabetical index of diagnoses
Next-Generation Learning for both the NCLEX examination blueprint
Quality and safety capabilities
Signatures of peer and faculty reviewers
With backup and restoration, students can continue to build upon previously taken notes instead of starting from scratch each semester.
History
Add citations, audio notes, and text notes.
12. NRSNG Scrubcheats
Students can use the NRSNG Scrubcheats app for NCLEX test preparation and nursing practice. It has numerous informative tutorials on various nursing issues. Other features include the following:
70 plus cheat sheets
Offline mode is accessible for quick references
It covers numerous areas, including cardiac, endocrine, gastrointestinal, pharmacological, lab values, nursing principles, respiratory, obstetric, and pediatric. This app is free for both Android and iOS users.
The app provides a wealth of information about the NCLEX, but it is not an effective study aid because it lacks test questions that will prepare you for the exam. However, it is an exceptional study tool that you can use during actual nursing practice.
Final Thought
Think about how you learn best, the amount of time you have to study, how much money you have, and what other features are essential to you as you search for the best NCLEX preparation apps.