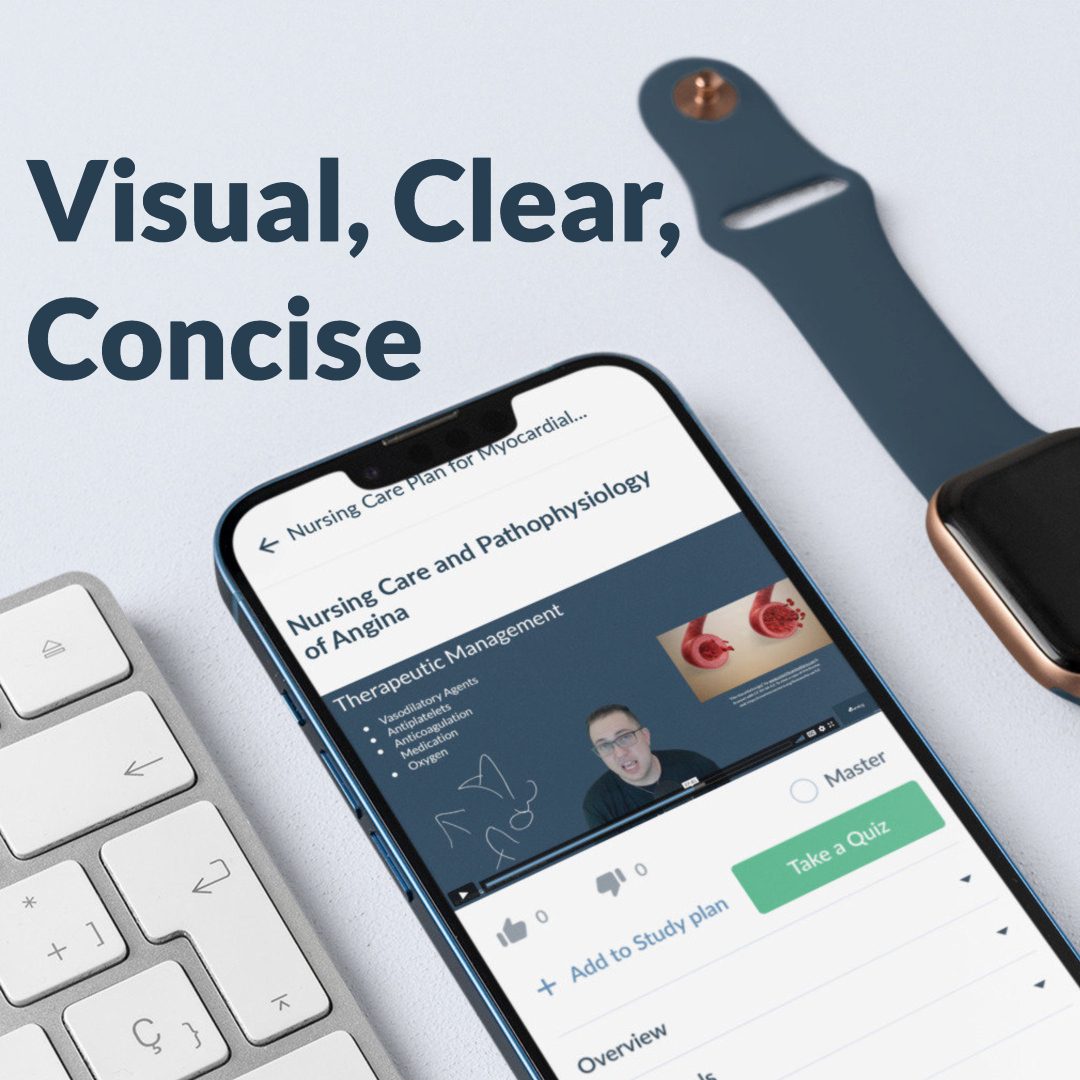 What are you struggling with in nursing school?
NURSING.com is the BEST place to learn nursing. With over 2,000+ clear, concise, and visual lessons, there is something for you!
Registered nurses play a crucial role in today's healthcare industry.
They are at the forefront of the medical workforce, delivering hands-on patient care in various healthcare settings, including outpatient healthcare centers, doctor's offices, assisted living facilities, and hospitals.
20 Lab Values You Need to Know For the NextGen NCLEX
Nursing as a profession has several career opportunities available to registered nurses. They can work in various settings, pursue unique credentials and specializations, and work with different patient populations. The most popular career path for a registered nurse includes pediatric nurse, occupational health nurse, ICU nurse, public health nurse, medical-surgical nurse, cardio-vascular nurse, addiction nurse, and ER nurse.
Employment opportunities for registered nurses are continuously increasing, with a majority of job demand emerging from hospitals that need to replace workers who depart from the workforce due to changing professions or retirement.
To become a registered nurse
You must complete an accredited nursing program and sit for the nursing licensing exam. Then, you will take and pass the NCLEX-RN (National Council Licensure Examination) examination and finally wait to obtain licensure from the state you wish to practice.
Archer Review, UWorld, and NURSING.com provide NCLEX-RN test prep for nursing and medical students, providing in-depth content and questions. However, these three programs differ in pricing and features. Let's take a deeper look at each of these platforms to find the best prep program to help you pass your NCLEX-RN test.
Archer Review's NCLEX-RN Program
Archer Review is an online platform that helps you achieve your NCLEX-RN target scores through exceptional education and interactive tools at almost half the price other companies offer. In 2008, Archer Review started its education journey with a successful Clinical Case Simulation for the United States Medical Licensing Examination (USMLE) students. It later expanded to include all USMLE exams and NCLEX tests for registered nurses(RN) and practical nurses (PN).
Archer firmly believes in providing reasonably-priced and high-quality tests to its users to help them pass their final exams. The nursing and medical students using Archer Review for their NCLEX-RN test preparation benefit from their affordable, smart, and focused multi-strategy approach.
NCLEX-RN program has a 99% pass rate achieved through completing the three steps and getting high scores on four consecutive assignments. Archer Review's NCLEX-RN program highlights include customizable exams based on your requirements, computer adaptive tests(CAT), performance graphs that compare your progress with others, and multiple assessment tests to gauge your NCLEX readiness.
The first step involves mastering the content via Rapid Prep and watching videos at $89 per month, $49 for three months, $59 for six months, and $99 for a year. Step two allows you to read and learn detailed and extensive rationales through 2520 questions. There is a 99% pass rate for students who get high scores on four consecutive assessments and complete all three steps.
Step three lets you assess and gauge your readiness for the main exams. With Archer Qbank, you can launch multiple assessments (unlike other platforms that give you only two assessments). You can launch the tests every one to two weeks to monitor test readiness.
In terms of readiness, make sure your score on the predictor ranges between high or very high on four consecutive assessments. If you have taken all three steps, including finishing the 2800+Qs, and still fail your NCLEX exams, Archer will provide free strategy guidance and product extension until you pass.
The NCLEX-RN exam contents are proportionally represented in Archer's NCLEX-RN question bank. There are seven comb products that differ in the validity dates and pricing. The first combo goes for $89 and is valid for 60 days; the second is priced at $109, with a validity of 90 days, while the third combo has a discounted price from $198 to $169 for 180 days. The last combo goes for $199, down from $258, and is valid for 365 days.
These four combos offer:
Multiple assessments and question bank
Self-based topic-wise webinars
Computer Adaptive Testing (CAT) mode
Over 2800 rationales and questions
Self-paced full-length crash course videos
All high-yield NCLEX topics
Multiple mock NCLEX tests
Printable notes or handout, over 250 pages
The fifth combo features NCLEX-RN rapid review live and OnDemand +Qbank at $159. Qbank and OnDemand validity is 90 days, and the combo offers:
2800+ questions & rationales
Computer Adaptive Testing (CAT) mode
2-day Live webinar reservation
Printable handout for over 250 pages
90 days assessments and Question bank
Multiple mock NCLEX CAT test
Live interaction with an instructor
90 days of self-paced access to live review crash course videos and high-yield topic-wise webinars
The sixth and seventh rapid review combo Qbank+OnDemand are priced at $199, valid for 180 days, and $199 for 365 days, respectively. They offer all the above features and an additional free Qbank reset. However, for those who want intense preparations, you can purchase the NCLEX-RN intense prep combo, priced at $399 for three months, which includes the following features;
Structured schedule
Private live lectures twice per week for three months
Six weeks of access to weekly small group feedback and tutoring session
Over 50 hours of on-demand video lectures
Over 2800 practice questions
An activity booklet that includes worksheets, skeleton notes, and case studies
Archer Review partners with educational institutions and universities to provide students with reasonable pricing on bulk purchases for the most suitable NCLEX-RN packages.
UWorld NCLEX-RN Program Review
UWorld prides itself on making complex nursing terminologies easy to understand through customizable tools that help you achieve the desired scores for your NCLEX-RN exams. Students who choose UWorld for their licensing exam preparations benefit from detailed explanations of clinical reasoning behind correct and incorrect answers, making learning through practice easy.
The vivid images and illustrations, paired with concise but content-rich rationales, help develop your clinical judgment, giving you the confidence to pass your NCLEX exams and receive your license. In addition, there are 2350 NCLEX-style practice questions, written at the application or higher level, boosting your confidence in your preparedness for the main exam.
UWorld has a user interface designed to mimic the NCLEX testing environment, reducing your test anxiety as everything will be familiar. Over 30% of the question bank (Qbank) has alternate format questions such as select-all-that-apply, hotspot, and ordered response items.
With all digital device compatibility, you can study on the go, taking your practice questions from your desktop, mobile phone, or laptop anytime and anywhere. UWorld partners with academic institutions to offer wholesale pricing to suit every nursing and medical student with exam prep solutions.
Some of the UWorld features that offer you a promise to pass the NCLEX exams the first time include;
Challenging practice questions, including alternate format questions
Unparalleled rationales for correct and incorrect answer options and vivid illustrations to help deepen your understanding.
Customizable study tools improve retention, including flashcards and an online notebook that organizes notes for efficient studying.
Self-assessment tests - two 100-question timed tests and a detailed performance analysis upon completion
A performance tracker that compares and gauges your performance with your peers and identifies knowledge gaps, helping you understand the areas to improve.
UWorld offers flexible pricing options to meet your needs from the available two combos–NCLEX-RN and NCLEX-RN+NextGen. The two combo programs are similar in pricing and packages. Under each program, there are two options; Qbank and renewals.
Qbank 30-day access includes 2,000 questions for $139
Qbank 60-day access has 2,000 questions and one self-assessment for $169
Qbank 90-day access consists of 2,000 questions and two self-assessments for $219
Qbank 180-day access includes 2,000 questions, two self-assessments, and a one-time rest option for $299
Qbank 7-day renewal at $35
Qbank15-da renewal at $59
Qbank 30-day renewal at $79
Qbank 60-day renewal at $109
Each self-assessment option has a two-week duration from its activation date. Next Generation NCLEX-RN is an improved licensure exam measuring clinical judgment through an additional set of new questions. The new set of questions includes Cloze (Drop-Down),
Extended Multiple Response (EMR), Enhanced HotSpot (Highlighting), Extended Drag and Drop, Matrix Multiple Response (Matrix MR), and Matrix Multiple Choice (Matrix MC).
UWorld prides itself on creating high-stake exam prep solutions and excellent online learning tools to become the standard of excellence. The UWorld difference includes a method known as active learning, which helps potential registered nurses use a study approach designed to help them master the concepts on NCLEX-RN exams.
Active learning works when the examinees learn by doing. Practice and repetition allow one to master the tested concepts and retain information. Focused learning is another characteristic of active learning, where UWorld Qbank's design optimizes efficiency through customizable practice tests paired with performance metrics.
UWorld's difference is not complete without simplified learning. The exams that help students prepare for their final NCLEX exams are rigorous and sophisticated, requiring hundreds of hours of study time. The concise explanation and illustrations make complex concepts easy to understand, increasing comprehension and retention. The ultimate goal is concept mastery and not cramming.
Archer Review VS. UWorld: What is the Difference?
Archer Review and UWorld are online learning and studying platforms. They feature thought-provoking questions and detailed explanations through customizable study blocks to help you achieve your NCLEX-RN target goal, which is to receive licensure to become a registered nurse in the US.
However, Archer Review and UWorld have different program features that help students prepare for their NCLEX-RN. Below is a detailed comparison between the two NCLEX-RN learning platforms.
Pros and Cons of Archer Review and UWorld
Archer Review vs. UWorld shows notable differences when compared directly, highlighting the advantages and disadvantages of using one platform over the other.
Archer has more self-assessment opportunities than UWorld. For example, UWorld offers a maximum of two self-assessment opportunities in their 90-day and 180-day Qbank packages, while most Archer Review packages provide more than one self-assessment chance.
UWorld has fewer practice questions than Archer Review, with over 2800 practice rationales and questions from Archer Review and 2350 NCLEX practice style questions from UWorld.
Archer Review's Google app has in-app purchases costing between $0.99 - $119.99 per item, while UWorld has no in-app purchases.
Archer Review is more affordable than UWorld, with the lowest package price at Archer starting from $58.99 and the highest set at $199, while UWorld's lowest combo is at $139 and the highest at $299.
Archer's NCLEX passing rate is 99%, while UWorld's is 96.4%
UWorld allows you to renew a package at a lower price in case you fail your NCLEX-RN exams, but Archer Review provides you with a free product and strategy guidance extension until you pass
Archer Review provides a SUREPASS combo that includes a 100% money guarantee, and UWorld doesn't offer any guarantee for any of its programs.
Archer has multiple computer adaptive testing, while UWorld only offers two 100-timed questions.
UWorld's longest studying period is 180 days, while Archer Reviews has a package plan accessible for 365 days.
Archer Review vs. UWorld offers a similar approach to the NCLEX-RN test program, but Archer Review provides more features for less money.
NURSING.com
Formerly known as NRSNG, NURSING.com has been used by over 430,000 students to pass nursing school classes, including the NCLEX-RN. Nursing.com is an all-in-one platform that provides a classroom supplement for anxious, ADHD, dyslexic, and visually impaired nursing students to pass the NCLEX-RN confidently.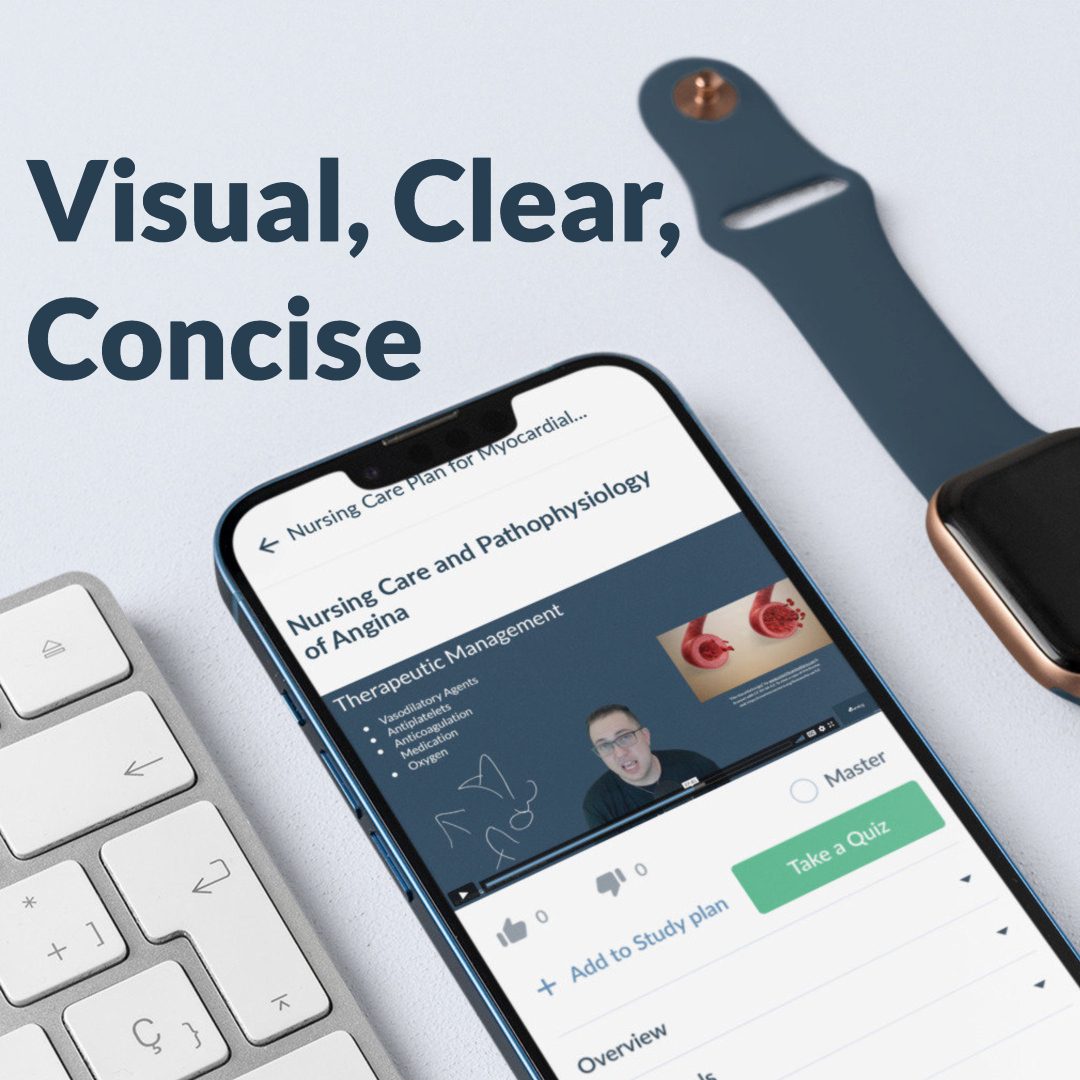 Our program is designed to help with NCLEX prep by providing detailed questions and content that allow you to understand the most crucial information. We cut out the fluff that makes the learning process seem complex and tedious. Our NCLEX prep courses include:
On-demand video lessons
A unique NCLEX simulator that makes the prep session appear like the actual exam
Thousands of compiled practice questions by nurses
Our average nursing student saves four hours per week, with 50% of our medical students improving their grades by over 11 points. We pride ourselves in having an NCLEX pass rate of 99.86% and SIMCLEX®, a computer adaptive test algorithm that mimics the real NCLEX, showing how you would be fair in the actual exam.


With SIMCLEX®, you can personalize your NCLEX study by reviewing your weakest content. This algorithm reviews test performance and provides suggestions based on your three weakest areas of study. While SIMCLEX® is an essential part of revision material, we have other components that increase your chance of passing your NCLEX exams.

For example, our NCLEX lessons are created and delivered by experienced and skilled tutors whose primary goal is to assist students to have a deeper understanding of NCLEX question concepts. If you are worried about your chance of passing your NCLEX-RN test the first time, nursing.com can help you boost your confidence and increase your knowledge. Our learning materials help students with learning disabilities and those who lack an established method of studying for their NCLEX-RN exams.

Nursing.com offers three different review plans:

Our monthly plan gives our students access to over 2000 lessons on video, over 2100 study tools, including cheat sheets, flashcards, visual aids, and sample care plans, and more than 6500 practice questions for NCLEX prep. Your monthly plan is billed at $39, which you can cancel anytime.

An annual plan costs $246, allows users to access all the learning tools from the monthly plan, and additions of NCLEX-review book and three SIMCLEX® exam attempts. Your annual subscription will be priced at $82 per month for three months after enrolling.

The two years plan includes all the tools from the one-year plan, with an addition of two-more SIMCLEX® exams attempt. This plan has a three-day unlimited trial, costing $492. You will be billed $82 per month for the first six months of enrolling.

We also have an option for our students to use an exclusive SIMCLEX® plan, starting at $99 for one attempt, billed once for thirty days of access. The second SIMCLEX® plan has three attempts at $199 for 90-days access.

We have a 200% NCLEX pass guarantee, meaning if any of our students pass at least one SIMCLEX® exam but fail the actual NCLEX exam, we will refund 200% of the money paid. For example, if a nursing student bought the two years plan at $492 and passed a SIMCLEX® exam, but fails the NCLEX exam, Nursing.com will refund $984 after contacting our customer care team with your concern. It's important to note that the NCLEX money guarantee only applies to those who purchased the one-year and two-year plans.

Our research shows that 110,692 nursing graduates failed their NCLEX test last year. Your future depends on excelling in one exam, so take full advantage of our learning tools. We also have a mobile application to help you study from anywhere. You can take practice questions, listen to lectures or watch the encyclopedic videos.
Nursing.com Pros and Platform Reviews of NCLEX Prep Tests
Our Nursing.com NCLEX prep test is a successful program for many nursing students for many reasons. We offer an array of extensive materials geared toward students with different learning needs and styles. In addition, our 10-minute video lessons cover most things you would expect in your actual NCLEX exam, helping you understand the concepts rather than memorizing facts.
Another advantage of using our platform for your NCLEX-RN study is our customizable study plans that address your learning needs and area of weakness. Don't forget about our SIMCLEX® feature that simulates NCLEX exams. This reduces your chance of getting anxious when faced with the actual test, as you are familiar with the format.
Our iOS and Android apps allow you to study from anywhere, maximizing your study time, as the NCLEX-style practice questions are readily available. Most of our reviews from social media platforms and Amazon are primarily positive.
One Amazon user called the platform a budget and lifesaver, praising the excellent and straight-to-the-point material. A Facebook user said, "I passed my NCLEX-RN on the first try, two weeks after using this amazing resource. I would recommend it 100% to anyone who is having difficulty understanding the concepts."
According to Test Prep Insight's opinion team, nursing.com's NCLEX preparation material is 100% worth your time and money. The prep package is robust, well-rounded, and affordable. In addition, our NURSING.com comprehensive book from Amazon has received a 79% 5-star rating, including a few recommendations.
Is NURSING.com the Right NCLEX Prep Test for You?
From the packages, we present you, our NCLEX prep test will prepare you for your actual NCLEX-RN test. Furthermore, if you fail to achieve the required score rate to receive a pass on your NCLEX exam after sitting and passing our SIMCLEX® exam, we guarantee you a 200% money-cash back.
In addition, if you have learning or concentration troubles, our learning tools are designed to allow you to study at your pace, grasping every important detail for your NCLEX exam. Compared to Archer Review and UWorld, we pride ourselves in including special needs nursing students who desire to become registered nurses but need help to receive inclusive learning tools.
In addition, we offer very flexible payment plans for students, from monthly to one year and two years, with the ability to cancel the subscription anytime. When you choose nursing.com, you will have access to SIMCLEX® (a computer adaptive test) that simulates NCLEX exams, a comprehensive NCLEX review course, an e-book, over 6,500 question banks, and NCLEX study plans.
Bottom Line
Archer Review vs. UWorld are excellent platforms for your NCLEX prep test, but Nursing.com provides you with more comprehensive tools to achieve your learning target. On nursing.com, you will have a nursing playlist where you can modify your study plans based on your NCLEX-RN prep tests.
Our 99.86% success rate proves that we do our best to provide you with an exhaustive list of potential NCLEX-RN questions and content. In addition, we guarantee success with our 200% NCLEX pass money-cash back; that's how much confidence we have in our resources and learning tools.
Nursing.com focuses on the must-know content for the NCLEX-RN through the umbrella of over 6500 high-yield NCLEX-style questions and over 300 video lessons with crystal clear images and illustrations to give you the exact content you need at an affordable package price.