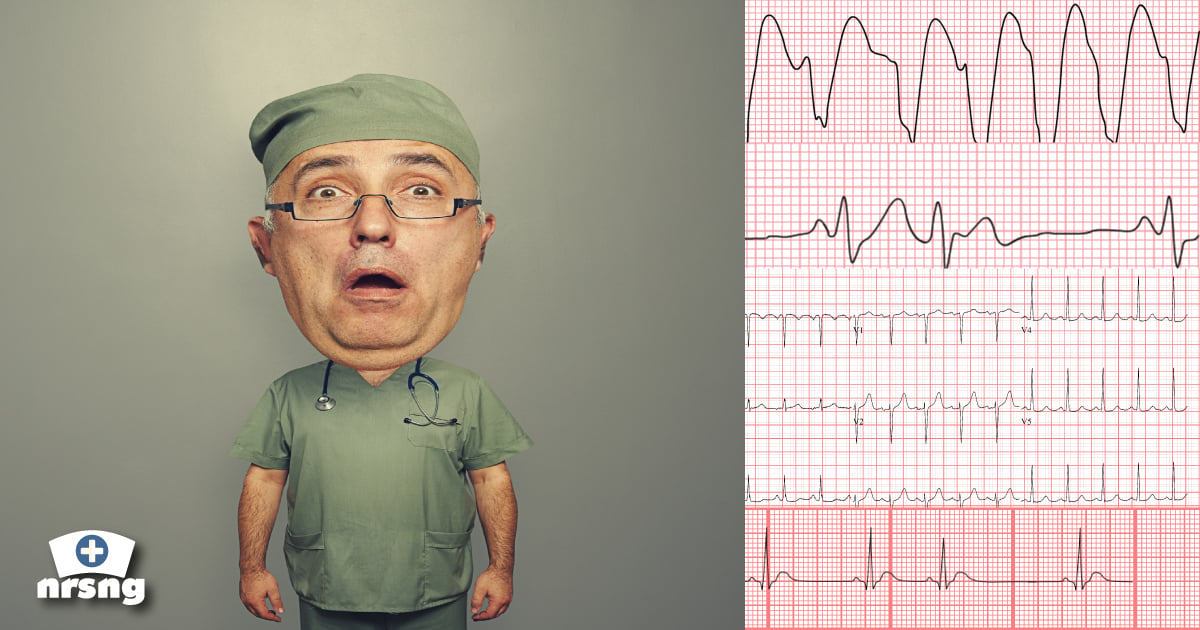 What are you struggling with in nursing school?
NURSING.com is the BEST place to learn nursing. With over 2,000+ clear, concise, and visual lessons, there is something for you!
Interpret EKGs Strips Like a Boss!
You aren't the only one that's a bit terrified of EKGs . . . let's just clear that up right away. For many nursing students and new nurses, EKG interpretation can be intimidating, to say the least. I remember my first day as a nurse in the ICU . . . monitors were EVERYWHERE. To say that I was overwhelmed is a pretty big understatement.
But the truth is you don't have to be so scared. In fact, you can interpret ANY heart rhythm in just 5 simple steps. Let me warn you though that you have to follow these steps EXACTLY you can't skip ahead, you must follow these steps in order.
Cardiac Monitoring Equipment Basics for Nursing Students
Pacemaker Considerations During Cardiac Monitoring
Identify ANY EKG Rhythm in 10 Seconds or Less
The 5-step method for rapid EKG interpretation outlines the steps to help you quickly spot arrhythmias with confidence. There are many more factors involved in fully understanding EKGs but this simple 5 step method will help you know exactly where to start. If you work through the 5 steps in order you will be able to look at any strip and quickly notice abnormalities. You can view a PDF chart with essential heart rhythms and their criteria here.
Rate
P Wave
QRS Complex
P:QRS
PR – Interval
Rate
With any strip, you should start with the rate which can be determined (on a 6-second strip) by counting the P waves or the R waves and multiplying by 10. You can also count the number of large boxes between R waves and divide 300 by that number. For example, if you count 5 large boxes between each R wave then your rate would be approximately 60 bpm. Identifying the rate is a good way to determine where the impulse is initiating and can quickly rule out sinus rhythm.
P Wave
The P wave is representative of atrial depolarization and the wave should have an upward direction, it should be visible, and smooth. If you do not see P waves or they are misshapen you are not dealing with sinus rhythm.
QRS Complex
The QRS complex represents ventricular depolarization and should be present. The complex should have a length of 0.06 – 0.12 seconds (1.5 – 3 small squares). Anything out of this range is abnormal.
P:QRS
Every P wave should be followed directly by a QRS. The ratio between P and QRS should be 1:1. This represents the appropriate route of impulse travel. Deviation or alteration from the impulse traveling from SA node through Purkenji fibers in the right direction may be identified with the P:QRS.
PR Interval
The PR interval represents the onset of atrial depolarization and the onset of ventricular depolarization and is a factor in determining how long the impulse is held in the AV node. PR interval analysis is helpful in identifying AV heart blocks. The PR interval should be between 0.12 – 0.20 seconds (3 – 5 small squares).
EKG FAQ:
How do you read an EKG strip?
By looking at the waveforms on the EKG graph you look for the P wave followed by the QRS wave and T wave in that specific order.
How to measure an EKG strip?
Each small box is 0.04 seconds and each large box is 0.20 seconds. There are 5 small boxes in a large box (0.04 X 5 = 0.20 seconds).
How many seconds is an EKG strip?
Most EKG strips are 6 seconds, the graph paper has a marking on the top or bottom to indicate every 3 seconds. You can also count the large boxes, 30 large boxes equal 6 seconds, and most 12 lead EKGs are 10 seconds long.
What does an abnormal EKG strip look like?
An abnormal EKG strip will not follow the traditional P wave, QRS wave, and T wave order. There could be an additional P wave or an extra QRS complex or an irregular rhythm.
How to calculate a heart rate on an EKG strip?
By counting the R waves on a 6-second strip and multiplying by 10. You can count the small boxes between the R waves and divide 1500 by the number of R waves (1500/20 = 75). Or you can count the large boxes