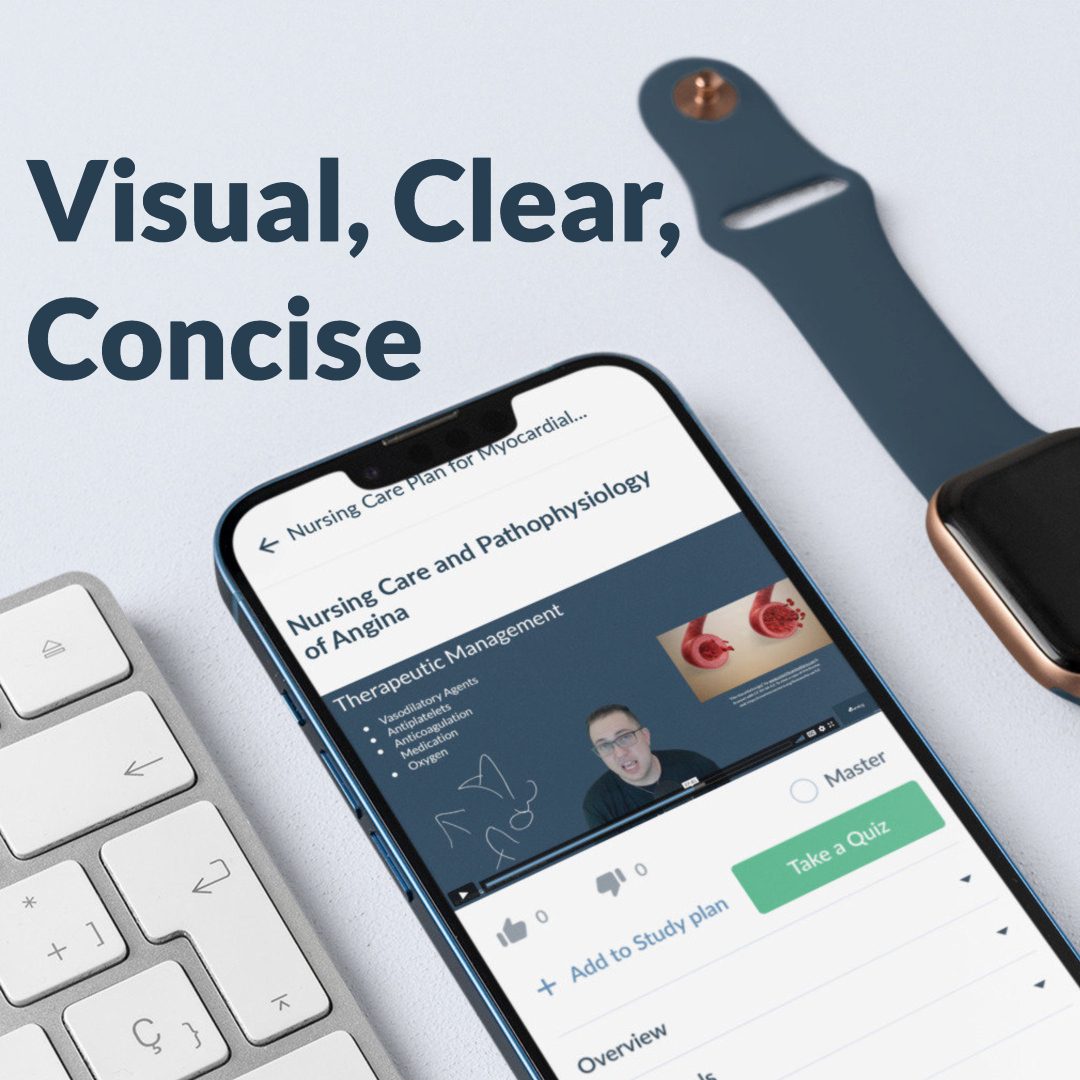 What are you struggling with in nursing school?
NURSING.com is the BEST place to learn nursing. With over 2,000+ clear, concise, and visual lessons, there is something for you!
Nursing school can be tough and extremely busy, whether in your first or last year. It is no wonder that 28% of nursing students never graduate.
You must manage a busy schedule involving in-depth learning, creating patient care plans, identifying medications, organizing patient care tasks, staying updated on industry news, etc. How do you find time to study and memorize all the complex concepts when you barely have any free time?
Digital resources, such as apps for nursing students, are a godsend. They help nursing students study and juggle the nursing school's endless demands, make quick references, and look up information while on the go. The only problem is there are far too many apps for nursing students, making it hard to find the right app to streamline the workload.
To help you cut through the noise and find the right app for you, we have compiled a list of the best apps that can help you manage nursing school's busy life, boost productivity, and improve performance.
1. NURSING.com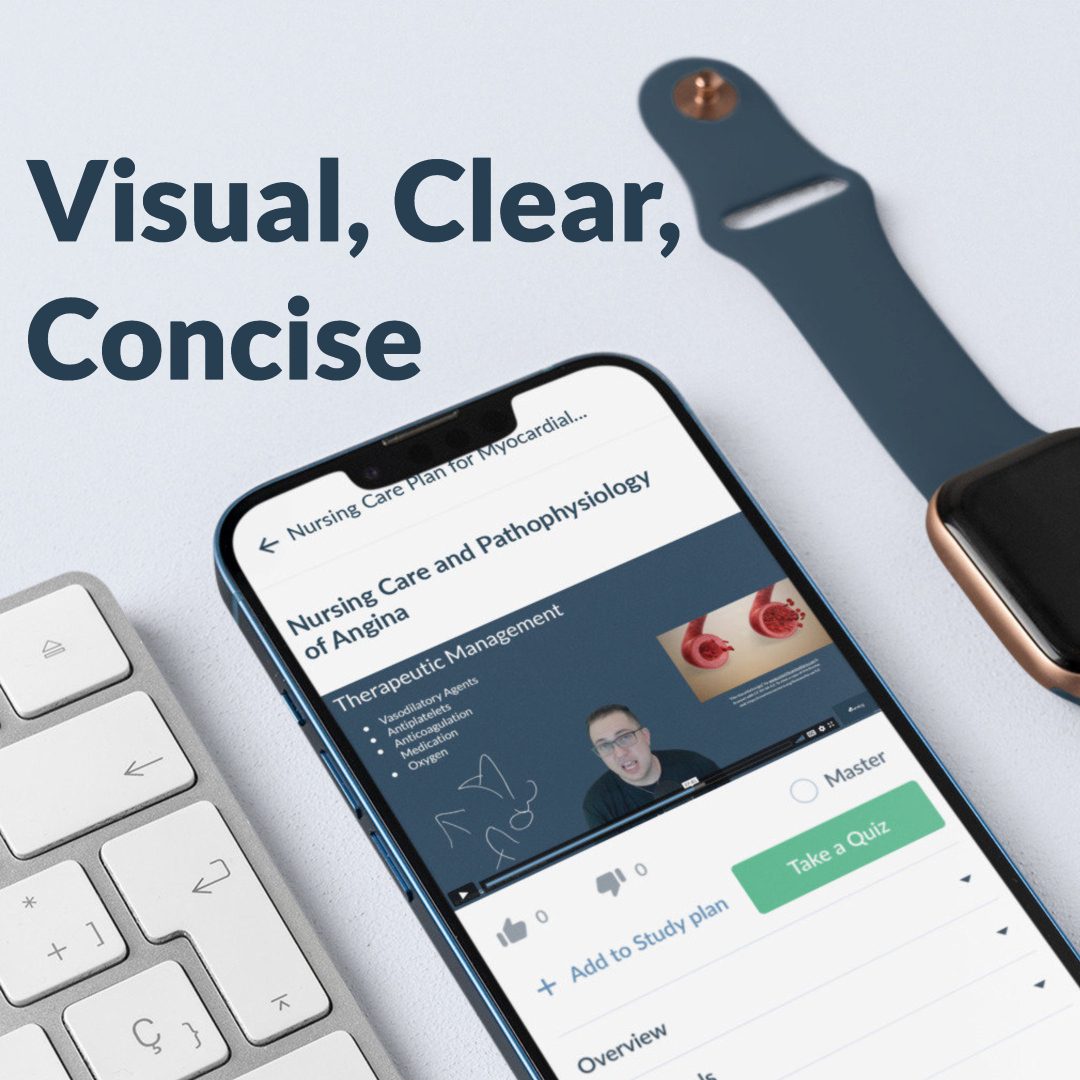 DOWNLOAD NURSING.com APP NOW (CLICK HERE)
If you are a nursing student looking for a comprehensive study tool, look no further than NURSING.com, which over 430,000 future nurses trust. It is an excellent resource whether you are in a flipped classroom, concept-based program, or whatever, with its several resources designed to help nursing students improve grades and a unique test preparation tool with a nearly 100% success rate.
NURSING.com is a visual platform for visual, anxious, ADHD, and dyslexic nursing students. It features 2,500 video lessons on all nursing topics, 6,500 practice NCLEX questions, 2,100 visual study tools like cheatsheets, mnemonics, Picmonis, and images, and SIMCLEX – a patented simulated NCLEX exam.
SIMCLEX is an adaptive simulated NCLEX exam that nurses can use to prepare for the NCLEX. If you use SIMCLEX to prepare for the NCLEX, NURSING.com has a 200% money-back guarantee if you don't pass. The personalized study suggestions based on the results of the SIMCLEX are detailed and comprehensive, ensuring you learn and improve.
The app can help you progress and boost your exam scores with a comprehensive study plan, which has customized topics and playlists. You can build your study plan to create personalized learning in less than a minute or use pre-made study plans.
The study tools use various learning styles, such as video, visual, audio, and text, so you can study in your preferred learning style. It is the best way to ensure you retain the information you read and pass the NCLEX. NURSING.com students see an average grade improvement of 11.6%.
To gauge your performance, NURSING.com allows you to compare your performance with other nursing students with the Global Rank feature.
When you start using NURSING.com, you become part of a supportive community that can help you with whatever you need, such as encouragement and friendship.
NURSING.com is available for iOS and Android devices.
NURSING.com pros
Has different learning styles for different students
Detailed personalized study suggestions help you improve your weak areas
A personalized study plan
A very supportive community for nursing students
Easy to navigate and find info
NURSING.com cons
There are a lot of great features, so a tutorial on how to use it would be great
Here is what nursing graduates have to say about NURSING.com
"My grades have skyrocketed and the time I spend studying has literally cut in half". A Google user
"I used this service for 2 months and then went on to ACE the NCLEX in 75 questions. I felt that the content very much matched up the content I actually saw on the exam, and the courses really helped me to customize my learning experience. My only complaint is that I wish there was a better tutorial on how to use the site as there are a lot of great features, I had to figure them out on my own. Otherwise it was well worth the subscription. I found this app to be a bit glitchy, helpful on the go". Sarah Gates
"So far this is a go to site for me, it really helps me learn material in an engaging way"! Tammy Denmark
Nursing.com is the only thing you need!! Nothing is comparable!! After taking a Simclex test, it told me my weakest points and offered great suggestions on where to study! I passed by NCLEX-PN and NCLEX-RN in one try!!
"This app is good overall if you want to get a few items in on the fly, but really before I could give it five stars I would need to see more of the functionality available on the web within the app. The study plans are the biggest example of that, because that is the approach I take with the website. It is still useful, but would be significantly more useful if I could follow my study plans on the fly, which can't be done right now. You're better off just opening the website in your browser". Jacob Rasmussen
"NRSNG has changed so much in the last 2 years. They truly work hard to improve every aspect of the education they provide. I would be lost with it them. The apps great.. the content is spectacular". A Google User
Love the app. very convenient. lessons give good overall teaching. only problem I have is the video lessons dont keep phone screen "on" and I have to keep restarting video. but it's probably just my personal problem.
I absolutely love this app! It's a wealth of information and resources that make nursing school a lot less stressful. However, recently the quizzes have not been accessible for some reason. I pray that they fix this problem ASAP. Otherwise, I am so grateful that I found out about this at the beginning of nursing school. I recommend it to my colleagues regularly.
If this sounds like what you're looking for, learn more about how NURSING.com.
DOWNLOAD NURSING.com APP NOW (CLICK HERE)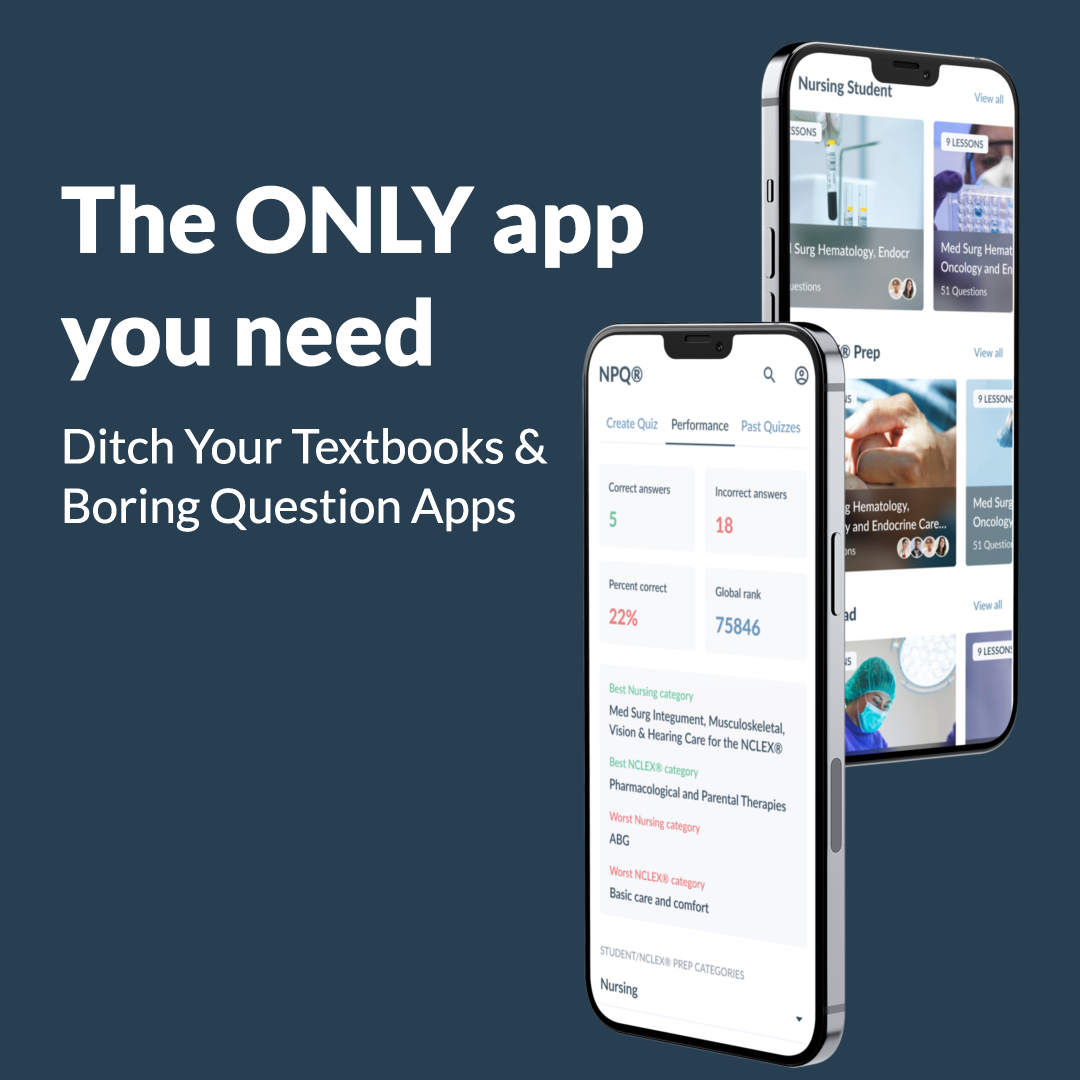 2. Epocrates
Epocrates is an all-in-one resource featuring a drug reference library and medical calculator with a lab reference and medical diagnoses section. It is free, but you can upgrade with $175 or more to unlock treatment, disease information, alternative medicines, and diagnostic and laboratory information.
It helps nursing students avoid making mistakes on tests and give the most effective treatment to patients. Users also receive alerts of the latest medical news and relevant information. You will find Epocrates usable even after you graduate nursing school and start your career. It is available on Android and iOS.
Epocrates Pros
Works offline
It is a very comprehensive resource with a complete database
Easy to use
It is always updated on the latest drug and related information
Epocrates Cons
Bothersome popups
A steep price point for the full application
No resources to assist nursing students improve performance
Although Epocrates is a useful resource to nursing students when they need to look up disease information, diagnosis, and treatment, that is all there is to it. It has no resources to help nursing students improve performance and prepare for the big test like NURSING.com has.
3. Medscape
You can use Medscape to learn and stay on top of updates on treatments and the medical industry. It has an extensive database containing all information on drugs, diseases, specialties, and continuing education activities to help nurses learn.
Nursing students can get answers to medical questions and stay updated on the latest medical news. They can also share and discuss patient cases or access many different courses spanning thousands of topics. If you take the courses, an built-in tracker monitors your progress to help you stay on track.
Medscape is available for Android and iOS devices.
Medscape Pros
It is completely free
It simplifies finding information and answers
You can track your progress to stay on track
Medscape Cons
It is not available offline
It is only available in English
Intrusive ads
Apart from being a source of immediate clinical answers and the latest medical news and perspective, Medscape has courses that nursing students can take. However, these courses were not designed with nursing students in mind, as those of NURSING.com. They also don't have NCLEX test preparation resources.
4. Med Mnemonics
Med Mnemonics is a very handy app for nursing students. It is designed to help them recall and retain information with more than 1900 rhymes, acronyms, and memory tricks.
Nursing students can use it to improve memory and remember information that can help them study and pass tests on topics like physiology, surgery, anatomy, and pharmacology. The database is searchable, and you can filter by several categories and disciplines or create a favorites list.
Med Mnemonics is very easy to use with its intuitive dashboard and allows you to customize it by creating new mnemonics and deleting old ones. It is available on iOS and Android devices.
Med Mnemonics pros
You can add or edit the mnemonics to help you learn better
An easy and intuitive interface
Available in various languages
Easy to sort and search the many mnemonics
Med Mnemonics Cons
The database is not regularly updated
Has too many ads and pop-ups
Med Mnemonics is a great option if you need to improve your retention, but you need more than good memory to graduate nursing school. You must understand how things work, which is only achieved through video lessons, practice questions, viewing cheatsheets…and so much more…all which NURSING.com offers.
5. NCLEX-RN Mastery
NCLEX-RN Mastery is a helpful app designed to help students prepare for their NCLEX. It has a comprehensive mnemonics list to help you recall medical terminology and its definition and practice questions to test your preparation. You can monitor your progress using the tracker with detailed statistics.
The practice questions are over 3,000 and are based on past exams. If you get them wrong, you get a detailed explanation with illustration to understand.
It is available on iOS and Android devices.
NCLEX-RN Mastery pros
It is usable offline
It has several practice tests and questions
It is highly rated and has a guaranteed high pass rate
It is easy to use
Allows you to evaluate your study improvements
NCLEX-RN Mastery cons
It doesn't have in-depth NCLEX content
It has no lecture videos
Although NCLEX-RN Mastery has all the resources you need to prepare for the NCLEX, and probably ace it, the practice questions are not adaptive as those of NURSING.com's patented SIMCLEX. SIMCLEX updates and changes with every single question you take. Essentially, as you get them right, they become harder. As you get them wrong, they become easier. It's hard to beat that.
6. Picmonic
Picmonic is a resource nursing school students can use to improve memory retention to remember key concepts and prepare for NCLEX-RN. It has over 1100 Picmonics on 13,000 topics, 1–3-minute mnemonic videos, infographics, and study guides. Short videos are a good feature with today's shorter attention spans.
An interesting feature of Picmonic is a handy dashboard that uses artificial intelligence to recommend content based on your strengths and weaknesses. It helps nursing students study more efficiently and progress. You can customize the Picnomics by adding your own or deleting the existing ones.
Nursing students can collaborate by sharing personalized playlists.It is available on iOS and Android devices.
Picmonic pros
Offers a variety of study formats
It is affordable
It has several quick sections you can easily fit into the busy nursing school life
Vivid illustrations help with memory retention
Intuitive layout
Spelling proficiency must be high to advance
Picmonic cons
It mostly helps with memory instead of deep understanding
Does not support offline quizzes
Picmonic is a picture-based, audiovisual, and quiz learning tool that simplifies test preparation. But what if you prefer text to pictures and videos? What if you want to mix them up every once in a while? Your only option is NURSING.com, as it caters to all learning styles.
7. Eponyms
An eponym is the name of a drug, disease, or procedure derived from a person's name. There are thousands of eponyms, and it can be hard to remember them all. That is where the Eponyms app comes in.
The Eponyms app has 1800 common and obscure eponyms with 26 categories. Although the app hasn't been updated in several years, the information is still relevant, making it a great resource for nursing students struggling with a large amount of information.
The eponyms are listed in alphabetical order and have short descriptions. You can easily find the eponym you're looking for using the full-text search feature. You can create a specialized list of eponyms related to your study by starring specific eponyms.
Eponyms is available on Android and iOS devices.
Eponyms pros
The eponyms are broken down into categories of body systems
Easy to look up things quickly
Clean and intuitive interface
Reasonably priced
Eponyms cons
It has no subject division and year divisions
Doesn't have all eponyms
Nursing students need to keep the Eponyms app handy for when they need to look up eponyms quickly. Nevertheless, it doesn't have any resources for learning, test preparation, progress monitoring, etc. as NURSING.com.
8. UWorld
UWorld is a popular resource for nursing students to prepare for their NCLEX exam. It has a database with over 2,150 questions covering all topics on the NCLEX exam. They are organized by topic so you can focus on your weak areas.
Each question has an answer, an in-depth explanation, a rationale, and vivid illustrations to help you understand the concepts. Based on your study scores, it informs you how likely you are to pass the NCLEX exam.
UWorld has a study mode, which sends reminders and notifications to study efficiently. It also has a tool to help you track performance, identify weaknesses, and measure your ability to handle the NCLEX. To see how well you're doing, you can compare your study habits and performance with your fellow nursing students.
UWorld is available on Android and iOS devices.
UWorld pros
The answer explanations, rationale, and graphics are detailed
The tests are very difficult, fully preparing you for the NCLEX
It has a very high NCLEX pass rate
It is very user-friendly
UWorld cons
Users report the app freezing from time to time
It is very pricy
UWorld is a good resource to prepare for the NCLEX and other licensing exams. That means it is only usable around exam season.
If you want a resource that can supplement daily learning and prepare for the NCLEX, NURSING.com is the only way to go. It allows you to monitor your progress throughout your student life as you take NURSING.com lessons and courses, down to when you prepare for the exam. Also, NURSING.com tests are adaptive unlike UWorld's.
9. RN Crush! NCLEX Prep App
RN Crush is a learning and NCLEX prep app that makes it fun to learn and prepare for the NCLEX. It has over 3000 practice questions, answers, and rationales on different diseases, treatments, medications, and systems. They are very engaging and use mnemonics to help you remember complex concepts.
As you study and take tests, the app shows your weak and strong areas and uses graphs to track your progress. RN Crush can help you prepare not just for NCLEX but also for CAN, ATI TEAS, HESI A2, CCRN, and other nursing exams.
You can share questions with your peers via email, text, or social media at the push of a button. The app is available on Android and iOS devices.
RN Crush pros
It is very easy to use
The alerts are useful
It is reasonably priced
It can be used to prepare for all nursing school exams
RN Crush cons
The rationales behind the answers are skimpy
You cannot specify the specific field or area you want to focus on
Similar to UWorld, RN Crush can only help you prepare for exams and not supplement your nursing school learning like NURSING.com, which means you will be less equipped if you used RN Crush instead of NURSING.com. Additionally, NURSING.com tests are adaptive and give a more detailed explanation and rationale behind the answers.
10. Epocrates
Epocrates is a free tool that helps nursing students and medical professionals with drug, disease, and medication information. You can use it to learn about many different diseases, diagnostic tests, and approaches, treatment options, medications, dosage, etc. Nursing students can use it before and after graduation.
It contains up-to-date clinical information and resources like educational videos and podcasts.
The free option has several features, but you can upgrade to get the full features, such as clinical practice guidelines, alternative medicines, ICD-10 and CPT codes, disease information, pill ID, interaction check, etc. Although it is costly, you can take advantage of the school and institution discounts Epocrates offers.
Epocrates is available on iOS and Android devices.
Epocrates pros
The information and resources are always up to date
You can easily find what you are looking for
The layout is intuitive and easy to navigate
The interactions checks are very convenient
Epocrates cons
The app version is not as functional
Users report frequent app freezes and crashes
Epocrates is a medical reference app—that is all there it to it. Nursing students can use it to look up disease information and treatments. Nursing students who need to improve performance and pass the NCLEX need NURSING.com. It has several courses and lessons, practice questions, and test preparation tools that nursing students can use to learn and prepare for the NCLEX.
Improve your performance and pass the NCLEX with NURSING.com
Each nursing student has unique strengths, weaknesses, study needs, and study styles. So, the best nursing app for students varies depending on their situation. Carefully considering what you need to improve and how you can improve it as you go over the above apps should point you to the app that can help you juggle nursing school demands, improve performance, and pass your exams.
But if you are looking for a comprehensive resource to supplement nursing school, NURSING.com is the way to go. It can be used by pre-nurses, nursing students, and practicing nurses, as it has several resources that cater to all learning styles.
35.4% of NURSING.com users no longer use their textbooks, and NURSING.com reports a 99.86% NCLEX pass rate. It is truly the best way to supplement nursing school and pass the NCLEX.
Start your free trial today.