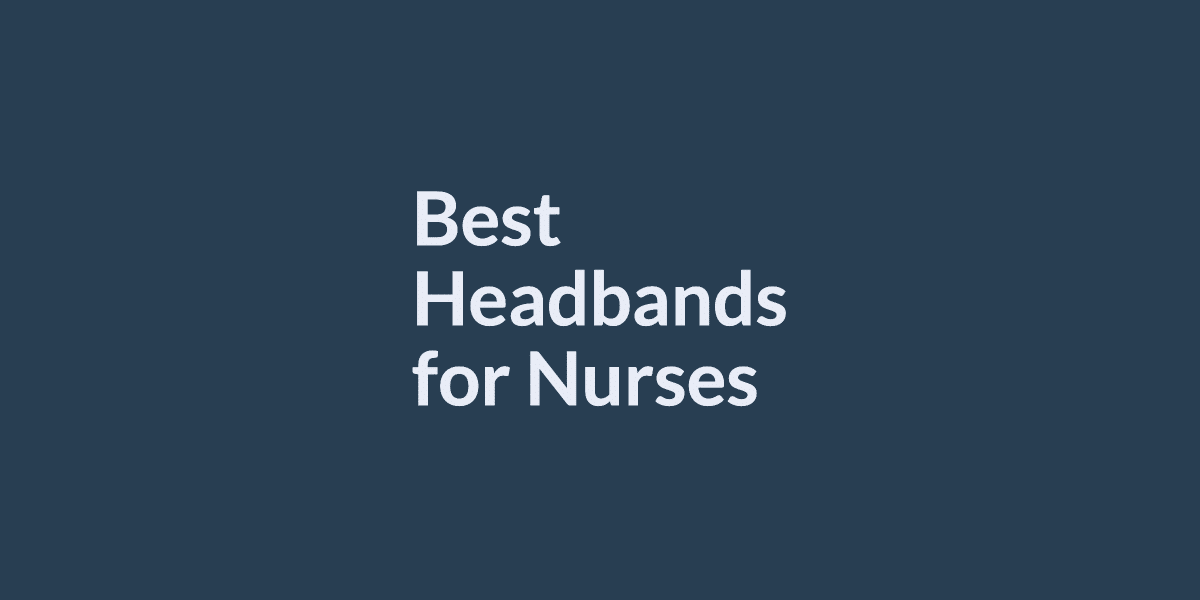 What are you struggling with in nursing school?
NURSING.com is the BEST place to learn nursing. With over 2,000+ clear, concise, and visual lessons, there is something for you!
So you are a nurse? And you want to look cute while taking care of patients? Well, I have the perfect solution for you. There are so many options out there that it can be hard to know where to start. Let me help by taking you through the 8 Best Headbands for Nurses that will not only make your life easier but make it more fashionable!
But first…
Why Do You Need the Best Headbands for Nurses?
First of all, I know that nurses are busy! You have a lot to do and sometimes less time than you would like.
That is why having a headband for your hair can be so helpful.
If it has been a long day or night shift, then the chances are high that your hair looks terrible because it's greasy from being in a tight ponytail all day.
A headband will help keep your hair out of the way, and it can add a little style when you are tired!
Headbands Are Also Great For;
Expressing your moods
Holding your mask in place
Preventing your hairline from breaking
Keeping you cool in high temperatures.
Helps secure surgical caps in place
Keeping you looking neat- You no longer have to look tired and un-stylish because of your messy hair!
A new headband, it will solve all those problems. And still, be an efficient nurse with a cute headband on!
I know that headbands sound like the perfect problem solver for nurses but if you are not convinced, let me tell you about these 8 awesome well-chosen headbands for nurses (both men and women) from amazon!
They are all of different types. So, choose one that best fits your personality.
You can also check our Christmas and graduation gifts under $50 for nurses and nursing students here.
Let's start!
8 Best Headbands for Nurses
At the top of the list is the Huachi headbands.
These are some of the nice pieces women nurses can get online. Not only do they keep your hair away from your face, but their design is stylish, making you look elegant effortlessly. This had to make the list of Best Headbands for Nurses.
Price: $16.95
Pros:
It's comfortable because of its great material.
The snug-fitting provides proper grip, so you don't get a headache.
Has strong buttons to hold your mark in place
It's breathable, soft, quality and functional.
It's great for both long and short hair
It's one size fits most
It comes in multiple colors, making them great for matching most of your outfits.
Cons:
The product has no particular potential flaw. However, since it's elastic, it can stretch out after continued use.
General Customer Reviews:
Huachi headbands have been rated 4.1 out of 5 stars on Amazon.
57% of the total are 5 stars, 18% are 4 stars, while only 6% of the customers rated it 1 star.
Here is what one of the customers had to say about Huachi headbands-
"These are great to keep my hair out of my face and are a very nice quality. They have significant stretch and don't hurt my head when worn for 8+ hours. The buttons are securely fastened onto the headband and make for a nice alternative to the mask straps making the back of my ears sore. The only thing I might change would be to use clear buttons instead. They wouldn't be as obvious as the white or black buttons. The colors and the ribbed pattern are great though. Overall very pleased with my purchase of"
Hipsy headband is yet one of the best headbands for nurses you can get for yourself or a female nurse friend. The best part of these headbands is that they are so lightweight and are made in a narrow design that prevents any sweating or pressure around the head.
Price: $12.99
Pros:
It's stretchy
Adjustable- can be adjusted to fit all sizes
Simple yet stylish design
One size fits all stretches to fit most people.
Hand washable
Cons:
It doesn't have buttons- it cannot hold your mask.
It's not as stylish as some other headbands on this list, but it gets the job done! Also, if you have a lot of hair to hold back- it might be too thin for your needs.
General Customer Reviews
The product has been rated 4.3 out of 5 stars on Amazon.
With 65% of customers rating it 5 stars, 14% rating it 4 stars, while only 4% of the customers believed it deserved a 1 star.
One remarkable fact you'll love about this headband is that it doesn't slip. It also won't pull your hair or cause you any headaches.
Price: $15.99
Pros:
Great grip
It doesn't cause sweat
It's hand washable
It has an elastic closure
The stretchy elastic design allows multiple fits
The velvet lining makes them super attractive
Cons:
It has no button; therefore, it cannot hold your mask.
General Customer Reviews:
This beautiful headband has been rated 4.4 out of 5 stars on Amazon.
67% of the total reviews gave the product a 5 star, 18% gave it a 4 star, while 5% of the customers believed it deserved a 1 star.
4. Finrezio Button Headband for Nurses
These headbands can be worn by all genders. They come in a packet of 6 pieces giving you a variety to choose from every day.
Price: $13.95
Pros:
Comes in a variety of colors
They are non-slip therefore providing a good grip on your hair
Has buttons to hold your mask
Comfortable fit and protects your ears.
Great for both casual and professional purposes
Its material is breathable
Cons:
They are not super elastic; therefore, they may slip back from time to time.
General reviews
Finrezio Button Headbands have an average rating of 4 out 5 stars. They may not be as highly rated as other headbands on this list, but they get the work done!
56% of the rating are 5 stars, 15% are 4 stars, while 9% are 1 star.
These are a great choice if you intend to purchase non-slip, soft and lightweight headbands. They are pretty functional and comfortable.
Price: $12.98
Pros:
Their elastic fabric material is super smooth and soft, making them comfortable on your head.
Has buttons to hold your mask in place.
They're moisture-wicking- great for hot weather conditions!
Their breathable material keeps you cool and dry all day long.
Comes in great colors (blue, grey and black)… making them attractive
They're hand washable
Cons:
Has no potential flaw
General customer reviews
The America Non-Slip Headbands are the most highly rated headbands on this list, with an average of 4.6 out of 5 stars.
78% of the total customers have rated it 5 stars, 12% have rated it 4 stars, while only 2% have rated it 1 star.
This is what one of the happy customers had to say
"I absolutely love these headbands! I've never been able to wear elastic style headbands until now! They usually slide off, pull my hair, and give me a headache. I mean, who actually wants to use bobby pins to hold their headbands in place? These headbands stay put for my entire 12+ hour shift! That's even with removing and reapplying a heavy duty face shield or CAPR helmet countless times due to COVID precautions. In addition to making them more comfortable, the headbands also protect my hair from further breakage along my hairline. They're butter soft, stretchy, moisture wicking, and cooling. I have a larger head and these do not give me a headache. Which is extremely important for me, as I suffer from chronic migraines. They feel like they're barely there, while keeping my hair out of my face! I don't think I could think of a single negative thing to say about these if I tried! I've already sent the link to my sister and my best friend!"
6. BLOM Original Multi-Style Headbands
These headbands come in a variety of colors, making them super stylish!
Their material is so comfortable for all seasons. And the best part is that they're so functional, especially for nursing students who don't have time to style their hair every morning.
Price: $14.95- $24.90
Pros:
Perfect grip protects your hair from damage
Buttons to hold your mask
Covers your ears keeping them warm and secure
They stretch to fit all sizes, making them very versatile
Moisture-wicking and soft making them comfortable to wear all day long
Breathable material keeps you cool and dry all day long.
They are washable
Cons:
Has no particular potential flaw.
General customer review:
BLOM Original Multi-Style Headbands have an average rating of 4.5 out of the possible 5.
72% of the customers believe this product deserves a 5 star while 14% have rated it 4 stars and only 3% of the total rated it 1%.
7. Willbound 6pcs Button Nurse Headbands
If you want something that is skin-friendly, sweat-absorbing, comfortable to wear, cool, and not stuffy, I advocate you get these headbands.
They not only come in handy when attending to patients, but they provide a wide scope of usage. For example, you can use them in the morning when doing yoga or other sport you enjoy.
They are also great for nurses who have children patients because of their beautiful color and customization.
Price: $11.99
Pros:
They are elastic. No need to worry about sizes.
Comes in 6 pieces- allowing you to choose for different occasions and temperament
They're made from soft and breathable material
Have buttons to hold your mask
Great customized patterns make them stylish and elegant
Great for those lazy hairstyle days
Provide a wide scope of usage
Cons:
Has no particular potential flaw.
General customer reviews:
The product has an average rating of 4.1 out of 5.
61% of the total customers were very pleased with the product, rating it 5 stars while 13% rated it 4 and 10% seemed to have not liked the product, rating it 1%.
8. Candace Headbands for Nurses
This is the last item on our list but trust me, it's as good as other headbands on this list.
Candace headbands are very fashionable, and they come in three different colors; blue, gray and black.
Price: $10.47
Pros:
Has buttons to hold your mask
Made from a stretchy fabric, therefore, it's a fit all sizes headband
Well customized, making them so attractive for nurses
Can be used for multiple functions
They are made from soft, breathable, high-quality material making them very comfortable.
They grip firmly but not too tight.
Cons:
Has no particular flaw.
General customer reviews:
This is yet another well-rated product on amazon. Many of its buyers seem to have liked the product.
The product has been rated 4.5 out of the possible 5.
73% of the customers have rated it 5 stars, while 15% believed it deserved a 4 star. It has also been rated 1 star by 2% of customers.
The Best Solution for Stressed Out Nursing School Students
I know how hard nursing school can be. Students get anxiety & depression, while for others, it gets worse that they drop out of school.
As a result, we end up with shortage of nurses.
Many things contribute to this factor, but it's mainly because of failing tests. For example, 109,689 nursing school graduates failed NCLEX® last year.
Again, I believe studying nursing is one of the most difficult things one has to go through to be a nurse. However, things don't have to be that way.
You can make efforts to make the journey more bearable. Nothing gives me joy like a student who knows what he wants and how to get it.
At times, you may know what you want (to pass the tests and graduate from nursing school) but don't know how to go about it.
And that's where I come in.
Today, I'll take you through the best online resource for nursing students. You'll get to see how easy it is to study and graduate nursing school.
I introduce you to nursing.com.
Nursing.com is on a mission to end the shortage of nurses by providing the best platform to learn nursing for all stages of the nursing school journey.
We believe we can create a world where nurses are motivated and passionate by helping nursing students pass tests and graduate through providing educational supplements that have been tested and proven to work.
How We Help Nursing Students?
Through our platform;
We provide clear and concise videos on all topics covered in nursing school.
We provide 6,000+ practical questions
We deliver multimodal content like cheat sheets, mnemonics, and more.
We offer nursing ebooks, 3D anatomy models, medical images, nursing care plans, and picmonics (requires Picmonic account)
We help students struggling to improve their grades and past tests. When students come to us, we provide confidence and a supportive environment for them to learn and excel in school.
We help students prepare for HESI®, TEAS®, NCLEX-RN®, NCLEX-PN®, CGFNS®, PNLE®, NNAAP®, REx-PN®, and MACE® exams.
We offer NCLEX® study plans, a comprehensive ebook, and a 200% NCLEX® pass guarantee.
We have a private members group.
We also offer a study plan builder.
Proof of Our Work?
95% of nursing students struggle with pharmacology, but after using our resources, they improve their lowest grades by 12 points and have a 99.86 percent NCLEX pass rate.
Most of our students come back to show their appreciation and encourage other students who might be stranded on what to do to make it through nursing school.
Here Is What Students Say About Us
1) "I went from a discouraged, stressed, cried every single week nursing student to someone who is motivated and passionate . . . NURSING.com was just so much easier." – Mercedes, RN
2) "My grades have skyrocketed, and the time I spend studying has literally cut in half." – Clyde, RN
3) "Once I started using NURSING.com, I stopped using my textbooks!" – Mercedes, RN
4) "Thank you so much for yanking me out of the quick sand and making me successful. I wish I had started this day 1 of nursing school." -Gina RN
We not only help students from the USA only but also international students looking for supplements to help them improve their grades.
So far, we have helped 300,000+ students. And are all happy with our services!
Join Us Today
Get started with our services today. Visit us at nursing.com
We will be happy to have you and see you pass your nursing school test.
Our programs are 100% RISK-FREE. The best part of us is that we refund 200% of your money if you don't pass- how cool is that!
Currently, we have the monthly, 1 year plus NCLEX® and 2 years plus NCLEX® plans. All our plans have a three-day trial where you get to gauge how our program works.
Feel free to reach out to us today and we'll be more than willing to assist!