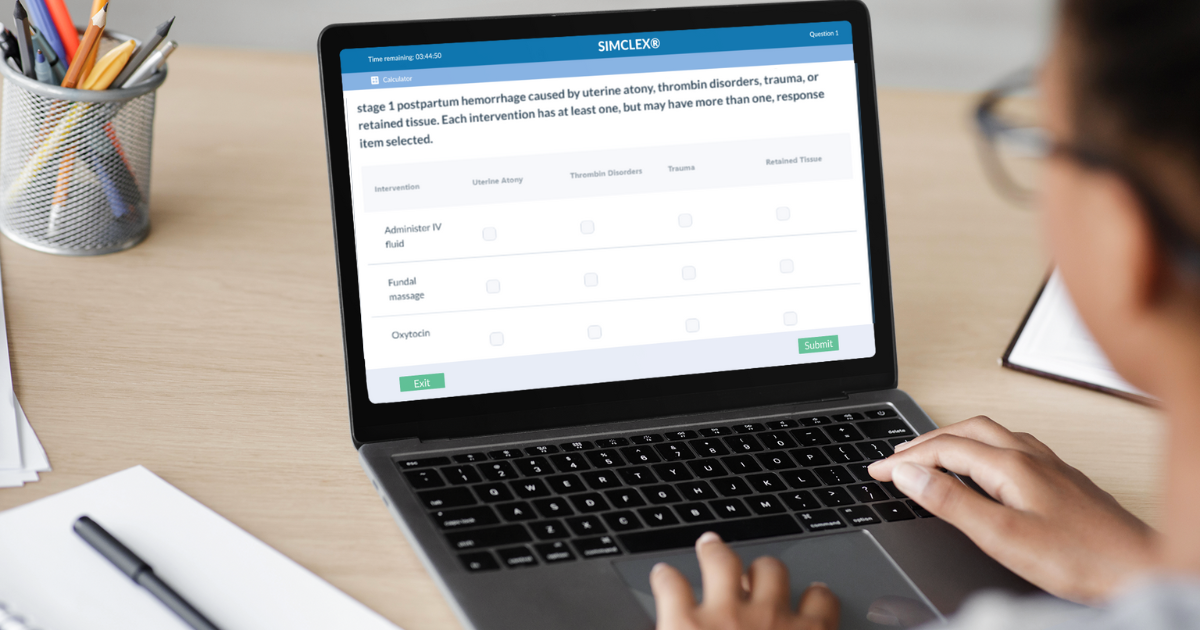 What are you struggling with in nursing school?
NURSING.com is the BEST place to learn nursing. With over 2,000+ clear, concise, and visual lessons, there is something for you!
Matrix Multiple response questions . . . What the heck is this? It sounds worse than it is, I promise!

I am going to walk you through answering a matrix multiple-response question and give you some insight into what these questions look like.
Ready to prepare for the NextGen NCLEX? Find out what you need to know by reading our top-tier article: NextGen NCLEX preparation article
This might be new or unfamiliar to you, and you might have some nursing knowledge to gain in order to answer this particular question, but my goal is to give you some strategies for making the new and unfamiliar a lot less scary.

Let's get started.

First, how will you know its a Matrix Multiple response questions:
Looks like a regular SATA question
Multiple potential "responses" per column
Checkboxes (allowed to pick more than one answer per row)
Take NGN Practice Questions Here
Basically, you'll know because it kind of looks like a regular SATA question or "select all that apply" (see image below):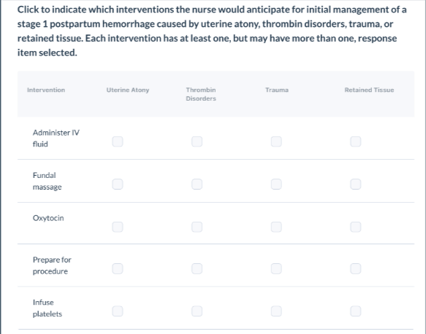 Let's look at how you can succeed with a SATA-type question:
Checkout NURSING.com SATA Lesson
I love using this success pyramid first . . . in fact, I used it all through school and it really helped!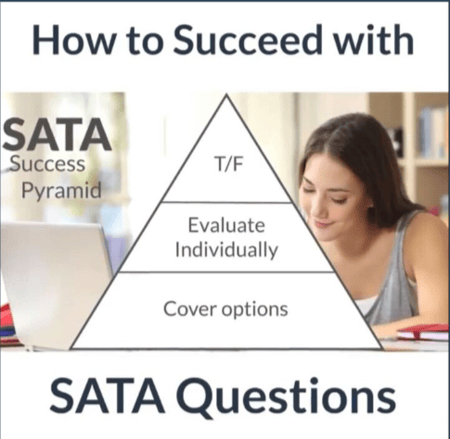 First, cover all of the other answer options and read them one at a time
Second, evaluate answers individually
Third, turn answers into a true or false statement
Let's walk through an example together: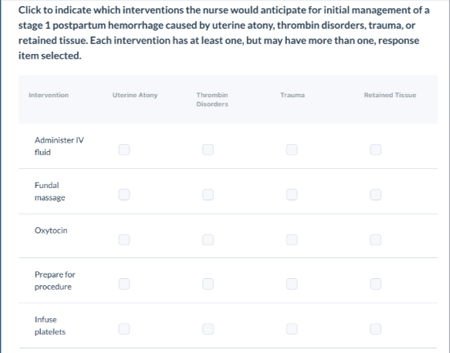 Before we are able to select multiple responses for this question, we need to know what the question is asking us.

Alright, go ahead and read the above question!

Ready? Let's start answering the question!
We're going to treat each of the condition columns like its own select all that apply question, we'll pick from the interventions that go along the row.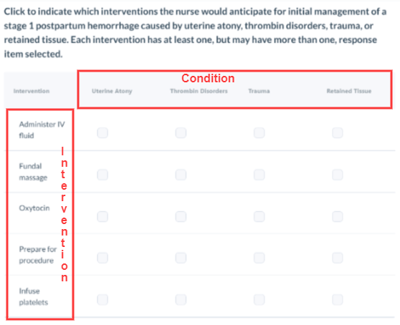 Let's start with uterine atony.

Uterine atony is when the uterus itself after delivery can be large and foggy, meaning it's soft and lacks tone. That's what atony means.

Right off, I know that fundal massage gives tone back to the uterus. It causes it to contract and tone up or firm up, and that is a classic hallmark treatment for uterine atony.

So Let's go ahead and select that answer choice!
Oxytocin is a medication that's going to help create contractions in the uterus and also helps to give it tone. We know that this patient has a stage one postpartum hemorrhage, which means she's been bleeding.
Stage one postpartum hemorrhage specifically is when a vaginal birth has resulted in a blood loss of 500 ccs or more.

With this patient, we need to go through the EHR in the question to find out just how much this patient has lost.
Okay, I am going to pause really quick and talk about something really cool that will be in this question type.
The EHR, or Electronic Health Record, is organized into tabs and provided with the question. You will need to look through the EHR for information on the patient in your question. Basically, the NextGen NCLEX is looking to see how well you are able to gather the relevant information from the EHR to choose the right answers and show clinical judgment ability.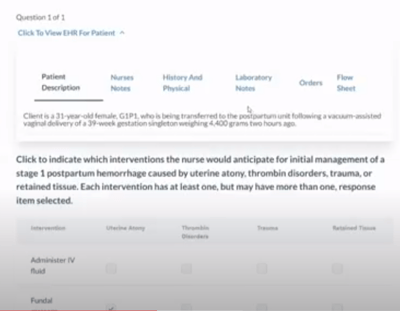 In the EHR we can also find out if IV fluid is appropriate for treating this uterine atony based on the lab notes or the lab values.

As you can see, this patient has definitely lost some blood. The hemoglobin and hematocrit are just out of range, We know that this patient is fluid down, so she really does need some fluid.

Now we can go ahead and go back and mark administer IV fluids in our answer choice.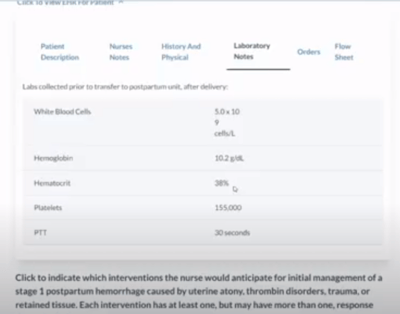 Now that we have answered the first column, let's go ahead and move on to the next column, thrombin disorders.
Again, we want to go through each intervention.
After we have selected all of the correct interventions for thrombin disorders, we move on to the next column, and so on until we have selected all of the interventions for each column.
When we finish the last column, we can go ahead and hit submit on this question!
Remember as you answer matrix multiple response, stay calm and focused: Matrix multiple-response questions can be challenging, but don't let them overwhelm you.
Check out the YouTube video at the top of this blog to work through this question and visualize how the Matrix multiple response questions work!
Key points on matrix multiple response questions:
Item Type: Matrix multiple response
How to Answer: Pick the appropriate intervention(s) for each column
What Helps: Treat each column as a separate, select all that apply question
Clinical Judgement: Picking out appropriate interventions
Right now at NURSING.com, you can practice Matrix multiple response for free!
Practice NGN NCLEX For Free Here
NURSING.com has all of the resources you'll need to help you understand, practice and gain confidence before you walk into the NCLEX.
For a limited time, NURSING.com is offering free NextGen accounts for all nursing students . . . no matter where you are in your nursing journey. Click below to learn more!

You can do this
Happy nursing!

If you liked this blog check out our other article on:
Insider Look at How NextGen matrix multiple Response is scored