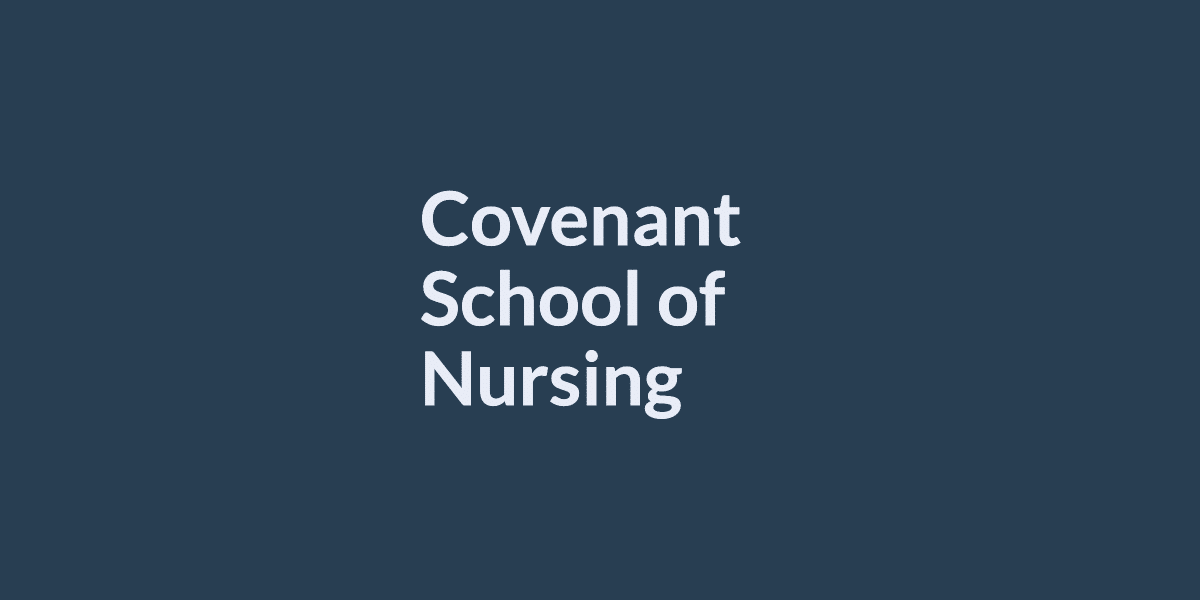 What are you struggling with in nursing school?
NURSING.com is the BEST place to learn nursing. With over 2,000+ clear, concise, and visual lessons, there is something for you!
Covenant School of Nursing Overview
Covenant school of nursing is the former Methodist Hospital School of Nursing. The institution was established in 1918 and is regarded as South Plains' oldest nursing school.
It is a private Catholic college located in Lubbock, Texas. Covenant School of Nursing is a relatively small institution with an enrollment of 363 undergraduate students. Contrary to these numbers, it has graduated more than 5,200 nurses to serve the community.
The school recently celebrated 100 years of its tradition, dedication, and excellence in producing highly skilled nurses to serve the community.
It runs on the sole passion and commitment to the nursing profession and patience of providing excellent nursing education.
The school operates through a full-time, accredited diploma program…where students receive both classroom training and faculty-guided hands-on experiences in both lab and clinical settings.
We boast of a super supportive learning environment that ensures every student receives the guidance and encouragement they need to succeed as a registered nurse.
The Covenant Medical Library also provides support to the CSON students while in school and after for those who become Covenant employees. The Medical Librarian provides passwords and training on searching the nursing literature databases.
There is no charge to Covenant students and employees for Library services.
Join Covenant Nursing & Allied Health, where we have an acceptance rate of 100%. Popular majors include Nursing and Radiologic Technician.
Graduating 67% of students, Covenant Nursing & Allied Health alumni earn a starting salary of $52,800.
Covenant School of Nursing Address
Address- 1919 Frankford Ave., Lubbock, Texas 79407 Phone Number (806) 725-4800
New Enrollments- Every January and August
Programs Offered at Covenant School of Nursing
The Nursing program at Covenant School of Nursing provides intensive training. It includes clinical assignments at one of many affiliate hospitals throughout the Texas region. This is part of preparing students to work in various capacities.
The graduates of Covenant take on nursing positions in a wide range of settings. In addition to classroom and lab training, those enrolled in Covenant's 76-week nursing program participate in a clinical assignment at one of 20 different medical facilities throughout the area.
Outside of class, students get the added support of professional student organizations such as the Texas Nursing Students Association and the National Student Nurses Association.
Graduates of Covenant go on to work in such varied settings and capacities as:
Mental health facilities
Emergency facilities
Surgical settings
Hospice
Flight Nursing
The admissions department requires that students have such pre-requisite courses as:
Anatomy
Physiology
English
Chemistry
Human Growth and Development
Nutrition
Psychology
U.S. History
An application fee, job history, employment history and education, transcripts, references, and entrance exam results must be submitted with online applications.
Students in their first year may apply for need-based financial help such as SEOG grants, Pell grants, work-study, and loans. In addition to these financial funding options, second-year students may apply for scholarships.
Covenant also takes advantage of tuition aid programs offered by Lubbock Catholic Family Services and South Plains Workforce Solutions.
Campus Life at Covenant School of Nursing
Covenant School of Nursing may appear to be a modest institution, but you will live large here. The first moment you step foot on campus, you will perceive a strong sense of community and a friendly atmosphere which we all need when pursuing a nursing career.
You can choose from over 25 student groups and 13 intramural sports to engage in and also keep healthy in our newly refurbished 70,000-square-foot leisure center, the Rhodes Perrin Rec Center.
If you are a sports fanatic, you're welcome to cheer on the Chaps or Lady Chaps, especially our national champion women's softball team from 2008.
Through study abroad programs, you may TRAVEL THE WORLD….. Or take part in a student-led Spring Break campaign that is available across the country and around the world.
You will never be bored at Covenant Nursing School. You'll take part in new and enjoyable events, explore possibilities on and off-campus, while making lifelong friends along the way.
Covenant School of Nursing – Nursing Program
If you're like me, NURSING is something you've always wanted to pursue but was unsure of where to start or how to go about it…
Here is some information about the Covenant School of Nursing- Nursing Program.
Eight specified college courses must be completed after graduating from high school or getting a General Educational Development (GED) credential. Prerequisite courses must have a minimum grade of "C" from a regionally accredited institution or university.
You must have a grade point average of 2.5 or above in the appropriate prerequisite courses to be eligible to apply…the required GPA will be calculated using the most recent prerequisite grade.
CLEP credit is only accepted in English I, English II, Chemistry, and Human Growth and Development and must be documented on the official transcript.
If the grade passes school requirements, Dual Credit, AP, or CLEP is approved for the related courses.
Please ensure that every Dual Credit, AP, or CLEP credit is correctly documented on the official transcript. If you have any queries about a prerequisite course you have taken, please contact our office. Applicants may make appointments with the Admissions and Recruitment departments for academic help during the pre-nursing period of completing these essential courses.
Some of the necessary course numbers for local COLLEGES/ UNIVERSITIES may be found on the Courses Chart page.
What Courses are Offered at Covenant School of Nursing?
We've created programs that incorporate the formative and fundamental components of a Covenant education, encouraging students to develop an integrated framework for thought and life.
The Nursing program spans three 3 programs.:
Students must finish required studies at an authorized university or college before enrolling in the Covenant School of Nursing's diploma program.
Students must receive a C or better in each necessary coursework, with a minimum GPA of 2.5.
Applicants to the nursing program must take the TEAS exam and submit an application that includes an autobiography, official high school or comparable credentials, official college transcripts, entrance exam scores, and five references.
Students may be required to meet with a nurse career counselor for an interview.
In January and August, applicants are approved into the program. In case you are not selected for the program during your first application, they are placed on an alternate list.
Licensed Vocational Nurse (LVN) to RN Advanced Credit Program
This program is for LVNs who want to get their nursing diploma and become registered nurses. Based on their ATI test results, students' curriculums may be shortened from 76 weeks to 38 to 57 weeks.
Regardless of their ATI score, students with a prior GPA of less than 3.0 will be forced to finish at least 57 weeks.
Students interested in this program must complete the Diploma program's criteria, including pre-entrance examination and prerequisite coursework. Students must also have completed and be licensed as an LVN after graduating from an authorized program.
There is no requirement for work experience if they graduate within the last two years. They'll need a backup plan if they don't have one.
What Covenant Says About the Program
Our Faculty at Covenant School of Nursing believes the nursing profession is a discipline dedicated to the promotion of optimum health for the individual, family, and community.
The program requires the integration of knowledge and skills from biological, psychological, and sociological sciences with evidenced-based nursing practice and concepts of caring for the individual as a whole person.
The patient's needs and care requirements are met through the use of the nursing process of assessment, analysis, planning, implementation, and evaluation. The nurse collaborates with the patient, family, and healthcare team to formulate a plan of care to meet the needs across the lifespan and health-illness continuum.
As such Covenant School of Nursing provides a correlation between scientific concepts and evidence-based nursing practice.
We have developed a curriculum that facilitates the student's development of cognitive, psychomotor, and affective abilities to function as a nurse generalist capable of critical thinking, independent judgment, and self-direction.
We promote learning through a curriculum based on Lenburg's Competency Outcomes and a variety of learning experiences which progress from simple to complex.
Arc indicates that it receives more applications than it can accept into the program… However, with 70 points or more, you're placed in the selection pool for pre-screening.
The curriculum is a full-time, 64-week hospital-based diploma program that requires you to complete 8 specialized prerequisite courses at a recognized college or institution of your choosing.
Students who successfully finish our program and are guided by a Master's qualified nursing faculty are eligible for licensure as a registered nurse (RN). \
An LVN-RN Track is also available for licensed vocational nurses (LVN) and licensed practical nurses (LPN) seeking to complete their registered nursing education.
Students must be able to completely attend and effectively complete all classroom, lab, and clinical components of each required nursing course in order to graduate from Covenant School of Nursing and sit for the National Council Licensure Examination-RN (NCLEX-RN).
Tuitions for the Nursing Program at Covenant School of Nursing
Because students enrolling in any of the nursing courses do not finish the whole standard RN program, the costs of the respective course selected varies. Be sure to check out a breakdown of the fees in the Covenant's school of Nursing cost of attendance:
Miscellaneous expenses that the student must foot before being enrolled include:
The student will be expected to acquire the appropriate books and uniforms at their own expense, which will total about $1,750.00 and be paid over the course of the eight training modules.
The cost of uniform accessories such as a watch, shoes, stethoscope, and so on is set by personal preference but must adhere to the CSON dress code.
A computer and a printer are required for course work.
Each official transcript costs $5.00. Each unofficial transcript costs $3.00. Transcripts can be obtained through the Business Office by students. Academic transcripts from other institutions are part of the student's permanent file and will not be copied by CSON.
A lost or stolen badge will incur a $10.00 replacement fee.
One month before graduation, a $200.00 NCLEX application fee is paid.
For application to test: 4 months before graduation, a $100.00 fee must be submitted to the Texas Board of Nursing Examiners.
Nursing School Reviews- What Covenant Nursing Students Think of the School
Some of the communication between students online:
From allnurses.com
Annie, Feb 23, 2009
Wow! I attended and I thought it was great! I got to speak with a recruiter (Susan) and a couple of the managers. I've got an interview set up already and my application has been sent out to a couple of other managers! Yes, it was a little bit crowded that night, but I didn't think that was a big deal. I think they had a bigger turn-out than they were expecting. The food was great!
Have you been in contact with any of the recruiters? Have you applied for any positions?
From Niche.com
Sophomore, August 20, 2018
The staff is amazing either when you call or when you go on campus! There is always someone to help guide you to what you need or they will find the answer for you. I couldn't have chosen a better school to further pursue my education as an RN!
Junior, August 26, 2018
Great school. Friendly professors and willing to help when needed. I would recommend this college to anyone around the West Texas area.
Closing Thoughts
Before you can be registered as a nurse, you must sit for and pass NCLEX-PN, the state-administered nursing examination administered after you complete the LPN education program approved by your respective state's Board of Nursing.
We understand that your nursing courses will help you prepare for the NCLEX, but it is best to start studying early and regularly.
As one of our students once said, "AFTER NURSING.COM … "I went from a discouraged, stressed, crying every single week nursing student to . . . a motivated and passionate . . . NURSING.com was just so much easier."
Nursing.com provides many courses addressing important nursing principles to students already enrolled in nursing school. These self-paced tools are an excellent method to refresh your memory while also developing critical clinical skills.
Nursing.com is a research study that rates as an all-in-one Classroom and NCLEX Supplement for aspiring Licensed Practical Nurses.
Today, more than 360,000 potential nurses rely on the study tool to succeed in pre-nursing and NCLEX. The application gives straightforward study aids for prospective nurses that are visual, nervous, ADHD, or dyslexic.
Previously it was common for nursing students to complain of;
Loads of boring PowerPoints
Wasting a lot of their time searching for help from tutors on YouTube and other online sites
Never-ending designated readings
Regular fluctuations of grades
The feeling of hopelessness, drained energy, wasted time, or helplessness.
Today, the testimony about life in nursing schools is turning the other way. NURSING.COM is regarded as a savior by many nursing students since it can quickly turn all of their problems into happiness in four simple stages.
You need to;
Watch lesson videos
Review study tools
Take practice questions
Take NCLEX simulation
Since nursing involves helping you apply additional knowledge, the study lesson incorporates case studies, concept maps, and care plans written by practicing Emergency Department (ED) and Intensive Care Unit (ICU) nurses. They include;
Cheatsheets
Mnemonics
Picmonics, although the tool requires you to sign up for a membership.
3D anatomy models
Medical images
They are also soon introducing Flashcards.
Try the 100% risk-free NURSING.com.
The greatest thing is that if you want to try out this study tool, you just have to pay for the clinic's first three days… Furthermore, you can cancel at any moment without informing anyone.