A Complete Guide on the Star Canyon School of Nursing Program | NURSING.com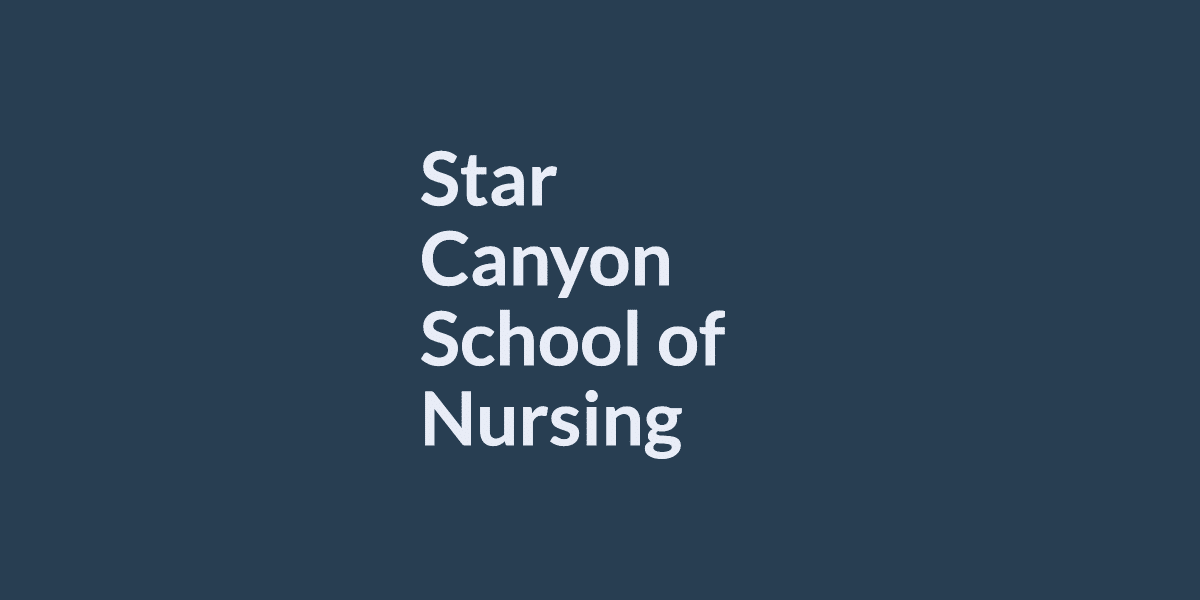 What are you struggling with in nursing school?
NURSING.com is the BEST place to learn nursing. With over 2,000+ clear, concise, and visual lessons, there is something for you!
Nursing is one of the most rewarding careers. With the opportunity to care for and save lives, the career fulfills you both personally and professionally. However, to achieve this, you must go to the right nursing school and get the required certification.
Star Canyon School of Nursing Program Review
Using the resources available at NURSING.com, you can quickly earn your diploma and start practicing as soon as possible. The accelerated program at Star Canyon School of Nursing is a perfect example of a channel that you can use to acquire your legit nursing diploma.
For a complete nursing program, you must combine both professional education and the liberal arts to acquire a humanistic and comprehensive approach to healthcare, to acquire a Bachelor of Science (B.S.) degree.
Our nursing school reviews rank Star Canyon School of nursing as one of the top nursing schools where you can acquire a short course certificate for nursing that is important for your undergraduate nursing certificate.
This nursing school offers four programs that offer training for four qualifications, including Arizona Certified Nursing Assistant (CAN), First Aid Certification, and Arizona Licensed Nursing Assistant (LNA). Most trainings at the institution take five weeks to complete.
Location and Contacts
Physical Location
8900 North Central Ave, Suite 107
Phoenix, AZ 85020
Phone
602.943.6628
Email
starcanyonschool@gmail.com
Website
https://www.starcanyonschoolofnursing.com/
About the Star Canyon School of Nursing
The Star of Canyon School of Nursing is located south of the Southwest corner of Dunlap & Central Avenue and is overlooked by Sunnyslope Mountain. It is behind Sunnyslope High School, and enrollment usually takes place in Suite 107.
Founded in 2007 by Michael Ayodele, Ed.D, and Regina Ayodele, RD, Star Canyon School of Nursing is a nursing school with a mission of improving the standards of basic patient care in the Valley. The school provides hands-on care, promotes diversity, client privacy, and client dignity.
With an open lab that operates all round the clock, the facility focuses on providing rigorous hands-on skills training with the sole aim of improving the students' body mechanics. It prepares the students to face their professions in the best way possible.
From the start, Star Canyon School of Nursing graduates has continuously achieved above-average pass on their board exams, apart from frequently visiting to use the lab and share their insights and perspectives on nursing as a profession. The facility always looks forward to hearing from its past students.
Star Canyon School of Nursing Admission Requirements
The Vision of Star Canyon School of Nursing (SCSN) aims to produce top-quality professionals with the ability to care for people, gain excellence and ethical practice. With that in mind, the institution has the following admission requirements for all its candidates:
You must possess a high school diploma, GED, or equivalent foreign or vocational training.
You should have excellent communication skills
The candidate must not have any felony convictions in three years prior to application
Applicants should be physically able to person basic functions tasks to do with patient care, including assisting patients who need lifting, bathing, pushing, and pulling.
Initial application documents with attachments such as the driver's license (in PDF form), CV/resume, copy of your immunizations, diploma/GED, CPR, and first aid certification can be uploaded through the uploader available at the nursing institution's official website.
While you are welcome to visit at any time from 9 AM to 7 PM, the best times to visit are from 1 PM to 4 30 PM.
Star Canyon School of Nursing Tuition
The nursing tuition programs available at Star Canyon School of Nursing include CNA/LNA, CNA math tutoring, HESI A2 math tutoring, and CPR. Given the institution's healthy relationship with the Innovative School of Health Sciences, you can also benefit from caregiver training and a two-day CNA/LNA to Caregiver bridge course.
On Wednesdays and Fridays, you can take advantage of the institution's AHA CPR classes, with First Aide classes scheduled for Saturdays. Here is an in-depth review of each of the classes offered at the Star Canyon School of Nursing:
1. CNA/LNA
You will attend a 4-hour lecture four days a week for five weeks for Certified Nursing Assistant classes. You will also need to attend 8 hours of clinical, 1-2 days a week, for four weeks. The total duration of the course is five weeks. Here is a complete breakdown:
Day classes are available from Monday to Thursday from 9 AM to 9 PM.
Evening classes are open from Monday to Thursday from 5 PM to 9 PM.
Clinical rotations are scheduled for weekends
A lot of open lab hours are available
Plenty of personalized instruction time
Payment plans are flexible.
While attending the classes, you must adhere to a specific dress code that Regina Ayodele will inform you. The textbooks for CNA courses are provided by the institution, with new classes starting every month. However, if you want to own the textbooks permanently, the school can sell them to you with electronic copies also available.
As for gait belts, stethoscopes, and other equipment you may need during your studies, the institution will provide them for you as you continue with your course.
The next classes for CNA/LNA courses will start on November 22nd, 2021, with the following one scheduled for January 10th, 2022.
2. CPR & First Aid
If you wish to enroll in the American Heart Association (AHA) CPR classes, you need to make an appointment one day in advance. The classes are offered on Wednesdays and Fridays.
The cost of the CPR course is $30. However, if you are a full-time Star Canyon student, you will get a discount if your pass your exams on your first try.
As for First Aid classes, you will need to make an appointment and attend them on Saturday. To enroll in these classes, you need to pay $30. If you are a Star Canyon student, you can get a discount if you pass your exam with the first trial.
3. Math tutoring
CNA Math Tutoring classes are held on Fridays and Saturdays upon making appointments. The main aim of this course is to allow students to prepare well for math questions that will come on the State Board exam.
To sign up for this course, you must fill a form and call the institution during working hours. However, if you are a Canyon student, you can access the first session free of charge then pay $15 per hour for the remaining sessions.
4. Caregiver Courses
Caregiver classes are vigorous. They take up to 50 hours of lecture and 12 hours of lab activities to complete. You have two weeks to complete the classes, but you can take advantage of the institution's flexible hours and hybrid instruction options.
The Innovative School of Health Sciences is responsible for conducting Caregiver training, and prospective students are advised to enroll.
Apart from Caregiver Courses, you can choose to enroll in MedTech courses, especially if you want to become a medication technician. The training for this course takes two weeks.
CNA/LNA to Caregiver Bridge is also a course that certified/licensed nursing assistants can enroll in to bridge the Caregivers course. This class consists of 16 lecture hours, and you can attend it either remotely or in person.
After enrolling, the CNA/LNA to Caregiver Bridge training should only take a maximum of two days to complete.
Star Canyon School of Nursing Enrollment
The process of enrolling at the Star Canyon School of Nursing is straightforward. You will be required to fill a pre-enrollment form that you can find by following this link.
You will be required to provide you basic details (depending on whether you want to enroll for C/LNA, CPR, or 1ST-AID course) such as your name as it appears on your driver's license, address, email, date of birth, course time, and payment amount (optional).
You will not be allowed to start classes before completing all the enrollment paperwork. You can also visit the institution to enroll in person. It is also important to note that paying the enrollment fee or tuition online does not necessarily mean you are through with the enrollment process.
Enrollment is only complete if you have completed and signed all the available enrollment forms. To ensure that you have done the right thing, you can visit the institution during its working hours and check up with the staff.
Once you have made your application and uploaded it, you will receive a code that you must save to confirm your file upload. If you are having trouble uploading your information, you can contact Star Canyon Nursing School through its official email address.
Reviews of Star Canyon School of Nursing
Based on the reviews available at indeed.com, Star Canyon School of Nursing is rated at 4.8 stars. This means that a lot of former students are highly satisfied with the services of the institution. Here are the most popular reviews:
Review 1
Rating
5 stars
Certification
Certified Nursing Assistant (CAN)
Time
1 month
Price
$1200- I paid for myself.
Pros
Positive learning environment
Cons
Not one. Everything about the institution is great.
Other comments
Excellent hands-on training and classroom time. The teacher was very helpful and helped me focus on the main points in the textbooks. There is also a lot of practice time for the State Exam.
Overall rating
Yes, I would highly recommend this program to a friend.
Review 2
Rating
5.0 stars
Certification
Certified Medication Aide (CMA)
Time
3 months
Price
$1250- I paid for it myself
Pros
Positive learning environment
Cons
There are no cons. I loved everything about this nursing school.
Other comments
I found the CAN class great. It has always been my dream to be a nurse, so finding a place to learn and become a nursing assistant was a great joy for me. I love to help people, and I believe the training I got from Star Canyon School of Nursing will be useful in my ambitions.
Overall rating
Yes, I would recommend it to a friend.
How NURSING.com Can Help
To become a qualified nurse, the NCLEX is a must-pass test. It requires a lot of studying, effort, and adjustment to excel.
This means that if you are inadequately prepared, you are unlikely to pass… especially if it's your first trial. Here, I share my experience of how NURSING.com came to my aid when I was almost giving up…
From the start, I could tell that I was going to struggle with my NCLEX exams. I knew that no matter how hard I studied or the study tips I applied, the results would always be the same… a fail.
This does not mean I did not try, though. If anything, for me to come up with this weird…ish conclusion, I had tried every trick and hack that I could think of. I even tried to change my study room, can you imagine?
I gathered many books and tried going through my friends' notes, but the result was always the same. By now, I think you are familiar with the results, so say it with me… yes, that's right, a fail.
Fortunately, I came across this wonderful platform called NURSING.com. I learned that the platform has been providing students like me with a platform to acquire knowledge that is well-trained to handle us. From that moment on, it was clear that if I wanted to pass my NCLEX exam, I had to trust NURSING.com.
The platform helps me in the following ways:
I was able to access resources that were highly valuable to the exam that I wanted to take.
I benefited from pre-nursing videos that reviewed all the nursing courses.
Access to world-class teachers
Step by step preparation
About Virtual Remar Trainer
NURSING.com's Virtual Remar Trainer, RVT, is one of the best tools for struggling nursing students. During my time, I utilized this trainer's features, such as gaining access to additional school content and accessing pre-NCLEX materials. This boosted my chances of passing, and I believe if I used it on my first attempt, I wouldn't struggle as much. Some of the common benefits of RVT include:
It prioritizes quality over quantity
In my case, I realized that I wanted to pass my NCLEX exams so bad that I ended up reading content that wasn't even relevant for my success. However, with RVT, I was able to access only the necessary content.
Unlike most companies that focus on heaping nursing students with thousands of questions, RVT gave me enough that I was able to memorize. Additionally, as compared to its competitors, I noticed that the prices for Remar are relatively lower. This was much-welcomed given that I was in a tight financial situation.
Students learn at their speed
Another aspect of the RVT that I like is that I was able to learn at my speed. Even when I had many questions to answer, I felt like I could answer them when I was ready.
I had enough time to read, learn, and understand the information I had absorbed before attempting the questions. It is easy to conclude that learning at my own pace gave me the confidence to excel in my NCLEX exam.
Improved testing and test scores
Looking back, I realize that the questions I answered on the Remar Virtual Trainer's website were related to the actual ones in the test. By tackling the questions on RVT, I was able to get a clear picture of what to expect on the real exam.
My preparation process was more manageable, I got confidence, and eventually, I passed the exam that had been troubling me for a considerable amount of time.
I realized that I wasn't alone using the RVT platform; plenty of other students who had the same problem as mine relied on this platform to prepare for their nursing exams. With a pass rate of more than 99%, it is easy to see why many nursing students continue to vouch for this platform.
There is no limit to content access
Apart from learning at my preferred speed, I could access content anytime as long as it was present in the Remar Virtual Trainer's platform. I did not have to worry about losing content or staying up late to access important content with this flexibility. I had zero pressure, and I believe that contributed to my success.
Advanced video scholars are available
Using Remar Virtual Trainer allowed me to access advanced video tutorials that helped me grasp the much-needed content quickly. It meant that I did not have to sieve through a lot of unneeded content to arrive at what I really needed.
It is like an online classroom
Through RVT's social network, I connected with other students where we could share ideas, support, and guidance. It felt so nice to interact with students who had the same ambitions as me. It was also easier to learn from students who already understood what was needed to succeed.
Get Your Free Trial Today
Does the Remar Virtual Trainer sound like something that you need? Well, the good news is that there is a free three-day trial available for you to use and assess the platform. This gives you time and the opportunity to evaluate it before making your final decision.
For more insights on how you can breeze through your nursing course and exam, join Nursing.com: All-In-One Classroom and NCLEX® Supplement for Future Nurses.