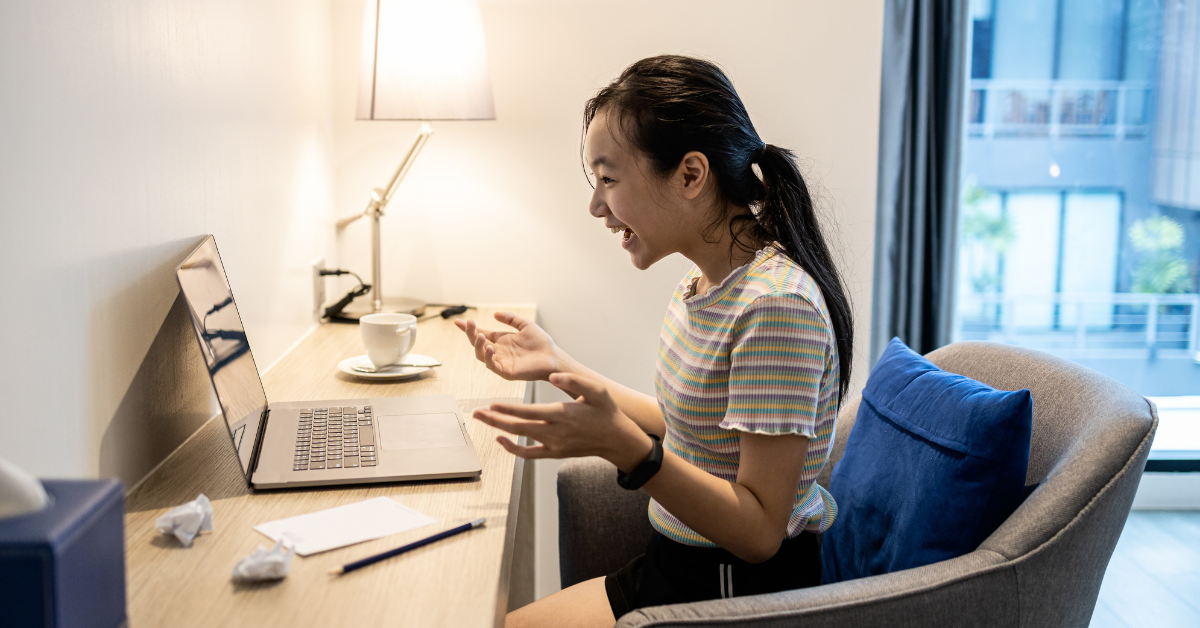 What are you struggling with in nursing school?
NURSING.com is the BEST place to learn nursing. With over 2,000+ clear, concise, and visual lessons, there is something for you!
Navigating Nursing NCLEX Test Questions with Confidence
Embarking on the journey to becoming a registered nurse is an exciting and fulfilling endeavor. However, the Nursing NCLEX exam can be a daunting hurdle on the path to achieving your dreams. The test questions are designed to challenge your knowledge, critical thinking, and decision-making abilities.
With the right approach and a few essential tips, you can master the art of answering NCLEX test questions and rise above the challenge.
Make sure to head over to our free test-taking webinar where I talk all about test-taking strategies for the NextGen NCLEX and nursing school. Just click below to get started 👇👇👇

Here are the five tips that we'll go over to help you master answering nursing NextGen NCLEX test questions:
Understand the Question Format
Practice Active Reading
Use the ABCs and Maslow's Hierarchy
Eliminate Incorrect Options
Apply Critical Thinking
Understand the Question Format
As you embark on your journey to conquer the Nursing NCLEX exam, one of the crucial aspects to master is understanding the question format. The exam employs various question formats, each requiring a different approach to ensure accurate and effective responses. Let's explore some of the common question formats you may encounter and how to navigate them successfully.
Multiple-Choice Questions:
Multiple-choice questions are a staple in the NCLEX exam. These questions present a stem or a scenario followed by four or five possible answer choices. While it may seem straightforward, the key is to carefully read the stem and pay attention to every detail. Active reading will help you identify keywords and phrases that will guide you toward the correct answer.
To tackle multiple-choice questions effectively, consider each answer choice individually. Compare them to one another, eliminate the options that are clearly incorrect, and focus on the remaining choices. Prioritize the answers that directly address the question and align with established nursing principles and protocols.
Select-All-That-Apply (SATA) Questions:
SATA questions require you to choose multiple correct answer options from a list. These questions test your ability to identify all the appropriate interventions or factors related to the given scenario.
To approach SATA questions, carefully analyze each option in relation to the stem. Pay attention to qualifying words like "always," "never," "most," or "least," as they can help guide your choices.
Prioritization and Ranking Questions:
The NCLEX also includes questions that assess your ability to prioritize nursing actions or rank items according to their importance. These questions mirror the real-life scenarios you will encounter as a nurse, where time, resources, and patient needs must be carefully balanced.
To excel in prioritization questions, consider the urgency of each option. Apply frameworks such as the ABCs (Airway, Breathing, Circulation) or Maslow's Hierarchy of Needs to identify the highest-priority actions. Carefully evaluate the potential outcomes of each choice and select the intervention that addresses the most critical aspect of patient care.
Understanding the question format is essential for success in the Nursing NCLEX exam. It allows you to approach each question with clarity and focus. Practice with sample questions and review the rationales for each answer to familiarize yourself with the different formats.

Practice Active Reading
When it comes to mastering nursing NCLEX test questions, one essential skill that can significantly enhance your success is practicing active reading. Active reading involves engaging with the question stem and content in a deliberate and focused manner. By employing active reading techniques, you can extract crucial information, identify key details, and make informed decisions.
Let's explore how you can incorporate active reading into your NCLEX preparation.
Read Carefully:
Begin by carefully reading the question stem. Take your time to understand the scenario or situation being presented. Don't rush through the NCLEX text, as important clues and information may be hidden within. Read each word and sentence with attention, ensuring that you grasp the overall context of the question.
Highlight Keywords:
As you read the question stem, use a highlighter or underline important keywords and phrases. These keywords often indicate the main focus or purpose of the question. Look for words like "first," "best," "most," or "priority," as they provide valuable clues about the type of answer the question is seeking. By highlighting these keywords, you can keep them at the forefront of your mind when considering the answer options.
Identify the Central Issue:
Active reading requires you to identify the central issue or problem in the question stem. What is the core concern that needs to be addressed? Understanding the central issue helps you stay focused and eliminates distractions when evaluating the answer choices. It allows you to assess each option in light of the primary problem at hand.
Visualize the Scenario:
As you read the NCLEX question stem, try to visualize the scenario or situation described. Imagine yourself in the role of the nurse, interacting with the patient and making clinical decisions. Visualizing the scenario helps you gain a better understanding of the context, enabling you to make more accurate judgments and select the appropriate answer.
Predict the Answer:
Before you even glance at the answer options, take a moment to predict the answer based on your understanding of the question stem. This prediction serves as a mental benchmark, guiding your thought process as you evaluate the available choices. While your initial prediction may not always be correct, it helps you actively engage with the question and consider the options critically.
Practicing active reading is a valuable skill that can significantly improve your performance in answering nursing NCLEX test questions. By reading carefully, highlighting keywords, identifying the central issue, visualizing the scenario, and making predictions, you can approach each question with a focused and analytical mindset. With practice, active reading will become second nature.



Use the ABCs and Maslow's Hierarchy
Nursing students preparing for the NCLEX exam understand the importance of making quick and accurate decisions in high-pressure situations.
Two valuable frameworks that can guide you through these challenges are the ABCs (Airway, Breathing, Circulation) and Maslow's Hierarchy of Needs. By incorporating these frameworks into your test preparation and clinical practice, you can enhance your ability to prioritize patient care effectively.
Let's explore how the ABCs and Maslow's Hierarchy can be powerful tools for success on the NCLEX and in your nursing career.
The ABCs - Airway, Breathing, Circulation:
When faced with a critically ill or injured patient, prioritizing interventions is essential to ensure their survival and well-being. The ABCs framework provides a systematic approach to this process. Here's what each component represents:
Airway:
The airway is the first priority in patient care. It involves assessing and maintaining a clear and patent airway to facilitate adequate oxygenation and ventilation. In emergency situations, if the airway is compromised or blocked, prompt action must be taken to establish and secure it.
Breathing:
Once the airway is secured, the focus shifts to breathing. Assessing the patient's breathing pattern, rate, and oxygen saturation helps determine their respiratory status. If breathing is inadequate or compromised, interventions such as administering oxygen or assisting with ventilation may be necessary.
Circulation:
Circulation refers to the adequacy of blood flow throughout the body. Assessing vital signs, perfusion, and heart rhythm helps determine the patient's circulatory status. Prompt interventions may be needed to address issues such as hemorrhage, shock, or arrhythmias.
Maslow's Hierarchy of Needs:
Maslow's Hierarchy of Needs is a psychological theory that categorizes human needs into a pyramid structure. The hierarchy starts with basic physiological needs and progresses to higher-level needs.
Understanding and applying this framework helps nurses prioritize care based on the patient's most immediate and fundamental needs. Here's an overview of the different levels: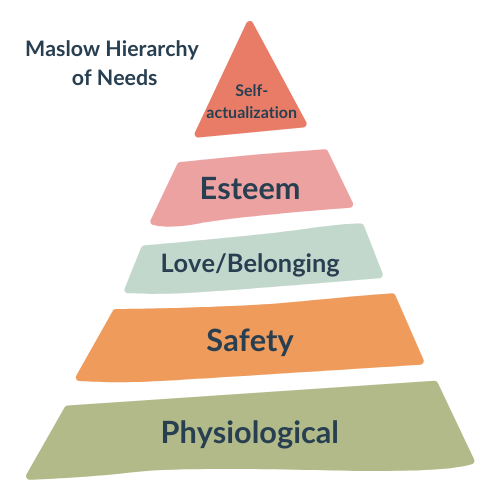 Physiological Needs:
The physiological needs form the foundation of Maslow's Hierarchy. They include basic requirements for survival, such as air, water, food, shelter, sleep, and elimination. Addressing these needs takes precedence over other considerations.
Safety Needs:
Once the physiological needs are met, the focus shifts to safety needs. This includes providing a secure environment, protection from harm, and establishing trust. Safety needs encompass both physical and psychological aspects of well-being.
Love and Belonging Needs:
Love and belonging needs involve fostering social connections, forming relationships, and feeling a sense of belonging and acceptance. This includes family, friends, and support systems that contribute to emotional well-being.
Esteem Needs:
Esteem needs encompass self-esteem and the need for recognition, respect, and a sense of accomplishment. Meeting these needs helps individuals develop confidence and a positive self-image.
Self-Actualization Needs:
Self-actualization represents the highest level of human needs. It involves personal growth, realizing one's potential, and pursuing meaningful goals and aspirations.
By utilizing Maslow's Hierarchy, nurses can prioritize interventions based on the patient's most fundamental needs. This framework ensures that the patient's physiological and safety needs are addressed before progressing to higher-level considerations.

Incorporating the ABCs and Maslow's Hierarchy into your NCLEX preparation and clinical practice can significantly enhance your ability to prioritize patient care effectively. By understanding the importance of airway, breathing, and circulation in critical situations, and considering the patient's hierarchy of needs, you will be well-equipped to make sound clinical judgments and provide optimal care.



Eliminate Incorrect Options
Eliminating incorrect options - by using this approach, you can narrow down the choices and increase your likelihood of identifying the most accurate answer choice.
Let's explore the importance of eliminating incorrect options and how to effectively utilize this strategy.
Focus on Clues and Keywords:
When analyzing a question, pay close attention to clues and keywords that can help you identify incorrect options. Look for phrases that indicate extreme statements, such as "always," "never," or "none." These absolutes are often red flags and are less likely to be accurate in real-life nursing scenarios.
Be cautious of answer choices that include unrelated information or are inconsistent with established nursing principles and protocols.
Utilize the Process of Elimination:
Start by systematically reviewing each answer choice and considering its relevance to the question stem. By eliminating options that are clearly incorrect, you increase your chances of selecting the correct answer even if you're unsure at first. Remember, you don't need to identify the correct option immediately
Your goal is to eliminate the incorrect ones and narrow down the choices.
Apply Critical Thinking Skills:
Using your critical thinking skills is crucial when eliminating incorrect options. Analyze the question stem and consider the desired outcome or goal.
Compare each answer choice to this desired outcome and evaluate its alignment.
Take into account the patient's condition, the nursing interventions required, and the expected outcomes.
This analytical process will help you identify options that do not meet the desired criteria, making it easier to eliminate them.
Prioritize Evidence-Based Practice:
Use your knowledge and understanding of nursing concepts, guidelines, and best practices to eliminate options that are not supported by evidence.
Rely on your education, clinical experience, and familiarity with current research to make informed decisions.
Remember, evidence-based practice promotes the delivery of safe and effective patient care.
Trust Your Instincts:
While it's crucial to utilize a systematic approach and critical thinking skills, it's also important to trust your instincts. Often, your initial gut feeling about an answer choice is correct.
If you have a strong inclination towards a particular option, it's worth considering it further.
However, always evaluate it in the context of the question and ensure that it aligns with the provided information and nursing principles.
Eliminating incorrect options is a valuable strategy that can enhance your ability to select the most accurate response on nursing NCLEX test questions.
By focusing on clues and keywords, utilizing the process of elimination, applying critical thinking skills, prioritizing evidence-based practice, and trusting your instincts, you can improve your overall success rate.
Practice this strategy during your test preparation and reinforce it through practice questions to sharpen your elimination skills.


Apply Critical Thinking
As a nursing student preparing for the NCLEX exam, one skill that will prove invaluable in your journey is critical thinking.
Critical thinking goes beyond simply memorizing facts and information—it involves analyzing, evaluating, and synthesizing knowledge to make informed decisions. When it comes to answering NCLEX test questions, applying critical thinking is essential for selecting the most accurate and effective responses.

Analyze the Question Stem:
Start by carefully analyzing the question stem. Break it down into its key components and identify the main issue or problem being presented.
Pay attention to details, such as the patient's symptoms, the context of the scenario, and any clues provided.
This analysis sets the foundation for your critical thinking process.
Consider the Options:
Once you have a clear understanding of the question stem, evaluate the answer options. Read them thoroughly and critically assess each choice in relation to the question.
Look for clues, keywords, and qualifiers that can help you identify the most accurate response.
Remember, the correct answer may not always be obvious, so employ your critical thinking skills to assess each option carefully.
Apply Clinical Knowledge and Principles:
Draw upon your nursing education, clinical experiences, and knowledge of nursing principles to guide your decision-making.
Consider the underlying concepts and theories relevant to the question.
Apply evidence-based practice and adhere to established guidelines and protocols.
Consider the patient's condition, potential interventions, and desired outcomes.
By applying your clinical knowledge and principles, you can make informed choices that align with best practices.
Evaluate Potential Outcomes:
Think about the potential consequences or outcomes associated with each answer choice.
Consider the short-term and long-term effects of the intervention or action proposed.
Evaluate the risks, benefits, and implications of each option.
This evaluation helps you determine the most appropriate and effective response that promotes positive patient outcomes.
Prioritize Based on Patient Needs:
Remember the importance of patient-centered care.
Consider the patient's immediate needs and prioritize interventions accordingly.
Utilize frameworks such as the ABCs (Airway, Breathing, Circulation) or Maslow's Hierarchy of Needs to guide your decision-making process.
This patient-centered approach ensures that you address the most critical aspects of care and prioritize interventions that promote the patient's well-being.
Applying critical thinking skills is an integral part of mastering nursing NCLEX test questions. By analyzing the question stem, considering the options, applying clinical knowledge, evaluating outcomes, and prioritizing patient needs, you can unlock the power of critical thinking. Embrace this skill, practice it consistently, and integrate it into your test preparation.


Final Thoughts
Mastering the art of answering nursing NCLEX test questions is crucial for success on your journey to becoming a nurse. It requires a combination of knowledge, critical thinking, and effective test-taking strategies.

Remember, success on the NCLEX is not solely dependent on rote memorization of facts but rather on your ability to think critically and make informed decisions in real-life nursing scenarios. Continuously practice and refine your skills through mock exams, review courses, and clinical experiences
As you embark on your NCLEX journey, remember that preparation, dedication, and perseverance are key. Trust in your abilities, believe in yourself, and remain focused on your goal.
YOU CAN DO THIS!
Happy Nursing!